Preacher Rewind 307: A Look Back at Bleeding Cool's Thoughts on 'Hilter'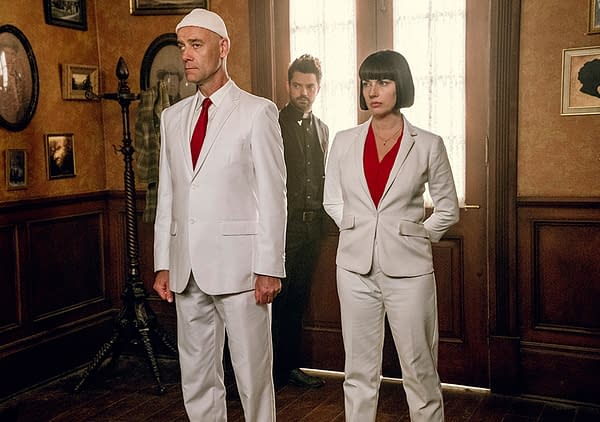 In this week's edition of Preacher Rewind, we look back at our thoughts on 'Hilter,' season 3's seventh episode of AMC's television adaptation of Garth Ennis and Steve Dillon's comic book series.
● So "David Hilter"/Hitler (Noah Taylor) proved you can't teach an old genocidal psychotic new tricks, so it's back on the chain gang – and back to Hell – for both him and Eugene (Ian Colletti), courtesy of The Saint of Killers (Graham McTavish).
● Hell might not have frozen over, but it's chilly enough to bring Herr Starr (Pip Torrens) and Gran'ma Marie L'Angell (Betty Buckley) together to break bread over Jesse (Dominic Cooper): Gran'ma gets a whole lot of souls, and Starr gets Jesse to help him take care of that "little matter" known as the Allfather (Jonny Coyne) – and Jesse's going to have to trust Starr this time.
● Tulip (Ruth Negga), Featherstone (Julie Ann Emery), and Jody (Jeremy Childs) are sent packing to Osaka, Japan, for a little international intrigue – if they survive the plane ride.
● Cassidy (Joseph Gilgun) and Eccarius (Adam Croasdell) grew closer, with Eccarius attempting to save Cassidy from an assault team of jacked up priests and nuns on assignment from Hoover (Malcolm Barrett). Cassidy ends up saving the day – and grows closer to the Children of Blood. Too bad Cassidy doesn't know the truth about what really happens to Eccarius' "vampire missionaries"…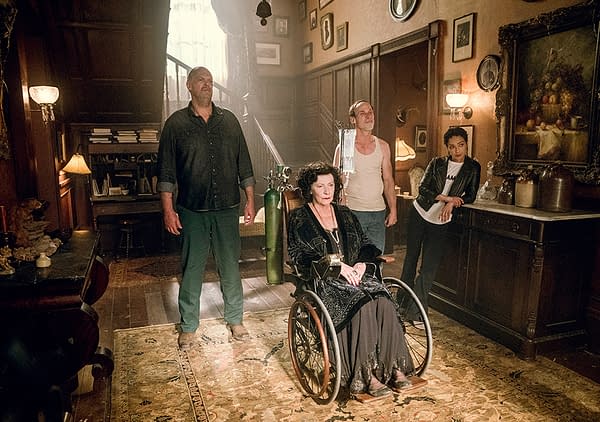 So as we get ready for the eighth episode of the season, 'The Tom/Brady', get caught up by "rewinding" back to our review of last week's seventh episode 'Hitler' (below) and see why we think AMC's Preacher has positioned itself for one helluva' run going into their final three episodes of the season; followed by an overview and highlight from the episode:
Preacher s03e07 'Hilter': Jesse, Tulip, Gran'ma and Starr form an uneasy partnership to avert the apocalypse; Cassidy learns to love Eccarius, but at a cost.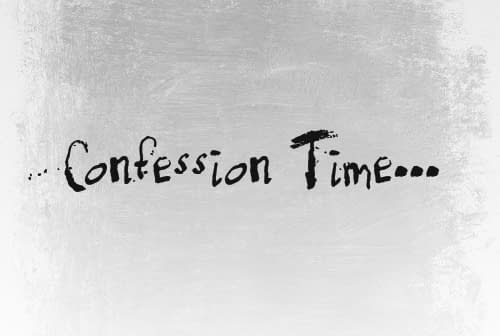 Here's a look at what viewers can expect from this week's episode 'The Tom/Brady,' and a look ahead at what's still to come in AMC's third season trailer:
Preacher s03e08 'The Tom/Brady': Annville, Angelville and the Grail team up to steal souls in New Orleans and Osaka in a last-ditch effort to satisfy Gran'ma and save the world. https://youtu.be/wgIEHlYD2w4
PREACHER is a dramatic thrill ride that follows West Texas preacher Jesse Custer (Dominic Cooper), his badass girlfriend Tulip (Academy Award nominee Ruth Negga) and an Irish vampire named Cassidy (Joseph Gilgun) as they embark on a road trip to find God and are thrust into a twisted battle spanning Heaven, Hell and everywhere in between.

The 10-episode third season follows Jesse's quest for God which takes him back to the place he's been avoiding his whole life: home. Jesse, Tulip and Cassidy return to Angelville, the Louisiana Plantation where Jesse was raised, and find old grudges and deadly obligations await them. With the help of his friends — and a few enemies — Jesse will need to escape his past…because the future of the world depends on it.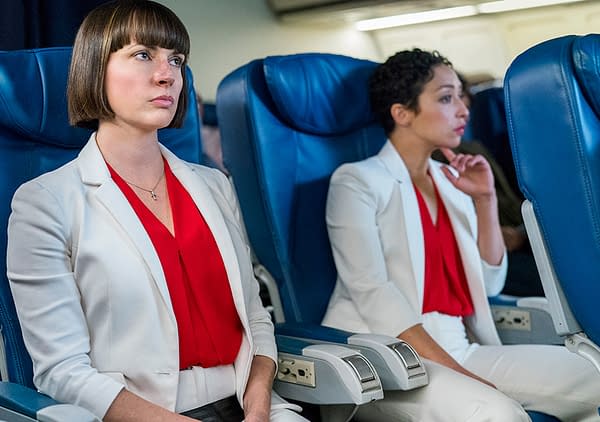 Ian Colletti, Graham McTavish, Pip Torrens, Julie Ann Emery, Malcolm Barrett, and Noah Taylor also return for the series' third season, joined by new series regulars Betty Buckley (Supergirl, Split), Colin Cunningham (Blood Drive, Falling Skies), Jeremy Childs (The Last Castle, Nashville), Liz McGeever (Star, Nashville), Jonny Coyne (Turn, Alcatraz), Adam Croasdell (Reign), and Prema Cruz (Mozart in the Jungle).