The Procrastinator's Holiday Toy Guide
Hello Friends Loyal and True, It's me, your old pal Will Romine.
It's the night before the night before Christmas. Welcome to the Procrastinator's Holiday Gift Guide! In this guide, I'll take you through some of the cool stuff that you probably should get your loved ones before the stores close.
In the interest of full disclosure, many of the products in this review were given to me by the companies that make them. When I was a kid, I would save every penny of my allowance to blow at the toy store, now I get this stuff sent to me for free. I guess that's all a part of growing up.
1. Jenga Giant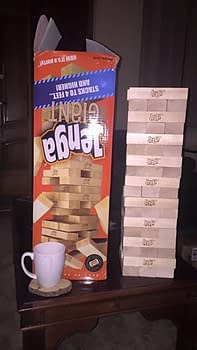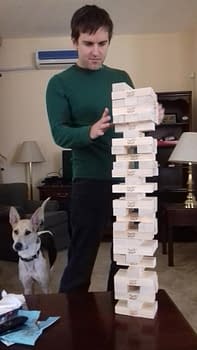 First on our list is Jenga Giant. Remember Jenga? Like a lot of childhood pals, it's put on some weight since you saw it last. Each piece is 8x the size of the original Jenga. This game can get out of hand really fast. My wife and I played and the stack went well over 5 feet. When it falls, there are real consequences. It's the only board game I can think of that requires a closed-toe shoe. My only beef with Giant Jenga is that it doesn't come with a plastic sleeve to help set the blocks up again.
Next, we roll around to Hasbro's line of Star Wars merch. Hasbro sent me two boxes of this stuff. I'll review a couple of things that I thought were super awesome.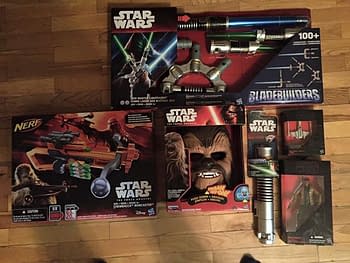 2. Remote Controlled BB-8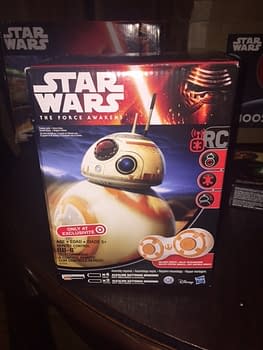 For any piece of Star Wars merchandise to stand out from Disney/Lucasfilms' licensing free-for-all, it must truly be exceptional. I consider this remote control BB-8 droid to top the list. I was out of the country on Force Friday and missed out on the initial release of this Target Exclusive. Happily, Hasbro had my back. I thought this collectable was cool before seeing The Force Awakens, but now I consider it to be the son I never had. Like all devoted fathers, I had trouble keeping the head from separating from the body. If you have hard wood floors like me, you may want to keep BB-8's speed low. Once he picks up speed, the head can no longer keep up with the body and decapitation ensues.
3. Chewbacca Mask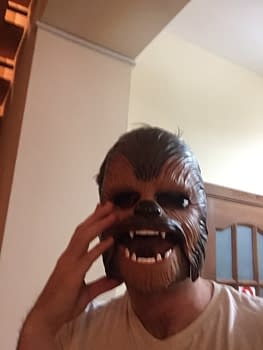 Chewbacca has always been my favorite Star War, which is why this mask makes the list. It's controlled by placing your chin in the jaw piece. When you open your mouth, so does Chewie, and he lets out one of his trademark "HRRUUNNGGHGHGHs". What's great is that it comes with a wide library of Wookie sounds. What's not so great is that the elastic strap used to secure mask to face doesn't extend to adult sizes. The package says 5 years AND UP! AND UP!
4. PZ-4CO Action Figure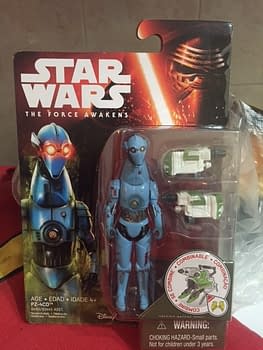 Remember this guy? Everyone has their favorite character, and Hasbro has made an action figure for every proclivity. This droid had no dialogue and probably has less than one minute of screen time, but this action figure assures me that there will be volumes of back story to enrich the newly revitalized Star Wars universe.
5. Moon-In-My-Room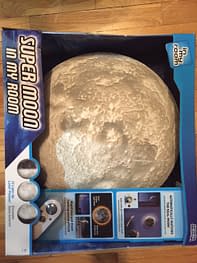 I got this beauty from Uncle Milton (the ant farm folks). Beyond its educational value, it's a super cool conversation piece. My house looks like the set of Conan. However, it takes three C batteries. I bought a 4 pack, and now I'm stuck with one loose C battery. Nothing else I own uses C batteries. When these need to be replaced, I'll buy another 4 pack and be left with two loose C batteries. Oh well, at least I have my health!
6. Red Man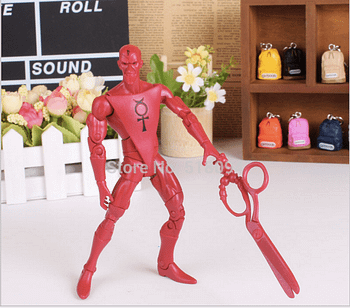 That's right, fresh from the pages of DC Comics, it's Red Man! You can order up to 999 of these. My advice- buy one to open, one to keep, and 997 to sell once Red Man joins the cinematic DCU.
Merry Christmas to all. I hope Santa fills your stocking with one or all of these. Follow me @notacomplainer
As an added bonus, here's my dog Reggie with his early Christmas present, a pait of Yoda ears courtesy of Petco.