 I was recently talking about how the superpower theme in comics is mostly used to represent adolescent rage, that half world between being a child and an adult, when we think they can do so much, yet aren't allowed to. As anyone will know who has sat in a British pub with a bunch of American 18 year olds who have suddenly realised they can drink alcohol without any legal repercussions whatsoever. They get as loud as Black Bolt.
Anyway, here I am, a middle aged man in the middle of my mid life crisis. I've recently been made redundant from what I thought would be my life's career, in a market that isn't hiring and all I can do is pick up bits of freelance.
Oh and get my mortgage paid for writing about comics for this site. But ignore that bit, it doesn't quite work with where I'm going here.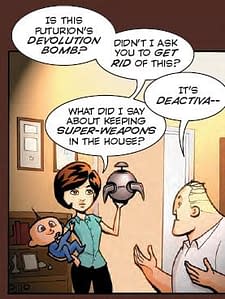 The Incredibles: Family Matters is a book about a powerless Mr Incredible. Watching his family go out and do amazing things, where he has to stay at home, look after the baby and do laundry. And suddenly I'm there. It's a good life, a fulfilling life in many ways, but it's nothing to what I… I mean, he had.
Only months ago, I was working with Tom Baker, Brian Blessed, Matt Lucas, David Walliams, the Mighty Boosh, KLANG KLANG KLANG… and now I'm sat at home, mopping the floor.
And it's good, don't get me wrong. I love spending more time with the kids, I love writing fulltime about a medium and an industry I adore, it could be the best thing I've ever done in my life.
But… you know? There's an ache for what once was. An irrational one. Something many people in this economy are going through. And I'm one of the luckiest. This comic could and should appeal to so many people on that basis alone.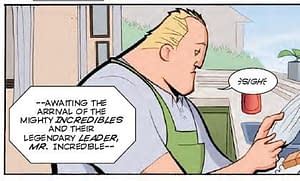 The art is reminiscent of Kyle Baker, in that kind of half world between The Shadow and The Bakers, with some wonderfully composed pages that make real emotional points, emphasis funny gags, and give a real sense of reality to these 2D versions of 3D CGI characters.
There are proper fight scenes, young kisses, nappy changes and threats to ones loved ones. And married arguments about trivial things (like who had the best rogue's gallery.) All this and there's stuff for the kids as well.
The Incredibles was a very well thought through movie. It's a pleasure to see the comic book measure up to that standard.
The Incredibles: Family Matters #3 by Mark Waid and Marcio Takara, from Boom! Studios, today.
Enjoyed this article? Share it!