By Sammie Rice
Greetings, readers!
It is, once again, a fantastic week of new comics for every person to enjoy. If you are feeling a little overwhelmed with the impending holiday craziness looming over your noggin, take this lovely day to relax, take a deep breath and enjoy some literature that really lifts your spirits.
Of all the delightful comic books out there this week, I really want to talk about Fairy Quest: Outcasts #2 (of 2) because this is one of those comics that you absolutely don't want to miss. The story is done by the very talented Paul Jenkins accompanied by the inspiring Humberto Ramos (and inked by the glorious Victor Olazaba) with lettering done by the one and only Jim Campbell.
Boom! Studios continues to knock it out of the park with one of my favorite new series; Fairy Quest. If you aren't familiar with this book I highly recommend you read everything that has ever featured these characters in it. Seriously, go right now.
If you have read or heard of Vertigo's Fables then you have a rough concept of Fairy Quest. All of the beloved children's tales you heard growing up are actually completely real and the characters are living in a town called Fablewood. The town is controlled by the dictator, Grimm, who just wants everyone to follow their scripts. Unfortunately, Red Riding hood and "The Big, Bad Wolf" (better known in the story as Red and Woof) don't want their lives to be determined by the story they live in, so they decide they want to escape!
This book has me screaming to the heavens: WHY CAN'T ALL BOOKS BE THIS GOOD?! Even though I have mentioned some stellar all-ages titles recently (like Capture Creatures #1 that came out last week, also by Boom!) no comic book has mastered the art of storytelling quite like Fairy Quest. The art is gorgeous and easy to interpret, the panel progressions feel natural, the characters truly seem real and each issue I know I am getting my money's worth. Even though we are met with the familiar characters from our childhood, there is still a creepy undertone that should send a few shivers up your spine.
In issue number two, Red and her grumpy-pants pal, Woof, are continuing their desperate escape towards the real world while being mercilessly hunted down by Grimm and the ruthless Think Police. They have met a stranger that claims he can help them escape and offers them shelter for the night. He shows them his home which is full of forgotten stories and hundreds of maps he makes himself. In a world where everyone looks out for themselves is it possible this strange man could really be helping them from the kindness of his heart? Or could he have evil intentions? We meet some very cute, new characters and experience some Inception action as we are reading a story about reading a story about characters who are telling a story! Phew!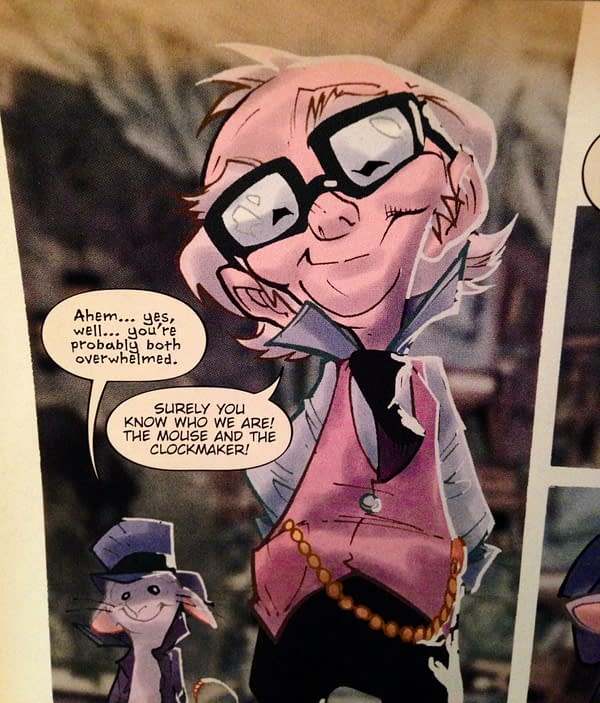 I'm not sure I'm ready for the Fairy Quest withdrawal my body is about to experience. It may be possible that rereading some past issues may quench my thirst for ridiculously well done comic books.
Be sure to pick up this exciting comic at your absolute FAVORITE place to buy comics and let me know what you think of it!
This review was written in memory of the owner of Secret Headquarters, Brian Jacoby, who passed away last week. He was a loving father, an excellent store owner and a superhero to us all. He supported and read this column every week. He will be missed.
Sammie Rice is a Florida comic book store employee and proud Valkyrie. She enjoys long strolls through the park in Pterodactyl-free zones. Find me on Twitter and Instagram: @SammieReads
Enjoyed this article? Share it!