SDCC 2017: SyFy Sets 'Galactica' Reunion, Live Comic-Con Recaps With only a little over two weeks to go before Comic-Con International descends upon the San Diego Convention Center (SDCC 2017), Syfy is planting its programming flag loudly and proudly at the mecca of pop culture with over 15 panels and events schedule over the course of the four days. SyFy won't just be bringing their shows to SDCC this year: fans who can't make it to San Diego in-person will be treated to three nights of live television coverage of the convention with SyFy Live From Comic-Con, hosted by actor Zachary Levi (Chuck, Heroes Reborn).
Here's a rundown on what fans can expect from SyFy:

● Live will live-broadcast at 11 pm EST from Thursday, July 20 through Saturday, July 22, recapping all of the major film, television and comics news and announcements from the day. ● There will be parties this year: one private, two open to fans. Levi will host his annual invite-only Nerd party on Friday, July 21; while Syfy will host two first-come, first-served parties at the Children's Museum on Thursday, July 20 and Saturday, July 22. ● Syfy will host a Battlestar Galactica reunion with creator Ron Moore and members of the cast and creative from the series, thirteen years after the shows initial premiere. ● Spotlight panels for a number of their shows/movies, including: The Magicians, The Expanse, 12 Monkeys, Happy!, Krypton, Van Helsing, Wynonna Earp, Z Nation, Dark Matter, Ghost Wars, and Sharknado. ● Comedian John Hodgman will host and moderate SYFY Hosts the Great Debate, a panel featuring sci-fi experts who debate each other (and the audience) on some the longest-running issues within the geek community. ● Syfy will host screenings for their recently-premiered series Blood Drive and the upcoming continuation of their anthology series with Channel Zero: No-End House. Here's what SyFy has to say about the next chapter in the Channel Zero franchise:
https://www.youtube.com/watch?v=uAKUSRtHEvs
"The Channel Zero anthology series continues with a new story. Inspired by Brian Russell's Creepypasta tale, Channel Zero: No-End House tells the story of a young woman named Margot Sleator, played by Amy Forsyth, who visits the No-End House, a bizarre house of horrors that consists of a series of increasingly disturbing rooms. When she returns home, Margot realizes everything has changed. Nick Antosca will return as executive producer, showrunner and writer for the second installment of the series alongside executive producer Max Landis."
● Outside of the San Diego Convention Center, Syfy will be running a number of events/activities including: Trivia Trolleys will roam the streets of San Diego, giving fans opportunities to win money and prizes; cosplay karaoke buses, where fans can possibly duet on their favorite song with their favorite character; Syfy Drumline, performing renditions of famous sci-fi theme songs throughout the Gaslamp district; and several cosplay repair stations for those cosplayers who find themselves knee-deep in costume distress.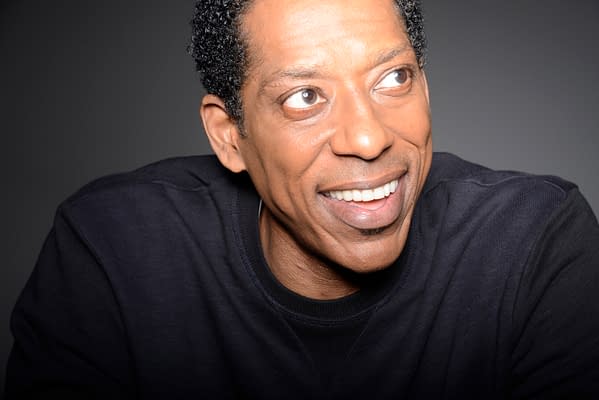 ● Hosting one of the more original events scheduled for the four days, Orlando Jones (American Gods) will be conducting "pop-up nuptials" for those fans looking to tie the knot in holy matrimony.
Comic-Con International runs from Thursday, July 20 to Sunday, July 23, at the San Diego Convention Center.
PREVIOUSLY:
SYFY Releases New Ad About Inclusion And The Love Of Science Fiction
Sharknado 5 Teaser As Ian Ziering and Tara Reid Return For Syfy Original
SyFy Rebrands (Again) And Officially Greenlights Superman Prequel Series Krypton
'Ghost Wars' Starring Vincent D'Onofrio And Kim Coates Heads To Syfy