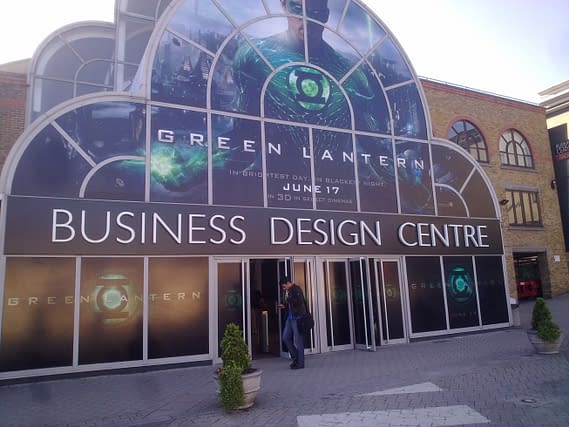 So this is the home of Kapow, the comic convention brought to you by Titan, Mark Millar and Brightstar Events. It's easy to spot, just turn right out of the Angel Islington tube and it's right there. Not hard to spot. Handily next to the hotel where everyone seems to be staying.
There are tube issues with the Northern line down from Charing Cross to Camden down tomorrow –  if you're coming from Waterloo, your best idea is to get the Bakerloo line to Baker Street, then head west. As long as you get to Angel, Islington, the place is dead easy to find.
So anyway, I popped in tonight to have a look and set up my own table. And this is what I saw.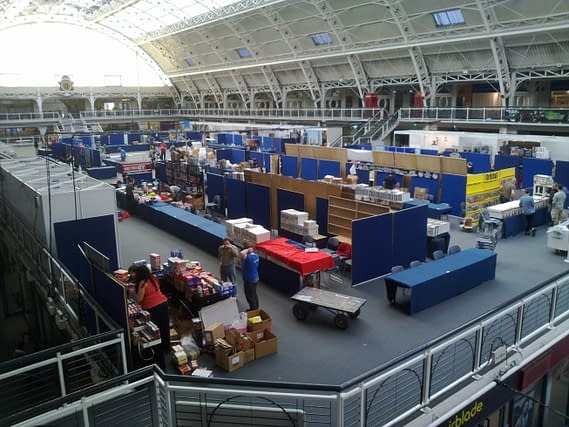 This is basically the show floor, though there is an IGN UK section closer to the entrance.
Like I said, it was all still in the early stages of set up.
There seems to be other levels, though I didn't see anything being set up there. And of course there are extensive conference centre facilities for panels, movies and the like.
The place looks like it was built on an old train station – and that's because it probably was. Iron girders, a station clock and a wonderful curved glass ceiling. The place is light in there, and with the great weather we're having at the moment, the place is going to be beautifully naturally lit.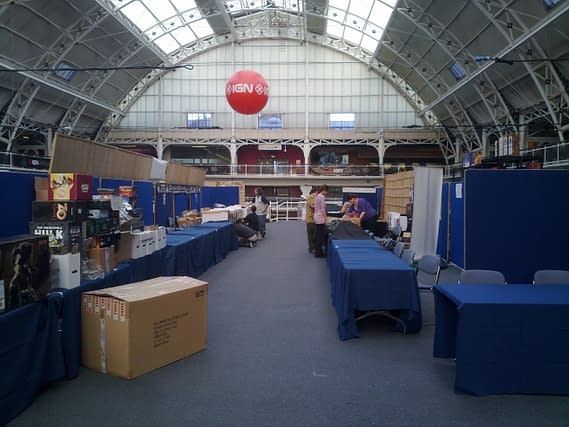 And even just setting up, there were a lot of people and a lot of friends, even one who I haven't seen since the Glasgow conventions about fifteen years ago. There was a lot of love and excitement on the floor – although a little panic at the concept of over five thousand people coming in a day…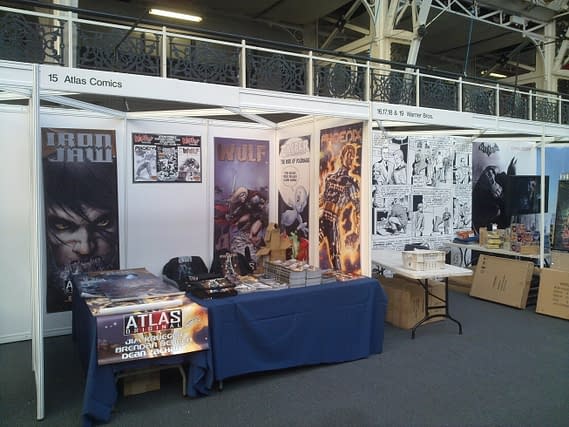 Oh and there's new CLiNT as well of course.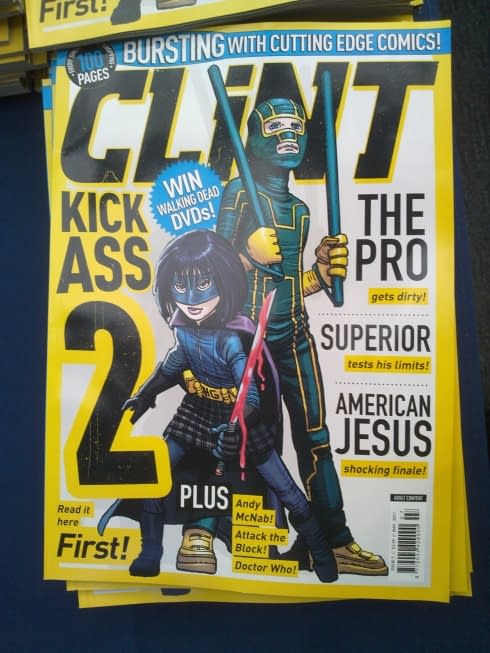 What there isn't so far is a floor plan, or a comprehensive exhibitor list on the website. Well the following isn't exactly that, as it was basically written on the back of a sheet of A4 wandering around saying hi to people. There are some number duplicates, and not every table had numbers and I'm sure I missed some. If you know stuff I don't, post in the comments and I'll update.
Cybercandy

1, 2 Rebellion

3 SFX/Comic Heroes

4 Imagine FX

5-6 Panini

7-8 Cinebook

9-10 Turnaround

2 Robert Flemyng Comics

5 Dead Universe Comics

6-7 Black Belt Comics

8 Neptune Factory

9-10 Neon Martin

11 Tomy UK

12 Blind Ferret

13 Mister Who

14 Self Made Hero

15 Atlas Comics

16-19 Warner Bros

15 Cartoon Class

16 Comic Book Alliance

17 Cartoon Museum

18 Incognito Comics

20-21 Titan

22 Diamond

23 Doctor Who Experience

24 Scar Comics

26 Limited Edition Comix,

27- 29 Gosh Comics

30- 32 Close Encounters

33, 34 Volstor

35 Free@Last/Scruffy Bear Picture

40 A Place In Space

45 Orbital

47, 48 Insert Coin

49 Repeat Offenders

50 Soaring Penguin

51 Dan & Dan

52 Four Bananas

53, 54 Genki Bear

57 Manga Ent

58 Clint

59 Destiny Blue

60 Yaoi King

62 Phoenix Copper Ent

63 3 Darts Comics

64-66 Toyz And Gamez

67 Dugbus

68 London Horror

69 Nichangell Comix

70 Welsh el Dorado

71 Murky Depths

72 Beyond The Bunker

73 Underfire Comics

75 Jack Tempest

76 Island of Doctor Geof

77, 78 Neil Gibson Comics

79 Norton Mouse

80-82 Markosia

83 Copydesk

85 Ian Sherman

86 Rich Johnston, Brendon Connelly and Bleeding Cool

87 Stephen Dowey

88 David Baille

98 Grant Perkins

90 Inanimate Objectives

91 Termight Replicas

92 Andy Baker

93 Card Empires

94 Bad Press

95 Neill Cameron

Duncan Fegredo

Sean Phillips

Paul Davison

Josh Clarke

Ramayane

Tinpot Hobo

Kev Crosby

Art by Manon

117 Redliffe Ent

118 Necro Dragon Art

119 Nick Spencer

120 M-LEEG Art

121 Stormgirl

122 Rodney Ramos

123-128 Portfolio Review

130 Chris Weston

131 Gary Erskine

132 Doug Braithwaite

With IGN UK in the entrance and Urban Species, All You Grew Up With and All The Cool Stuff in the middle of the floor.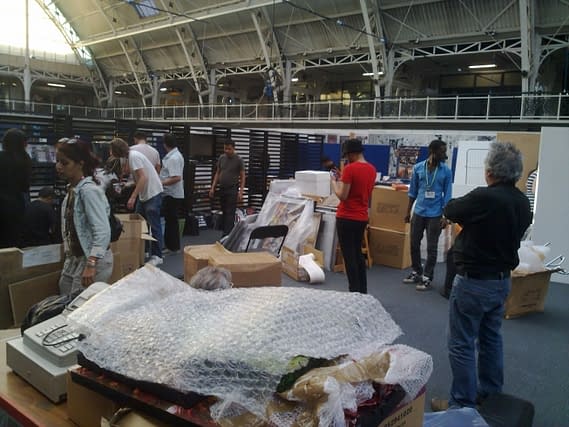 These are only the people who have tables, on the way in I bumped into Andy Diggle and Jock, and the Liam Sharp on the way out. I think there's going to be a lot of that.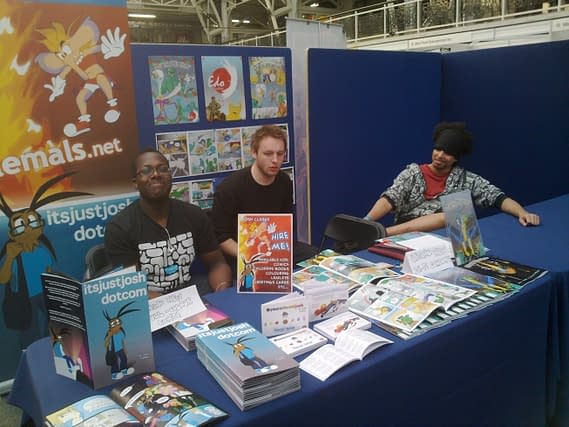 Oh, and yes, the pub. Because while the adjourning hotel bar is very nice, and there's even an Ask Pizza on the premises, between the show and the Angel Islington tube  is… The York.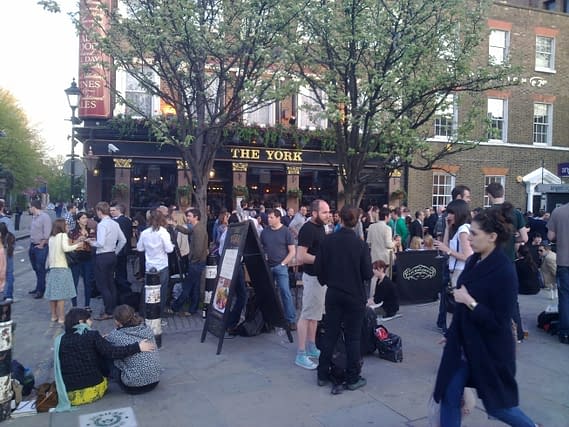 Something tells me on Saturday and Sunday night, that place is going to be full. Have they ever seen cosplay this end of North London before?
Let's find out!
Enjoyed this article? Share it!