'Sexy, Unexpected, With A Heart' – Billy Dogma Returns In Grindhouse: Drive In, Bleed Out #3
What could you come up with that was more extreme than something that might appear in the Dark Horse series Grindhouse? Well, you can't really–you just might find out they were already planning a similar story, like Dean Haspiel (The Fox and Fox Hunt with Mark Waid from Archie/Black Circle) did when he was asked to contribute a one-pager to Issue #3 by series writer Alex de Campi. So instead? Bring back a semi-auto bio character to explore some seriously sexy territory.
Haspiel's longtime fictional avatar Billy Dogma (aka "The Last Romantic Anti-Hero") appeared in his own graphic novel in 2014 and will be returning in 2015 as well. Here Haspiel stars Dogma in "Wet Dreams" appearing on the back cover of Grindhouse: Drive In, Bleed Out #3, out on March 25th.
Haspiel explains how this came about:
I was honored to be asked by my pal/writer, Alex De Campi, to contribute a story to her second GRINDHOUSE series. She asked for a 1-pager, which are hard to do, for the back cover of #3. I originally pitched an idea for Soccer Mom's verse Suburban Hookers who ally during a zombie apocalypse but Alex nixed it due to a similar storyline in Grindhouse.

So, I asked Alex what she thought a Dean/Grindhouse story looked like and she said "Sexy, unexpected, and with a heart." So, I took an event that happened to me and a friend of mine years ago, consolidated fact into fiction, and created new BILLY DOGMA mythology with a 1-page comic called "Wet Dreams." Not exactly gratuitous and exploitative as a grindhouse story likes to be but I got to flex some fun absurdities about sex and power."
Here are some rather spicy teasers from the one-pager: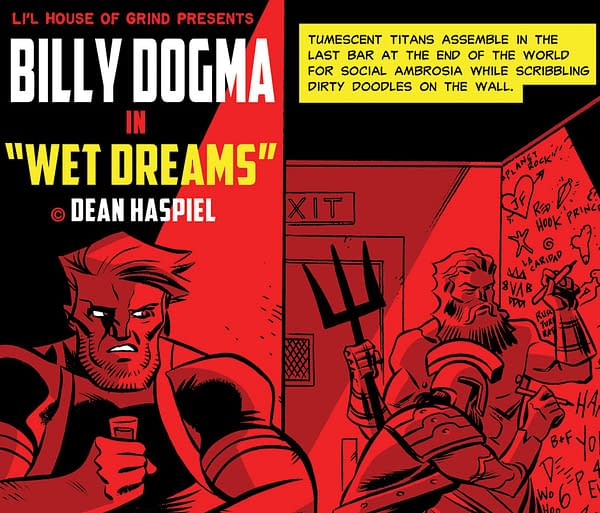 Grindhouse: Drive In, Bleed Out #3 will arrive in shops on March 25th, and you can view Bleeding Cool's preview of this issue here.