Skybound Galactic, Sony Pictures TV Developing Image Comics' Thief of Thieves, Nailbiter TV Series
The Walking Dead creator Robert Kirkman's Skybound Entertainment continues building beyond the Walking Dead universe with Skybound Galactic, which will focus on financing and developing scripted television series and projects. Partnering with indie studio Sony Pictures TV and led by Rick Jacobs (Dirk Gentl), Skybound Galactic will create and develop projects financed by Sony, with the studio selling series' rights on the international market.
For their first two announced projects, Skybound Galactic isn't wandering too far from Kirkman's Image Comics home with his Thief of Thieves comic being adapted by Evan Endicott and Josh Stoddard (Warrior), and directed by Assaf Bernstein (Fauda). Josh Williamson and Mike Henderson's Nailbiter will also be coming to live-action life, with Scott Kosar (Bates Motel) adapting and Oz Perkins set to direct.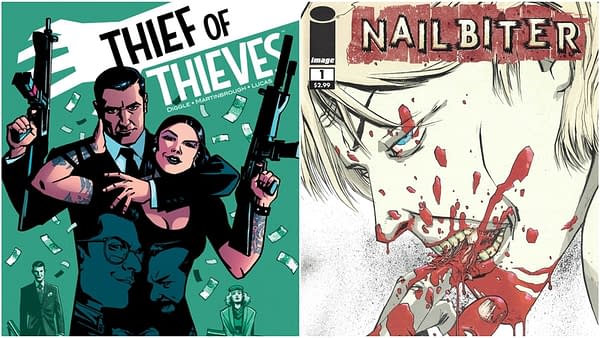 "Combining the multiplatform capabilities of Skybound and Top Cow's extensive library of IP with the best worldwide distribution in Sony is an unbelievable opportunity. I'm looking forward to continuing Skybound's mission to help creators expand their content into new markets." – Rick Jacobs, CEO, Skybound Galactic
Skybound film and television co-presidents Sean Furst and Bryan Furst will oversee both projects, with Skybound Entertainment chairman Kirkman, CEO David Alpert, and managing partner Jon Goldman serving on the Galactic board alongside Jacobs.
"The team at Skybound already has a stellar track record in creating successful genre properties, and like us, are committed to creating undeniable viewing experiences for audiences around the world. We look forward to many successful collaborations through our new venture." – Keith Le Goy, President – Worldwide Distribution, Sony Pictures Entertainment
Skybound Entertainment's deal with Sony Pictures TV is the second pact for the multimedia company, which also has a first-look deal with Image partner studio Top Cow (Skybound is an imprint at Image). Top Cow is currently developing series based on comic book properties The Darkness and Think Tank, with partners Marc Silvestri and Matt Hawkins executive producing.