Supernatural/Scooby-Doo Crossover Premiering at PaleyFest 2018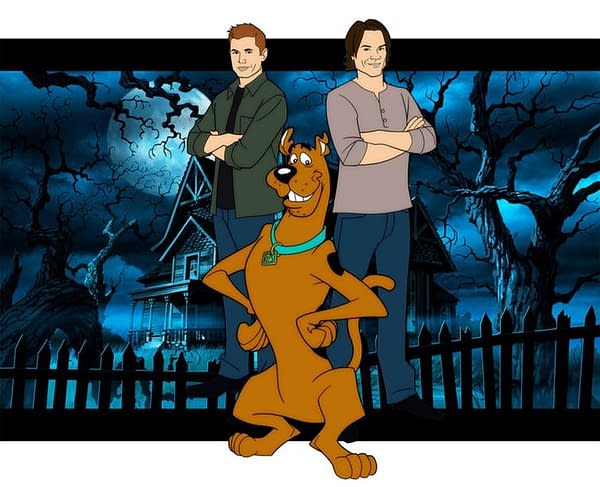 A small group of incredibly lucky Supernatural fans who are going to be around the Los Angeles, California, area on March 20th will be in for a very cool treat. This year's PaleyFest television festival will not only be holding a session for the CW's long-running hit horror series, but will also world premiere the show's Scooby-Doo crossover: "Scoobynatural," which airs to the rest of the world on Thursday, March 29th.
While details on the episode are still being kept under lock and key, we do know that Castiel (Misha Collins) will be involved and that co-showrunner Andrew Dabb described the episode to Entertainment Weekly this way: "It's more adult than your average episode of Scooby-Doo." Back in May 2017, Supernatural stars Jensen Ackles and Jared Padalecki revealed at The CW's upfront panel presentation that there would be a "colorful" episode during the show's 13th season and that it would taking place in the "fully animated world of Scooby-Doo." Flash ahead to October 2017, when executive producer Brad Buckner gave an update on the project; calling the episode "charming and very funny" and adding: "There's a certain amount of expertise [by] a certain brother about what Scooby world is. We have fun with that."
Show producer Jim Michaels took to Twitter in late January to tease the beginning of production on the show's animated crossover. In his tweet, Michaels included a production photo that revealed the crossover will take place during the 16th episode of the season, entitled "Scoobynatural." Robert Singer directs and executive produces the episode alongside Michaels, Dabb and Phil Sgriccia. Michaels also included the following message: "Time to tech survey in the Mystery Machine! Episode 16! @cw_supernatural #supernatural #spnfamily".
You can see the script cover page for yourself below, showing The Winchesters' Impala parked in front of a burning home — though it's still unclear if that image relates to the script or if it is just a cover image: