Oh but this is beautiful. I mean I can't really call this a swipe. It's a homage, but one that goes far further than a simple image.
The Darick Robertson cover for Boys spinoff Highland Laddie by Garth Ennis and John McCrea and features Wee Hughie sitting on a bucket. In a manner and pose intended to remind the reader of the classic Oor Wullie image.
Oor Wullie was a cartoon character created in the 1930s by Dudley T Watkins for The Sunday Post newspaper. Watkins was the creator of Desperate Dan, Lord Snooty, The Broons and other famous British comics characters, and is the principal influence of Frank Quitely. But it goes further.
In the comic we meet his old friends Big Bobby and Det (short for Detergent) – Oor Wullie has friend Fat Boab and Soapy Soutar. Hughie's parents, Paw and Maw, are modelled on Oor Wullie's parents in the strip. The East Coast town is called Auchterladle – Oor Wullie lived in Auchenshoogle. The bus driver is called McGonagall – William McGonagall was a Dundee poet influnced by Oor Wullie. Beezer is named after the comic from Watkins' Glasgow/Dundee publishers DC Thomson. And the language – things are "awfy braw" (awfully good) – even when it's cocaine.
Garth Ennis has taken a classic children's comic strip published to this day and collected in Christmas annuals, still a treat for many across Britain… and have turned it into a Boys spinoff! So here, just to remind you of what once was, is a classic Oor Wullie strip. And naturally, since this is a Garth Ennis Swipe File – it concerns swearing!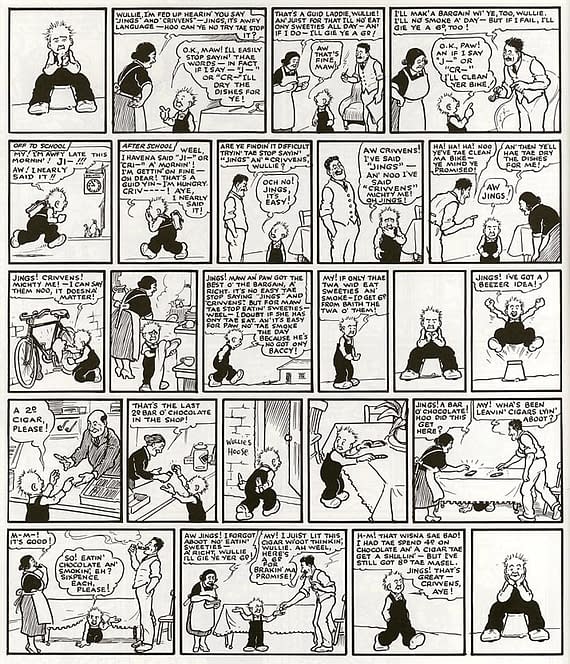 Enjoyed this article? Share it!