1. It may not have a massive headliner on the scale of Stan Lee to bring in the crowds this time, but LSCC delivered a more rounded show that pulled them in nonetheless. Perhaps it was down to Kapow not running a show this year, but despite an entirely comics themed guest list – or perhaps because of it – there were masses and masses of people filling up a rather enormous room (certainly the biggest con I've ever been to, and the only building I've ever visited that had tube stops for the same line at either end).
2. And if anyone is in the running for heir apparent to Stan the Man's crowd-drawing power, it's got to be Dan the Man. Dan Slott sat at Limited Edition Comics' booth cheerily signing anything anyone brought to him, non-stop, the entire weekend – save only for the hour he spoke at the Spider-Man panel. And a lot of people brought him comics to sign. The two hour long queue snaked around the room, at least as far as organisers would allow – frequently cutting people off from joining, because it really was that crazy at times. I remember Dan back from when he was writing She-Hulk – he really has hit the big time with Spider-Man, he was by far the most popular guest at this event.
3. Spider-Island nearly didn't happen – Slott only came up with it at the last minute to fill a Spider-Man shaped gap in the event schedule that he didn't feel his Doc Ock plot was in the right place for. And he originally wanted to call it "Spider-Manhattan".
4. Cosplayers are getting more inventive, more impressive and more current. Among the cosplayers I saw a Genesis, a modern Scarlet Spider (getting up close and personal with Deadpool for some reason), a stealth suit Spider-Man, Red She-Hulk, Agent 13, two Scarlet Witches, Jack of Hearts, legions of Damian Waynes, Pixie, Rick Grimes, Adventure Time, young Loki and Leah…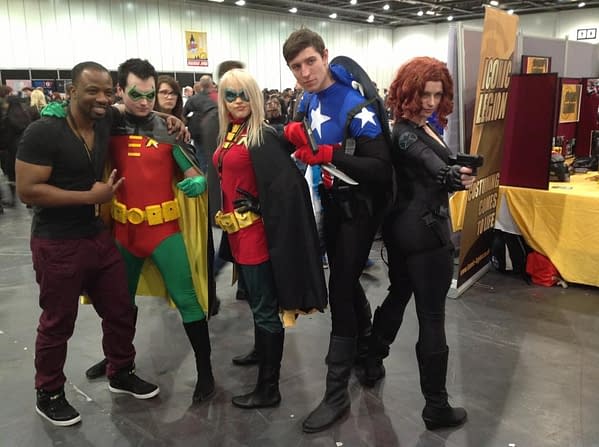 5. The classic superhero trope, the "domino" face mask, does not work the way it's intended to. I saw the pictured Green Lantern on the Sunday and almost immediately recognised him as the Bucky-Cap from the Saturday. (If you're reading this, Winter Lantern – blue is definitely your colour.)
6. David Mack says he hasn't read what Bendis did to his character Echo in Moon Knight – although, cryptically, he remarks that she turns up in the current Daredevil series "End of Days".
7. Young Avengers' Kieron Gillen and Jamie McKelvie have become bloody superstars. I remember being able to walk right up to them and buy single issues of Phonogram in 2007…
8. Between Daredevil panelists Klaus Janson, David Mack and Bill Sienkiewicz – none of them liked the Daredevil movie.
9. CBBC's Apprentice rip-off/homage, Trade Your Way To The USA, was filming on the Sunday. A team of children were roaming around the floor trying to flog their superhero themed biscuits for £3 each. I don't know, compared to some of the food prices at ExCel, that was pretty good value…
10. J Scott Campbell and friends. I don't know, maybe Mary Jane COULD pull off that infamous pose…
Enjoyed this article? Share it!