The Full DC Comics Solicitations For June 2016 – Credits, Details And The Logos On The Covers #DCRebirth (UPDATE)
Kaboom! Here we go folks, the full DC Comics solicitations, all the June Rebirth books, all the continuing non-DC Universe series and concluding mini-series, the Hanna Barbera books, the Vertigo books and all the collections, toys and statues.
We also get to see the DC Rebirth new logos on all the titles as well.
And nice big artwork!
UPDATE: And added a couple of stragglers… DC UNIVERSE: REBIRTH #1
Written by GEOFF JOHNS
Art by GARY FRANK, IVAN REIS, ETHAN VAN SCIVER, PHIL JIMENEZ and others
Cover by GARY FRANK
It all begins here. Do not skip to the last page. Do not let a friend or message board ruin this comic for you. The future (and past) of the DC Universe starts here. Don't say we didn't warn you!
THEY SAID IT: "Rebirth is about focusing in on the core of the character and their respective universe," says writer and DC Entertainment Chief Creative Officer Geoff Johns. "It brings back what has been lost, the legacy of the characters, the love and the hope of the DCU!"
RETAILERS: THIS TITLE WILL NOT BE LISTED ON FOC. ALL ORDERS MUST BE FINALIZED BY APRIL 28.
One-shot • On sale MAY 25 • 80 pg, FC, $2.99 US • RATED T SUPERMAN: REBIRTH #1
Written by PETER J. TOMASI
Art by DOUG MAHNKE and JAIME MENDOZA
Cover by DOUG MAHNKE
Variant cover by ANDY PARK
The world needs a Man of Steel, but can Superman protect the world while raising a super-son with his wife, Lois Lane?
IT BEGINS: Now it's Clark's turn to be Pa Kent and teach his son what it means to be super, but who is hunting Superman's son—and why?
One-shot • On sale JUNE 1 • 32 pg, FC, $2.99 US • RATED T SUPERMAN #1
Written by PETER J. TOMASI
Art and cover by PATRICK GLEASON and MICK GRAY
Variant cover by KENNETH ROCAFORT
NOW SHIPPING TWICE MONTHLY!
"THE SON OF SUPERMAN" chapter one
The Last Son of Krypton must decide whether to help his young son use his new and rapidly increasing abilities, or hide them from the world.
THE CREATORS: The team supreme that brought fans the adventures of Damian Wayne in "Batman and Robin" returns for the adventures of Superman and his offspring.
On sale JUNE 15 • 32 pg, FC, $2.99 US • RATED T ACTION COMICS #957
Written by DAN JURGENS
Art by PATRICK ZIRCHER
Cover by MIKEL JANIN
Variant cover by RYAN SOOK
NOW SHIPPING TWICE MONTHLY!
"PATH TO DOOM" chapter one
Superman returns to Metropolis just in time to meet the city of tomorrow's newest protector: Lex Luthor. But it's not long before these dueling titans meet someone unexpected — the new Clark Kent!
DON'T MISS: ACTION COMICS returns to its original numbering with this issue!
On sale JUNE 8 • 32 pg, FC, $2.99 US • RATED T ACTION COMICS #958
Written by DAN JURGENS
Art by PATRICK ZIRCHER
Cover by MIKEL JANIN
Variant cover by RYAN SOOK
NOW SHIPPING TWICE MONTHLY!
"PATH TO DOOM" chapter two
Luthor and Superman must put aside their differences and face the common threat of Doomsday, as Jimmy Olsen and the Planet staff try to uncover the truth: who is the man claiming to be Clark Kent?
THEY SAID IT: "Superman is synonymous with the word superhero," says artist Patrick Zircher. "He's the greatest. Drawing ACTION COMICS fills me with a passion to make great comics."
On sale JUNE 22 • 32 pg, FC, $2.99 US • RATED T BATMAN: REBIRTH #1
Written by TOM KING and SCOTT SNYDER
Art and cover by MIKEL JANIN
Variant cover by TBD
Longtime Batman and Eisner Award winning writer Scott Snyder co-writes with rising star writer Tom King!
EVIL 365: Gotham City faces the threat of the Calendar Man!
One-shot • On sale JUNE 1 • 32 pg, FC, $2.99 US • RATED T BATMAN #1
Written by TOM KING
Art and cover by DAVID FINCH and MATT BANNING
Variant cover by TIM SALE
NOW SHIPPING TWICE MONTHLY!
"I AM GOTHAM" chapter one
No one has ever stopped the Caped Crusader. Not The Joker. Not Two-Face. Not even the entire Justice League. But how does Batman confront a new hero who wants to save the city from the Dark Knight?
CAN'T MISS: Superstar artist David Finch returns to Batman alongside writer Tom King for this five-part storyline.
On sale JUNE 15 • 32 pg, FC, $2.99 US • RATED T DETECTIVE COMICS #934
Written by JAMES TYNION IV
Art and cover by EDDY BARROWS and EBER FERREIRA
Variant cover by RAFAEL ALBUQUERQUE
NOW SHIPPING TWICE MONTHLY!
"RISE OF THE BATMEN" chapter one
An unknown predator begins outdoing Batman, taking down dangerous threats with military precision. It's up to the Dark Knight and series costar Batwoman to rally and train the young heroes of Gotham City to end this mysterious threat!
WHAT NOW: Batman and Batwoman begin training Spoiler, Red Robin and Cassandra Cain, but is the villainous Clayface ready for redemption?
On sale JUNE 8 • 32 pg, FC, $2.99 US • RATED T DETECTIVE COMICS #935
Written by JAMES TYNION IV
Art and cover by EDDY BARROWS and EBER FERREIRA
Variant cover by RAFAEL ALBUQUERQUE
NOW SHIPPING TWICE MONTHLY!
"RISE OF THE BATMEN" chapter two
Batman and team find themselves in the crosshairs as the villain they've begun hunting turns the tables on them. Batman and Batwoman have the skills to survive, but do their young teammates? Is this where hero training ends in tragedy?
THEY SAID IT: "The ideas are boiling inside my brain," boasts artist Eddy Barrows. "James and I intend to elevate Batman to a whole new level, with amazing and exciting stories, and artwork. To sum it up in one sentence—it's going to be epic!"
On sale JUNE 22 • 32 pg, FC, $2.99 US • RATED T AQUAMAN: REBIRTH #1
Written by DAN ABNETT
Art by OSCAR JIMENEZ
Cover by BRAD WALKER and DREW HENNESSEY
Variant cover by RYAN BEMJAMIN
Born to both the surface and the sea, Arthur Curry walks in two worlds but can find a home in neither. The king of Atlantis looks to reconcile his split heritage as he embarks on a new mission that may finally make him choose between his two paths.
POLITICAL PLAYER: "As the leader of a world power," writer Dan Abnett says, "Arthur believes it's time Atlantis became part of the global community. Atlantis has been on the outside for too long: feared, mysterious and misunderstood. But that means getting the world used to Atlantis…and vice versa.
One-shot • On sale JUNE 8 • 32 pg, FC, $2.99 US • RATED T AQUAMAN #1
Written by DAN ABNETT
Art and cover by BRAD WALKER and DREW HENNESSEY
Variant cover by JOSHUA MIDDLETON
NOW SHIPPING TWICE MONTHLY!
"THE DROWNING" chapter one
Black Manta returns, and as Aquaman attempts to broker lasting peace between Atlantis and the surface world, his greatest foe engineers a plan to destroy everything and everyone the undersea hero loves.
THEY SAID IT: "I'm excited to draw a vast undersea world with all the visual flourishes of fantasy and science fiction that it affords," says artist Brad Walker. "I've done so much work in outer space-based comics, and I love the freedom that affords."
On sale JUNE 22 • 32 pg, FC, $2.99 US • RATED T THE FLASH: REBIRTH #1
Written by JOSHUA WILLIAMSON
Art by CARMINE DI GIANDOMENICO
Cover by KARL KERSCHL
Variant cover by JASON PEARSON
Spinning directly out of the epic events of DC UNIVERSE: REBIRTH #1, the fastest man alive finds himself at the center of a DC Universe at a crossroads.
WARNING: Do NOT read this issue until after you read DC UNIVERSE: REBIRTH #1!
One-shot • On sale JUNE 8 • 32 pg, FC, $2.99 US • RATED T THE FLASH #1
Written by JOSHUA WILLIAMSON
Art by CARMINE DI GIANDOMENICO
Cover by KARL KERSCHL
Variant cover by DAVE JOHNSON
NOW SHIPPING TWICE MONTHLY!
"LIGHTNING STRIKES TWICE" chapter one
A new storm brews over Central City and disproves the old adage about lightning never, well…you know. Just as Barry begins to feel overwhelmed fighting crime, a new speedster debuts—but just where did this amazing new friend come from?
FLASH FACT: "2016 is the 60th anniversary of Barry Allen becoming The Flash and it's a privilege to be a part of it," says writer Joshua Williamson. "'The Return of Barry Allen' in FLASH #79 [1993] is one of my favorite comics of all time. It's where I became a Flash fan for life."
On sale JUNE 22 • 32 pg, FC, $2.99 US • RATED T GREEN LANTERNS: REBIRTH #1
Written by GEOFF JOHNS and SAM HUMPHRIES
Art and cover by ETHAN VAN SCIVER
Variant cover by ALEX GARNER
Creative powerhouse Geoff Johns puts the ring on again as he, cowriter Sam Humphries and artist Ethan Van Sciver debut a new era of emerald greatness! Rookie Green Lanterns Jessica Cruz and Simon Baz tackle the universe's toughest beat: Earth.
HOT TICKET: Geoff and Ethan brought Hal Jordan to epic status with the original GREEN LANTERN: REBIRTH.
One-shot • On sale JUNE 1 • 32 pg, FC, $2.99 US • RATED T GREEN LANTERNS #1
Written by SAM HUMPHRIES
Art by ROBSON ROCHA
Cover by ROBSON ROCHA and JOE PRADO
Variant cover by EMANUELA LUPACCHINO
NOW SHIPPING TWICE MONTHLY!
"RED PLANET" chapter one
New Lanterns Jessica Cruz and Simon Baz promised to protect others in brightest day or blackest night, but as "Red Planet" begins to rise, the partners find themselves confronted with a unimaginable threat from Bleez and the Red Lanterns!
THEY SAID IT: "I am psyched for GREEN LANTERNS!" says writer Sam Humphries. "Myself, Simon, and Jessica are all new to the DC Universe. We're gonna have a blast exploring it—if we don't destroy it first."
On sale JUNE 15 • 32 pg, FC, $2.99 US • RATED T GREEN ARROW: REBIRTH #1
Written by BENJAMIN PERCY
Art by OTTO SCHMIDT
Cover by JUAN FERREYRA
Variant cover by STEVE SKROCE
Together again for the first time, the Emerald Archer meets Black Canary. Questioning everything Green Arrow believes in, Dinah Lance throws the hero's world upside down, forcing him to question what he cares about more: his morals or his money?
BULLSEYE: "Readers are aching for the reunion of Green Arrow and Black Canary, and we're finally going to give it to them." says writer Benjamin Percy. "Also returning? Green Arrow's goatee."
One-shot • On sale JUNE 1 • 32 pg, FC, $2.99 US • RATED T GREEN ARROW #1
Written by BENJAMIN PERCY
Art by OTTO SCHMIDT
Cover by JUAN FERREYRA
Variant cover by NEAL ADAMS
NOW SHIPPING TWICE MONTHLY!
"THE DEATH AND LIFE OF OLIVER QUEEN" chapter one
As Oliver struggles with how he can fight "the man" when his huge fortune makes him the man, he and Black Canary uncover a deadly new threat to Seattle that cuts the Archer to the bone.
THEY SAID IT: "My touchstones are [former GA writers] Dennis O'Neil and Mike Grell, while trying to make the series my own," says writer Benjamin Percy. "Green Arrow will be a politically and culturally relevant series. Expect stories that aim a broadhead into the zeitgeist, that are ripped from the headlines."
On sale JUNE 15 • 32 pg, FC, $2,.99 US • RATED T WONDER WOMAN: REBIRTH #1
Written by GREG RUCKA
Art by PAOLO SIQUERIA and LIAM SHARP
Cover by LIAM SHARP
Variant cover by STANLEY "ARTGERM" LAU
After suffering an unimaginable loss, Wonder Woman must rebuild her mission as Earth's ultimate protector and champion.
DON'T MISS: New York Times best selling writer Greg Rucka returns to Wonder Woman with a tale that will forever alter the DC icon.
One-shot • On sale JUNE 8• 32 pg, FC, $2.99 US • RATED T WONDER WOMAN #1
Written by GREG RUCKA
Art and cover by LIAM SHARP
Variant cover by FRANK CHO
NOW SHIPPING TWICE MONTHLY!
"THE LIES" chapter one
Why has the lasso of truth stopped working for the Amazon Princess? Start down the rabbit hole as dark secrets from Wonder Woman's past unravel her present!
THEY SAID IT: "Drawing Wonder Woman isn't just drawing a comic, it's drawing an icon—the most famous and recognizable female superhero in the world," exclaims artist Liam Sharp. "To get to draw her in her 75th year, with a new storyline scribed by no less than Greg Rucka, makes this without doubt the most important drawing gig of my 30 years in comics."
On sale JUNE 22 • 32 pg, FC, $2.99 US • RATED T TITANS: REBIRTH #1
Written by DAN ABNETT
Art and cover by BRETT BOOTH and NORM RAPMUND
Variant cover by MIKE CHOI
Friends. Teammates. Titans. Donna Troy, Arsenal, Garth, Lilith and Nightwing were all that and more until a mysterious force erased their memories, forcing them to forget what they could accomplish together. Reunited with their memories returned, the Titans must destroy the interdimensional demon that broke them apart and threatens reality itself.
THEY SAID IT: "Grayson and Donna were a few of the characters I first worked on at DC, so it feels like a homecoming for me," explains penciller Brett Booth. "I'm beyond happy!"
WARNING: Do NOT read this issue until after you read DC UNIVERSE: REBIRTH #1!
One-shot • On sale JUNE 15 • 32 pg, FC, $2.99 US • RATED T WACKY RACELAND #1
Written by KEN PONTAC
Art and cover by LEONARDO MANCO
PENELOPE PITSTOP Variant cover by TOMMY LEE EDWARDS
PETER PERFECT Variant cover by JOE PRADO
DICK DASTARDLY Variant cover by DAVE JOHNSON
Coloring book cover by LEONARDO MANCO
The world has ended, but the race has just begun! Penelope Pitstop, Peter Perfect and the rest of the Wacky Racers vie for the finish line in a contest where the winner takes all and second place is death. Today's trial: the shattered maze of freeways known as the Überpass, where they're beset by giant sand beasts, mutated insects, and worst of all, Dick Dastardly's murderously poor sportsmanship. The last thing they need after surviving the race is a brutal bar fight in a local dive, but that's just what they get!.
On sale JUNE 8 • 32 pg, FC, $3.99 US • RATED T SCOOBY APOCALYPSE #2
Story by JIM LEE and KEITH GIFFEN
Script by KEITH GIFFEN and J.M. DeMATTEIS
Art by HOWARD PORTER
Cover by JIM LEE
Variant cover by CARLOS D'ANDA
The apocalypse continues as Scooby and the gang explore a mysterious facility that may hold the key to their survival. Little do they know that a particularly powerful puppy and his gang of mutated mutts are waiting in the shadows—and they're ready to attack!
On sale JUNE 15 • 32 pg, FC, $3.99 US • RATED T FUTURE QUEST #2
Written by JEFF PARKER
Art and cover by EVAN "DOC" SHANER
Variant cover by JILL THOMPSON
Still reeling from their encounter with the ghost from outer space, Jonny and Hadji reach the wreckage of the vessel that burst through the vortex. The ship's sole survivor doesn't remember what she was fleeing, or even her own name…but she does know her pet is called Blip. Plus: journey to Earth's past, 45,000 years ago—and witness the birth of the world's first fantastic hero: Mightor!
On sale JUNE 29 • 32 pg, FC, $3.99 US • RATED T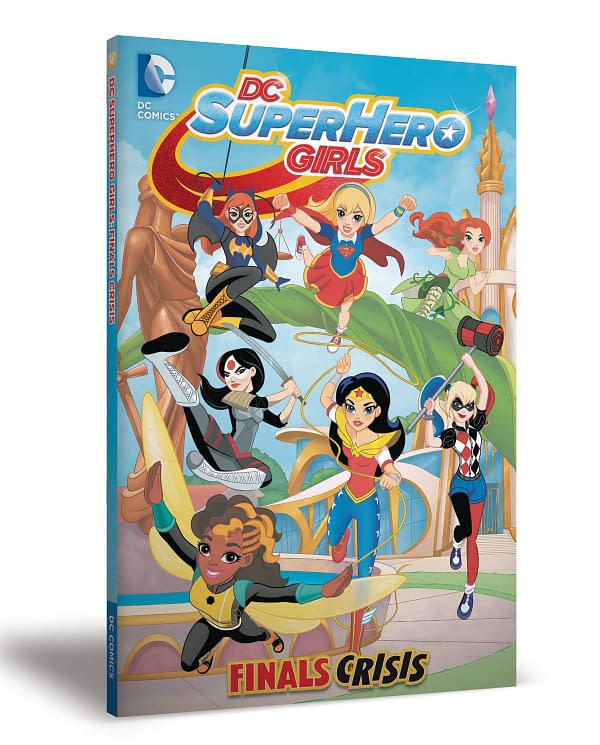 DC SUPER HERO GIRLS VOL. 1: FINALS CRISIS TP
Written by SHEA FONTANA
Art and cover by YANCEY LABAT
Preparing for high school exams is hard enough, but at Super Hero High, even the tests are super-tough! Principal Waller keeps an eagle eye on her students, drilling them in math, science, literature—and other subjects like flying and powers! And no one wants to fail, because Principal Waller hands out detention faster than a speeding bullet.
In the first-ever all ages DC Super Hero Girls original graphic novel, Supergirl, Wonder Woman, Bumblebee, Batgirl, Harley Quinn, Katana, and Poison Ivy are studying hard—well, maybe not Harley Quinn— when they are each abducted by a mysterious villain! Will the students outsmart their captor, save Gotham City, and still pass their finals?
On sale JUNE 29 • 128 pg, FC, 6" x 9", $9.99 US TEEN TITANS EARTH ONE VOL. 2 HC
Written by JEFF LEMIRE
Art and cover by ANDY MACDONALD
After months on the run from the twisted project that created them, Cyborg, Terra, Beast Boy and Garth are near their breaking point, barely surviving on what they can steal, squatting in the ruins of an abandoned subdivision. But as they reach their lowest ebb, their creator, Dr. Niles Caulder, is ready to make his move…and they're about to learn that they weren't the only kids to go through Caulder's twisted process! There are more children with powers out there, and unlike our heroes, they were raised for only one purpose—to be the living weapons Caulder wants ALL his Titans to be!
Writer Jeff Lemire (GREEN ARROW, ANIMAL MAN) teams up with artist Andy MacDonald (THE NEW 52: FUTURES' END) to deliver the next chapter in the Earth One series!
On sale AUGUST 10 • 144 pg, FC, $22.99 US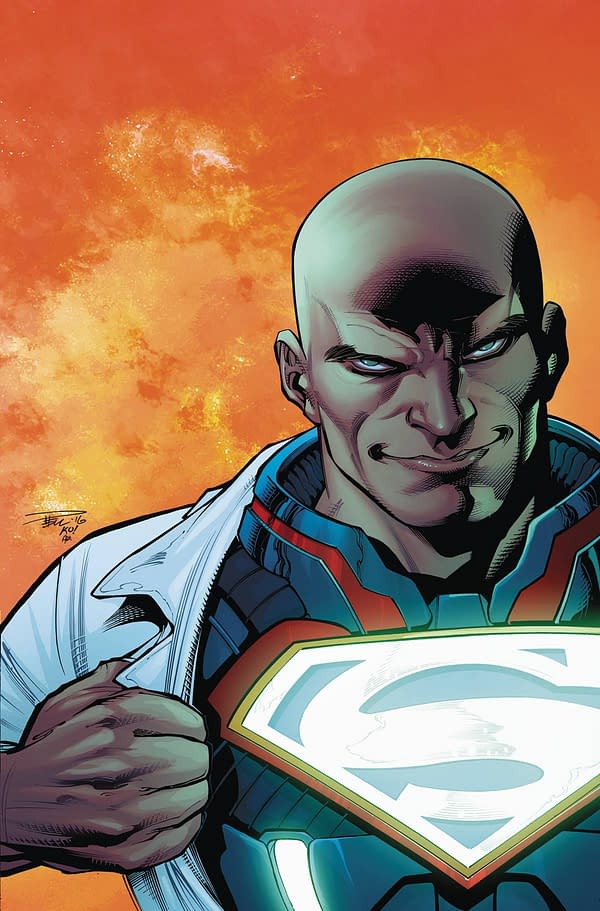 JUSTICE LEAGUE #51
Written by DAN JURGENS
Art and cover by PAUL PELLETIER and TONY KORDOS
It's a brave new world in the devastation that follows "Darkseid War."
RESOLICIT • On sale JUNE 8 • 32 pg, FC, $3.99 US • RATED T JUSTICE LEAGUE #52
Written by SAM HUMPHRIES
Art and cover by PAUL PELLETIER and TONY KORDOS
The former Power Ring, Jessica Cruz, now possesses a Green Lantern ring. But can a coward like Jessica truly be worthy of it?
On sale JUNE 22 • 32 pg, FC, $3.99 US • RATED T JUSTICE LEAGUE OF AMERICA #12
Written by BRYAN HITCH
Art by NEIL EDWARDS and DANIEL HENRIQUES
Cover by BRYAN HITCH
Green Lantern's ring has been hacked! Someone has a personal vendetta against the League,
attacking them where they are the most vulnerable!
On sale JUNE 22 • 32 pg, FC, $3.99 US • RATED T JUSTICE LEAGUE OF AMERICA ANNUAL #1
Written by BRYAN HITCH
Art by NEIL EDWARDS and DANIEL HENRIQUES
Cover by BRYAN HITCH
The vendetta of the League's newest enemy puts them through the ultimate test by releasing the DCU's most dangerous super-villains from prison!
On sale JUNE 29 • 48 pg, FC, $4.99 US • RATED T BLOODLINES #3: "THE TERROR WITHIN"
Written by J.T. KRUL
Art and cover by V. KEN MARION and SEAN PARSONS
Eddie, Albert, and Dana search for answers about what is happening to them—but the truth may be worse than they can imagine. Plus, Duncan already lost his family to the secret alien infestation, and now he's driven to get a little payback. Time for some mercy killing.
On sale JUNE 1 • 32 pg, FC, 3 of 6, $2.99 US • RATED T CYBORG #12
Written by MARV WOLFMAN
Art by FELIPE WATANABE and OCLAIR ALBERT
Cover by JONBOY MEYERS
S.T.A.R. Labs is invaded by brother and sister super-villains seeking revenge for the suicide of their father. Cyborg is the only one who can stop them, but he's in the middle of a firmware upgrade from the events of last issue.
On sale JUNE 22 32 pg, FC, $2.99 US • RATED T CONSTANTINE, THE HELLBLAZER #13
Written by MING DOYLE and JAMES TYNION IV
Art by ERYK DONOVAN
Cover by RILEY ROSSMO
John Constantine has been to Hell so many times it feels like home—and he knows that it's no place to leave two scared little girls trapped. He's got one shot to save Oliver's kids, but he'll have to fight Faerie, Blythe, Papa Midnite and a host of even worse things while he tries to fix this latest mistake.
On sale JUNE 8 • 32 pg, FC, $2.99 US • RATED T+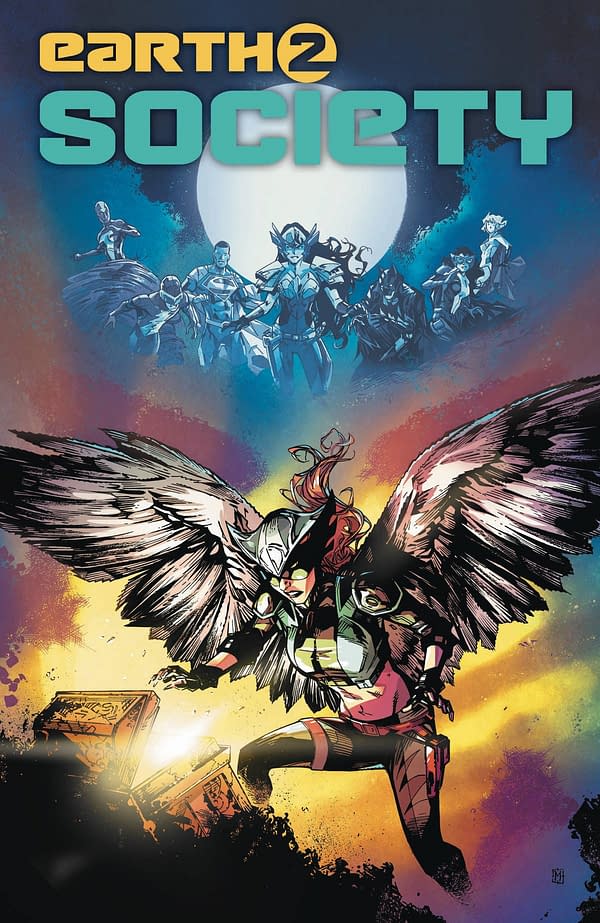 EARTH 2: SOCIETY #13
Written by DAN ABNETT
Art by FEDERICO DALLOCCHIO
Cover by MATTHEW CLARK
Can the device that Fury used to bring back the Amazons also provide the means to power up the new Earth-2, a world without natural resources? Hawkgirl thinks so, but given Fury's background and history, can she convince the other Wonders and the rest of the world? Sides will be chosen as the future of the entire world may very well hang in the balance.
On sale JUNE 8 • 32 pg, FC, $2.99 US • RATED T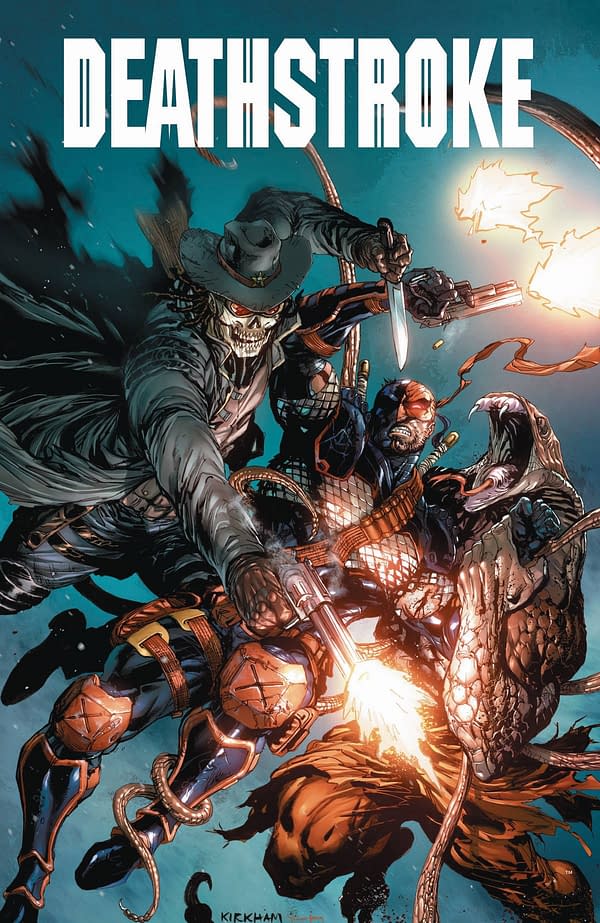 DEATHSTROKE #19
Written by JAMES BONNY • Art by PAOLO PANTALENA • Cover by TYLER KIRKHAM
With the life of his daughter Rose hanging in the balance, Slade Wilson is forced into a tense alliance with Ra's al Ghul and the League of Assassins. And before he can carry out his vendetta against Victor Ruiz and his mercenary army, Slade must first engage in a violent rematch with his latest deadly foes, Lawman and Snakebite. Can Deathstroke survive this all-out "Blood Feud"?
On sale JUNE 22 • 32 pg, FC, $2.99 US • RATED T+ DEATHSTROKE ANNUAL #2
Written by PHIL HESTER
Art by MIRKO COLAK
Cover by JORGE JIMENEZ
When the son of a powerful drug warlord is assassinated by a mysterious costumed hitman known only as The Balkan, Deathstroke is hired by his family to take revenge! But who is The Balkan? And what is his endgame? Find out in a stunning annual you won't want to miss!
On sale JUNE 29 • 48 pg, FC, $4.99 US • RATED T+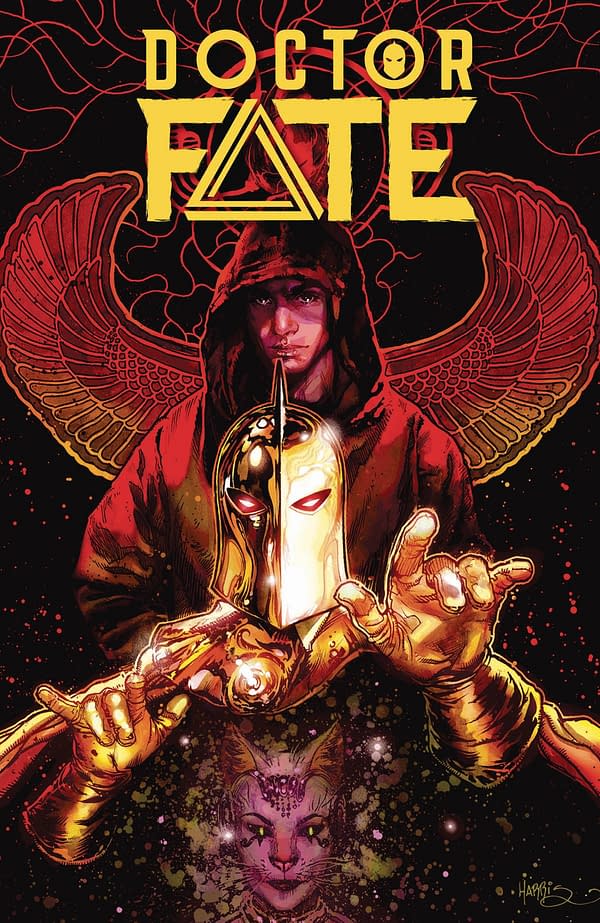 DOCTOR FATE #13
Written by PAUL LEVITZ
Art by IBRAHIM MOUSTAFA
Cover by TONY HARRIS
From a windowless tower in Salem, Massachusetts, a man who is familiar with Doctor Fate, Kent Nelson, smells trouble coming. But will he be able to properly teach the former medical student and current possessor of the mystical power, Khalid Nassour, how to truly be Doctor Fate before all New York City is aflame?
On sale JUNE 1 • 32 pg, FC, $2.99 US • RATED T RED HOOD/ARSENAL #13
Written by SCOTT LOBDELL
Art by JOE BENNETT
Cover by ROBSON ROCHA
The Joker's Daughter's master plan is revealed! Are Jason and Roy strong enough take down both Duela and the Iron Rule? And what will it cost them? Find out in the shocking conclusion to RED HOOD/ ARSENAL!
On sale JUNE 8 • 32 pg, FC, $2.99 US • RATED T • FINAL ISSUE LEGENDS OF TOMORROW #4
Cover by FRANCIS MANAPUL
FIRESTORM
Written by GERRY CONWAY
Art by EDUARDO PANSICA and ROB HUNTER
With Firestorm held captive by General Eiling and tortured to the brink of an unstable nuclear reaction, it's up to Jason Rausch and Tonya Lu to sneak into NASCA Base and save Ronnie and Professor Stein…before they explode!
METAMORPHO
Written by AARON LOPRESTI
Art by AARON LOPRESTI and JONATHAN GLAPION
Metamorpho and Sapphire have forged an alliance with the people of Dagon Ra to find the Orb, but will they be able to fend off Kanjar Ro and his space pirates?
SUGAR & SPIKE
Written by KEITH GIFFEN
Art by BILQUIS EVELY
When Green Lantern's friend Itty the extraterrestrial is kidnapped, only Sugar & Spike can save the day! But who would kidnap a poor, defenseless outer-space worm?!
METAL MEN
Written by LEN WEIN
Art by YILDIRAY CINAR and TREVOR SCOTT
With their backs against the wall, and the military breathing down their necks, the Metal Men turn to their one friend who might be able to help them track down Nameless: Cyborg!
On sale JUNE 8 • 80 pg, FC, $7.99 US • RATED T SWAMP THING #6
Written by LEN WEIN
Art and cover by KELLEY JONES
The stunning conclusion to Len Wein and Kelley Jones' smash-hit miniseries! The fate of his home hinges on Alec Holland and his allies as shocking information is revealed about his friend-turned-foe Matt Cable.
On sale JUNE 1 • 32 pg, FC, 6 of 6, $2.99 US • RATED T NEW SUICIDE SQUAD #21
Written by TIM SEELEY
Art and cover by JUAN FERRERYAT
What do you get when you mix the deadly Suicide Squad with the Fist of Cain killer cult and Rose Tattoo, the resurrected goddess of murder? A very, very bad day for Amanda Waller.
On sale JUNE 15 • 32 pg, FC, $2.99 US • RATED T+ SUICIDE SQUAD MOST WANTED: DEADSHOT/KATANA #6
Written by MIKE W. BARR and BRIAN BUCCELLATO
Art by DIOGENES NEVES, VIKTOR BODGANOVIC and RICHARD FRIEND
Cover by CARY NORD
Retailers: This cover was previously slated to run on issue #1.
Kobra put the fate of the Earth at risk—and now he wants Katana and the Squad to work beside him to clean up his mistakes. As the fight on his ark heats up, they'll all need to decide what is most important!
On sale JUNE 15 • 48 pg, FC, 6 of 6,
$4.99 US • RATED T TEEN TITANS #21
Written by TONY BEDARD
Art by IAN CHURCHILL
Cover by MIKE McKONE
While attempting to clean up their public image, the Teen Titans unexpectedly encounter an dangerous threat—the dastardly duo known as Monsieur Mallah and the Brain!
On sale JUNE 22 • 32 pg, FC, $2.99 US • RATED T TEEN TITANS ANNUAL #2
Written by SCOTT LOBDELL
Art by CORY SMITH
Cover by JONBOY MEYERS
Retailers: This cover was previously slated to run on TEEN TITANS #20.
A rare night off for the Teen Titans turns into a disaster when partygoers begin to mutate into bizarre, uncontrollable animals! Is this the work of Brother Blood? Or someone even more deadly?
On sale JUNE 29 • 48 pg, FC, $4.99 US • RATED T
Batman/Superman #33
NO DETAILS YET
Batman/Superman Annual #3
NO DETAILS YET
Superman/Wonder Woman #30
NO DETAILS YET SUPERMAN: THE COMING OF THE SUPERMEN #5
Written by NEAL ADAMS
Art and cover by NEAL ADAMS
Superman and the New Gods launch their plan to free the young boy and his dog from his Apokolips prison, but Darkseid's ultimate prize is within sight, and the only person standing in his way is…Lex Luthor?!
On sale JUNE 1 • 32 pg, FC, 5 of 6, $3.99 US • RATED T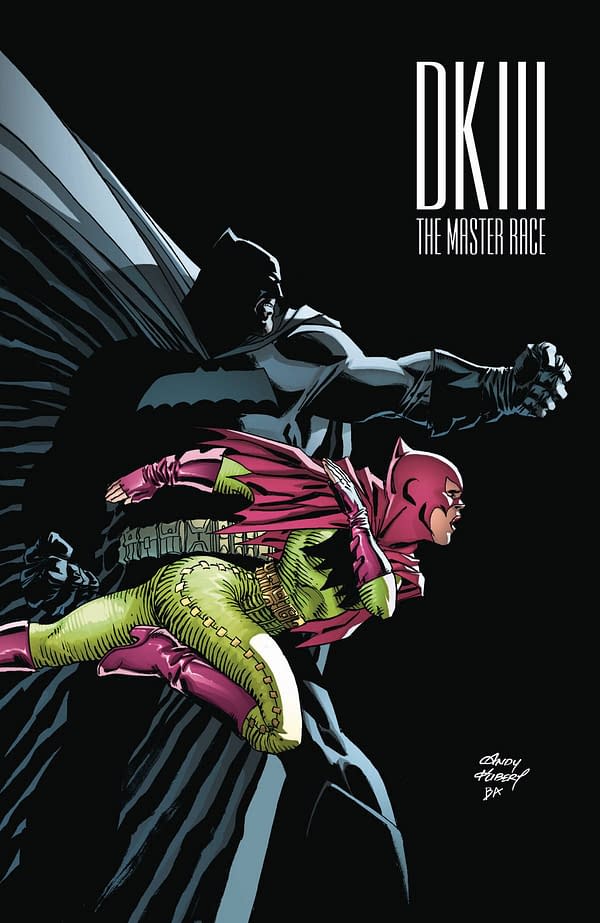 DARK KNIGHT III: THE MASTER RACE #6
Written by FRANK MILLER and BRIAN AZZARELLO
Art by ANDY KUBERT and KLAUS JANSON
Minicomic art by TBD
Cover by ANDY KUBERT
1:10 Robin variant cover by GIUSEPPE CAMUNCOLI
1:25 variant cover by KLAUS JANSON
1:50 variant cover by TBD
1:100 variant cover by FRANK MILLER
1:500 variant cover by JIM LEE and SCOTT WILLIAMS
Is Gotham City ready for a new Batgirl?!
On sale JUNE 15 • 32-page comic – 6.375" x 10.1875"
16-page minicomic – 5.5" x 8.5" • FC, 6 of 8, $5.99 US
DARK KNIGHT III: THE MASTER RACE #6 COLLECTOR'S EDITION
Written by FRANK MILLER and BRIAN AZZARELLO
Art by ANDY KUBERT, KLAUS JANSON and others
Sketch cover by JIM LEE
This oversized paper-over-boards COLLECTOR'S EDITION features both stories from DARK KNIGHT III: THE MASTER RACE #6 at the same size, with a cover art that's a pencils-only version of Jim Lee's 1:500 variant.
On sale JUNE 29 • 40 pg, FC, 6 of 8, 7.0625" x 10.1875", $12.99 US BATMAN: EUROPA #1 DIRECTOR'S CUT
Written by MATTEO CASALI and BRIAN AZZARELLO
Art by GIUSEPPE CAMUNCOLI and JIM LEE
Cover by JIM LEE
Superstar artist Jim Lee returns to the Dark Knight with this premiere issue, now presented in pencil form in this new DIRECTOR'S CUT Special! The impossible has happened and Batman is on the verge of being taken down by an enemy he cannot defeat: a virus for which there is no cure! And the only hope for his salvation is The Joker! Who infected Batman, what does the Clown Prince of Crime know, and how will the Dark Knight get that information?
On sale JUNE 1 • 64 pg, B&W, $5.99 US • RATED T GRAYSON ANNUAL #3
Written by JACKSON LANZING and COLLIN KELLY
Art by Roge Antonio, Javier Fernandez, Christian Duce, Flaviano Armentaro and Natasha Alterici
Cover by MIKEL JANIN
Determined to find out the identity of Spyral's Agent 37, detective Jim Corrigan gathers a collection of heroes who have seen the swirl-faced spy in order to hear their accounts. With guest appearances by Harley Quinn, Azrael, John Constantine and Green Lantern Simon Baz, get ready for some of Dick Grayson's greatest hits!
On sale JUNE 29 • 48 pg, FC, $4.99 US • RATED T HARLEY QUINN #29
Written by AMANDA CONNER and JIMMY PALMIOTTI
Art by CHAD HARDIN
Cover by AMANDA CONNER
1:25 Variant cover by AMANDA CONNER
What's that you said? We couldn't quite hear you. Did you say "Boy, I sure would love to see Harley fight giant transforming robots"? Well, that's definitely what we heard! So we're delivering!
On sale JUNE 15 • 32 pg, FC, $3.99 US • RATED T+
HARLEY'S LITTLE BLACK BOOK #4
Written by AMANDA CONNER and JIMMY PALMIOTTI
Art by BILLY TUCCI
Cover by AMANDA CONNER
1:25 variant cover by BILLY TUCCI
Harley's been to some very strange places in her bizarre life…but an alternate-reality time-travel trip is a new one even for her! Somehow, some way, Harley's managed to find herself in the world of the Bombshells, a universe where female heroes have taken to the battlefield of World War II! And most unbelievably of all…she's gonna meet herself?! Our heads hurt already.
On sale JUNE 22 • 48 pg, FC, $4.99 US • RATED T+ HARLEY QUINN AND HER GANG OF HARLEYS #4
Written by FRANK TIERI and JIMMY PALMIOTTI
Art by MAURICET
Cover by AMANDA CONNER
1:25 variant cover by AMANDA CONNER
Held captive by the mysterious Harley Sinn, Harley Quinn tries to learn the identity of her captor and what Sinn intends to do with her! But the most significant question of all is why Sinn has been conducting surveillance on the family members of the rest of the Gang of Harleys, and what does she intend to do with them?
On sale JUNE 8 • 32 pg, FC, 3 of 6, $3.99 US • RATED T+
BATMAN BEYOND #13
Written by DAN JURGENS
Art by BERNARD CHANG
Cover by PHILIP TAN
Past and present overlap as Batman and Barbara Gordon attempt to unravel the secret of Rewire. It's no longer the same man behind the suit, so who is it? Meanwhile, we get a glimpse into the past as Terry McGinnis Batman conducts a search for a possibly resurrected Joker. What light can this parallel search from the past shine on the mystery of the present?
On sale JUNE 1 • 32 pg, FC, $2.99 US • RATED T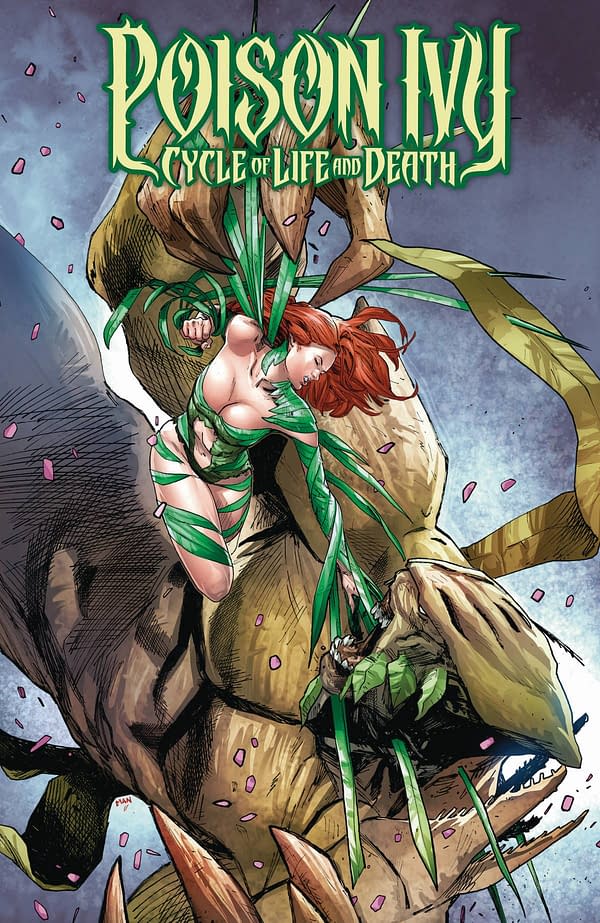 POISON IVY: CYCLE OF LIFE AND DEATH #6
Written by AMY CHU
Art by CLAY MANN and SETH MANN
Cover by CLAY MANN
Poison Ivy and her Sporelings battle for survival in the epic final chapter of "Cycle of Life and Death"! The monster Grim makes his final move, the murderer is revealed, and Pamela Isley's life will be forever changed! Plus, someone, or someTHING, joins the fray!
On sale JUNE 15 • 32 pg, FC, 6 of 6, $2.99 US • RATED T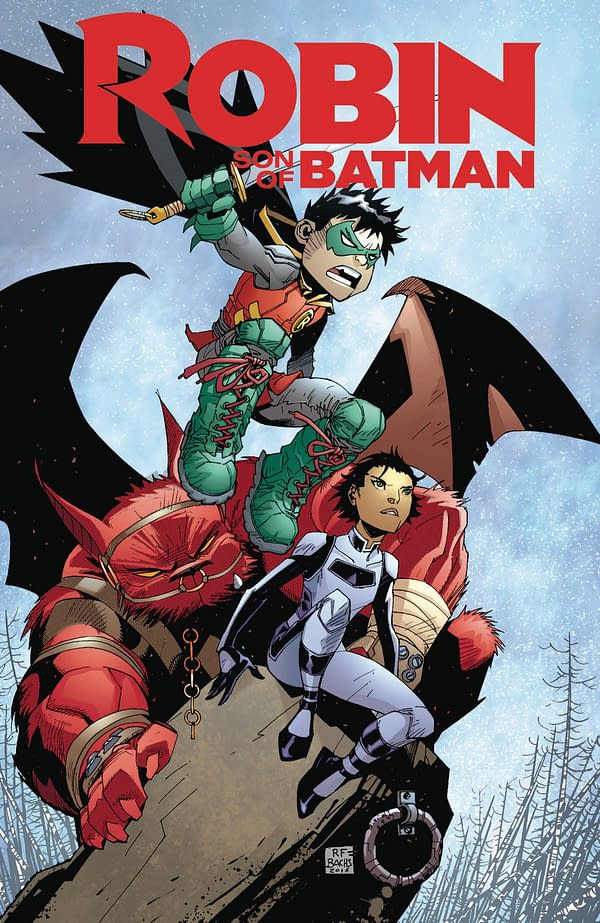 ROBIN, SON OF BATMAN #13
Written by RAY FAWKES
Art and cover by RAMON BACHS
The series conclusion to Damian Wayne's quest for atonement! In the wake of a victory, Damian, Maya and Goliath discover that there is still one enemy left to vanquish—the most terrible of all. Only together, and with the help of unlikely allies, will they be able to save humanity from destruction…but will they all survive this final battle?
On sale JUNE 22 • 32 pg, FC, $3.99 US • RATED T • FINAL ISSUE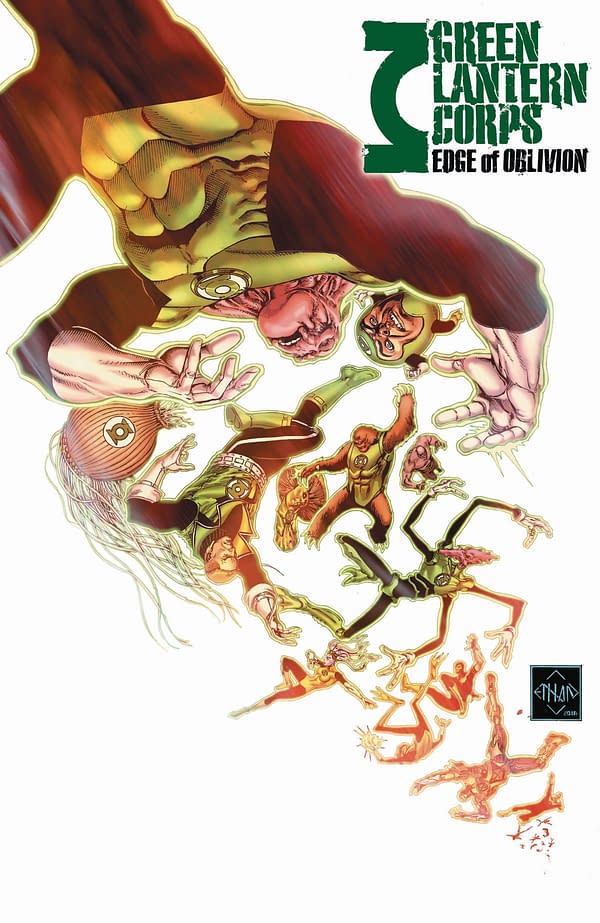 GREEN LANTERN CORPS: EDGE OF OBLIVION #6
Written by TOM TAYLOR
Art by JACK HERBERT
Cover by ETHAN VAN SCIVER
Out of options, the Green Lantern Corps watch helplessly as the universe begins to die and decompose around them. Will the emerald heroes find their way back from the edge of oblivion?
On sale JUNE 8 • 32 pg, FC, 6 of 6, $2.99 US • RATED T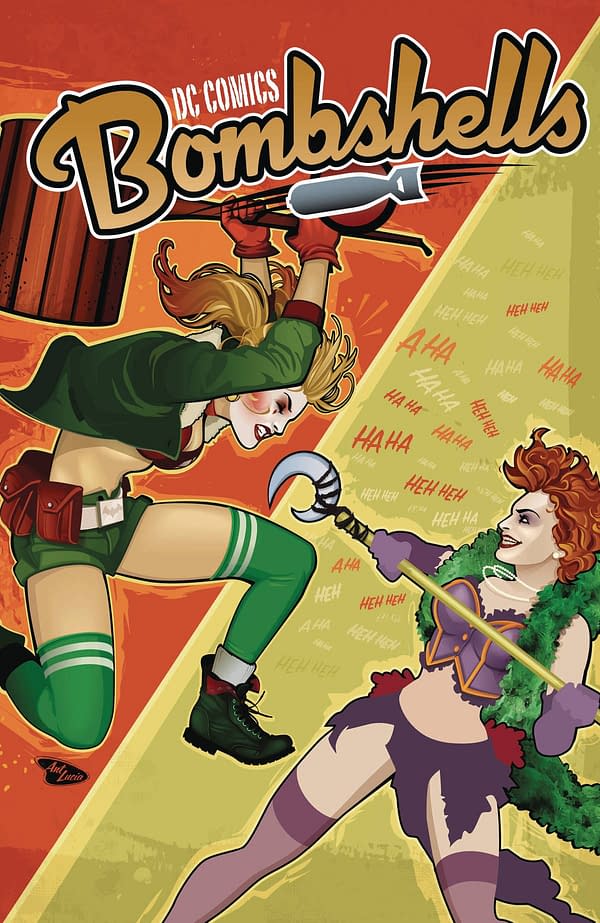 DC COMICS: BOMBSHELLS #14
Written by MARGUERITE BENNETT
Art by LAURA BRAGA and MIRKA ANDOLFO
Cover by ANT LUCIA
Harley Quinn and Poison Ivy make it to Berlin to find the Joker's cabaret in the hands of the Joker's Daughter, who has banished a magic-less Zatanna and Constantine onto the streets of Nazi-occupied Germany. Meanwhile, find out what happened to Mera at the Battle of Britain after being captured by Nereus as a prisoner of war.
On sale JUNE 1 • 40 pg, FC, $3.99 US • RATED T • DIGITAL FIRST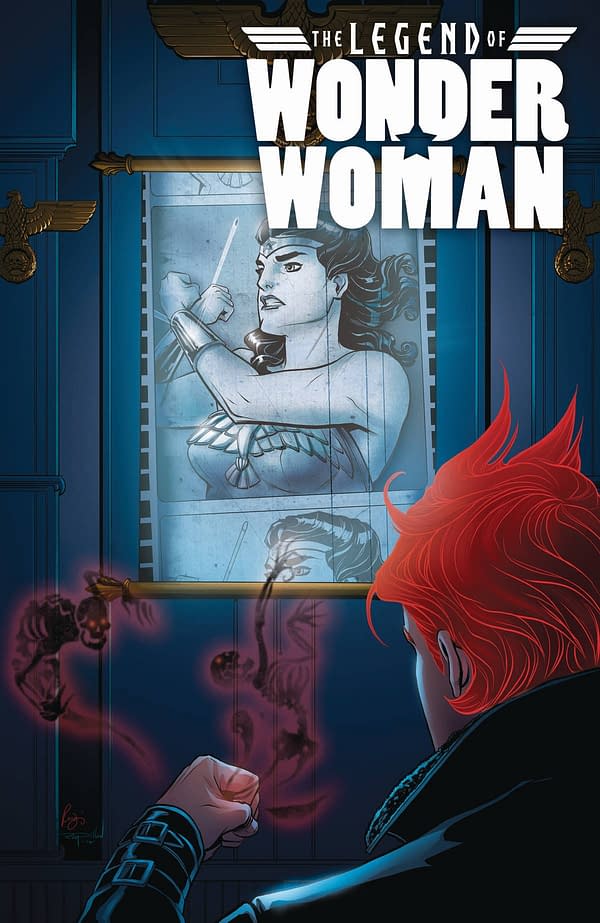 THE LEGEND OF WONDER WOMAN #7
Written by RENAE DE LIZ
Art by RENAE DE LIZ and RAY DILLON
Cover by RENAE DE LIZ
Wonder Woman has been making a big splash in the European Theater of Operations, and it's drawn the notice of Nazi high command—and something even scarier. Plus, Steve Trevor is teaching Diana Prince to fly an airplane, without knowing that his admiration for Wonder Woman is making things awkward for his trainee!
On sale JUNE 29 • 40 pg, FC, 7 of 9, $3.99 US • RATED T • DIGITAL FIRST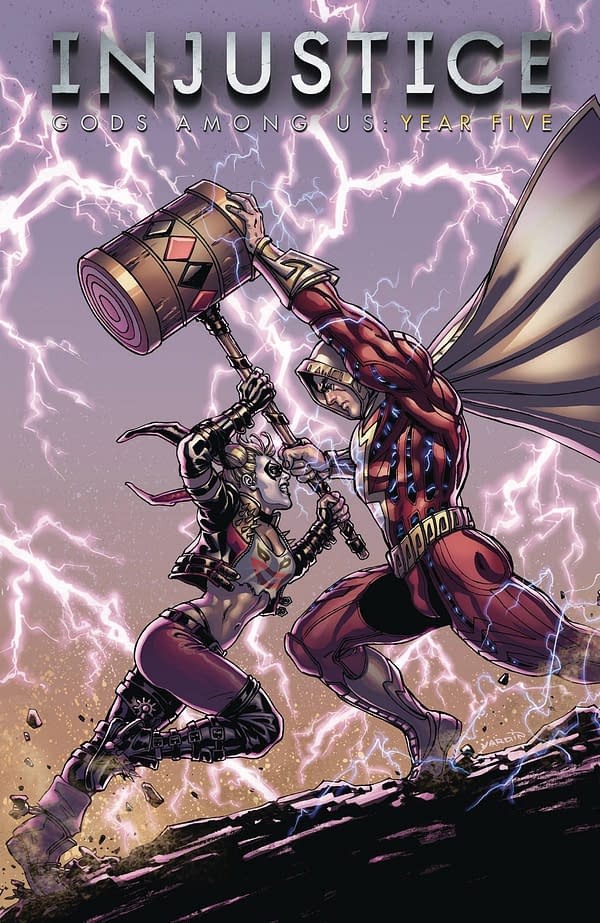 INJUSTICE: GODS AMONG US YEAR FIVE #11
Written by BRIAN BUCCELLATO
Art by BRUNO REDONDO and JUAN ALBARRAN
Cover by DAVID YARDIN
It's on! Harley has a lot to get out of her system, and the first person who's going to get a dose of it is the guy she had a brief crush on—Shazam. But "Shazzy's" not buying what's Harley's selling, so things are about to get…complicated. Meanwhile, Superman pays a visit to a man who once head-butted him.
On sale JUNE 1 • 32 pg, FC, $2.99 US • RATED T • DIGITAL FIRST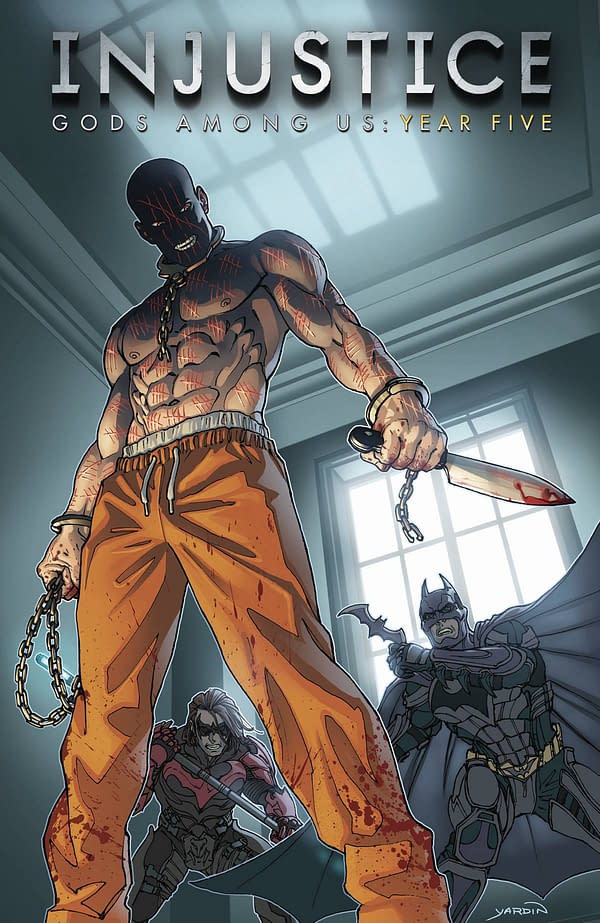 INJUSTICE: GODS AMONG US YEAR FIVE #12
Written by BRIAN BUCCELLATO
Art by MIKE S. MILLER
Cover by DAVID YARDIN
Batman has opposed Superman's Regime since the beginning, while Damian (now Nightwing) threw his support behind the Man of Steel. Father and son, on opposite sides. So what act perpetrated by Victor Zsasz could be so heinous as to make these two join forces again to track him down? Don't miss the shocking answer.
On sale JUNE 15 • 32 pg, FC, $2.99 US • RATED T • DIGITAL FIRST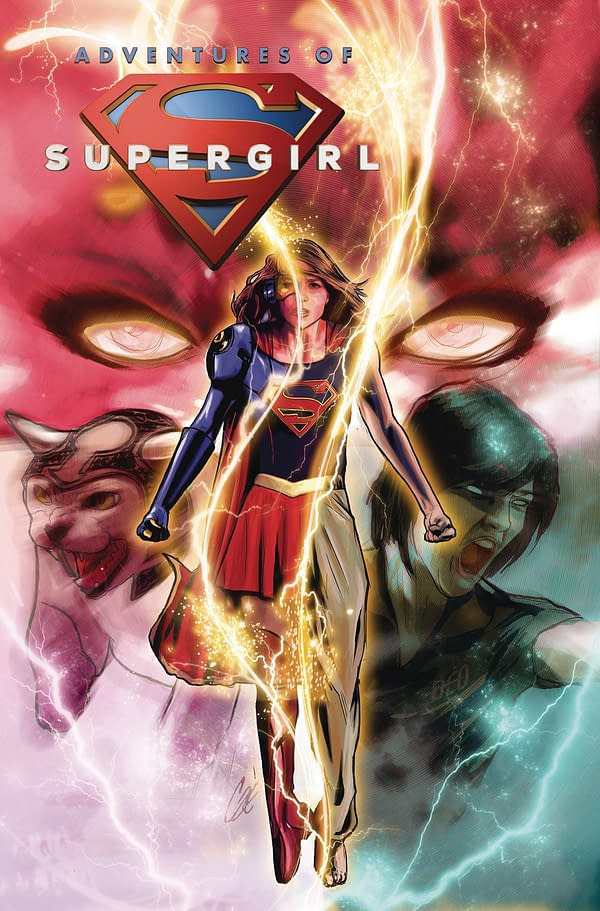 ADVENTURES OF SUPERGIRL #3
Written by STERLING GATES
Art by EMANUELA LUPACCHINO and RAY McCARTHY
Cover by CAT STAGGS
Blank variant cover
Based on the new hit TV series! After seeing Vril Dox locked up for his crimes against Winn, Kara thinks life in the D.E.O. will get back to normal. Until the zombies attack. Now Supergirl must fight her way across universes and lifetimes to find the mastermind behind her current troubles.
On sale JUNE 8 • 32 pg, FC, $2.99 US • RATED T • DIGITAL FIRST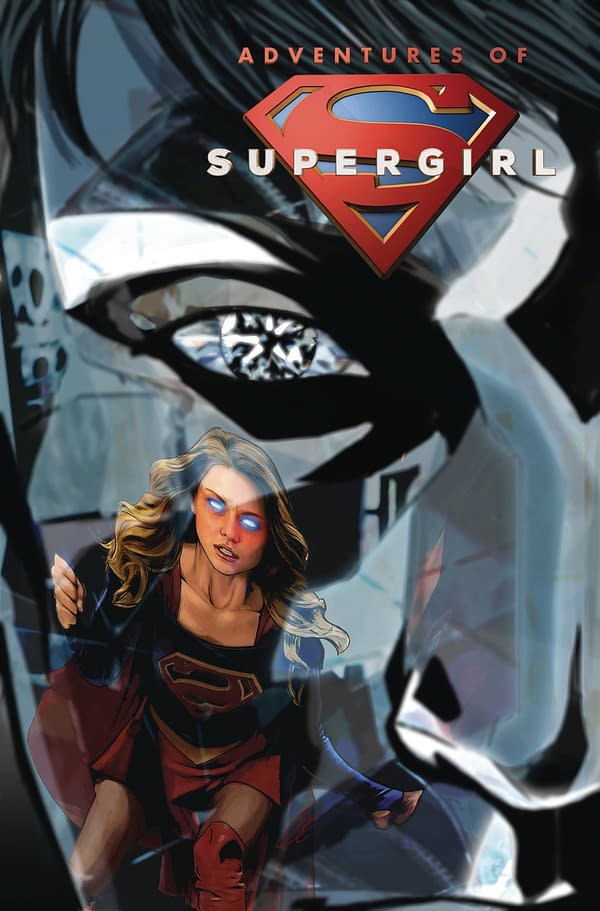 ADVENTURES OF SUPERGIRL #4
Written by STERLING GATES
Art by CARMEN CARNERO
Cover by CAT STAGGS
Based on the new hit TV series! Road trip! Kara convinces her big sister that a trip to the Fort Rozz crash site is just what they need to get some answers—but what they find leads to more questions. And when the architect of Kara's recent woes reveals herself, how long can Supergirl stand against Facet?
On sale JUNE 22 • 32 pg, FC, $2.99 US • RATED T • DIGITAL FIRST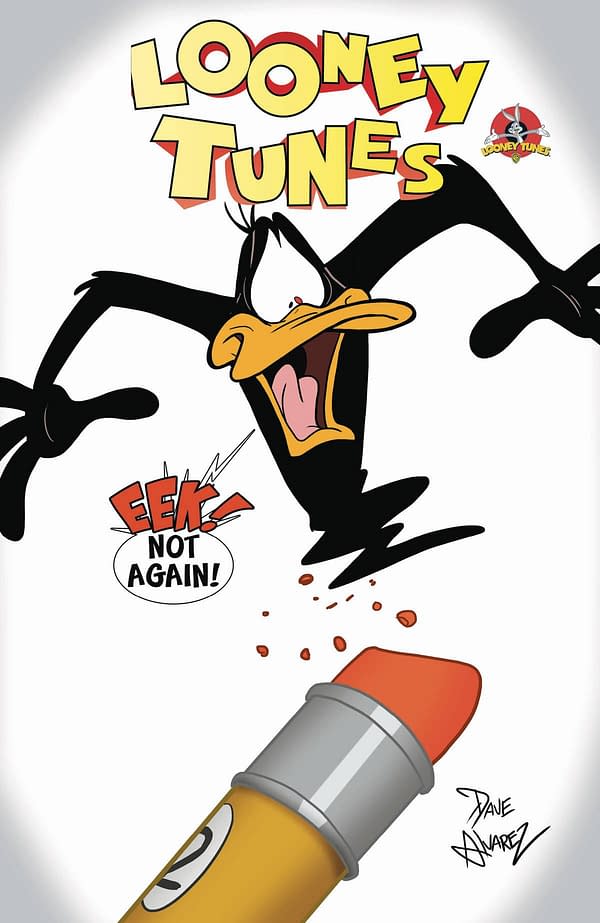 LOONEY TUNES #231
Written by BILL MATHENY and DAVE ALVAREZ
Art and cover by DAVE ALVAREZ
It's Daffy Duck versus a comic book artist as Daffy gets erased and painted into the most unusual places and costumes…within these very panels of the comic book! Cut him some slack, will you, mister artist, and draw him a parachute if Daffy's falling from the sky you just drew?
On sale JUNE 22 • 32 pg, FC, $2.99 US • RATED E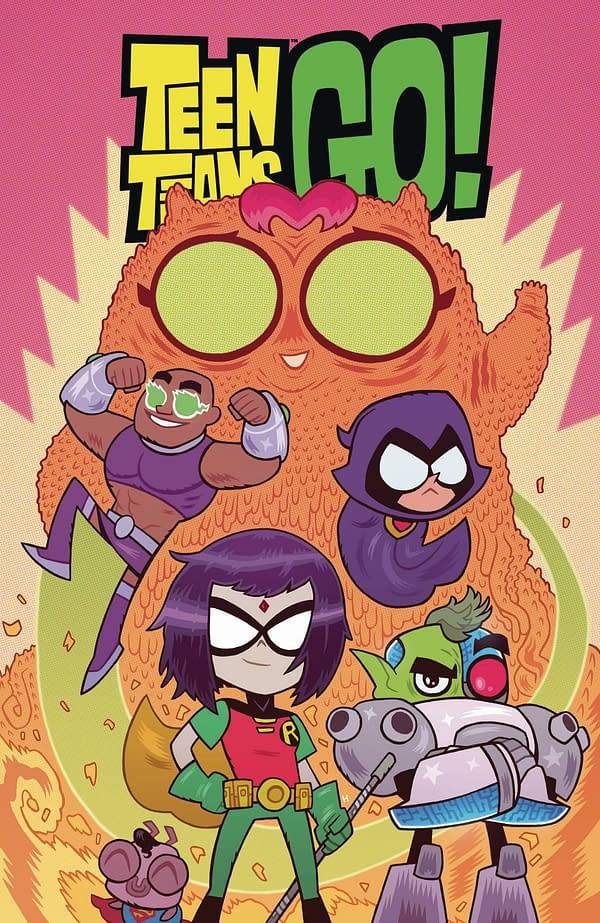 TEEN TITANS GO! #16
Written by DEREK FRIDOLFS and SHOLLY FISCH
Art by DEREK FRIDOLFS and MARCELO MAIOLO
Cover by DAN HIPP
After a stunning bank heist, the Amazing Mumbo Jumbo uses his magic to scramble the superpowers of the Teen Titans! What will Robin, Beast Boy, Starfire, Raven and Cyborg do with their newfound abilities?
On sale JUNE 1 • 32 pg, FC, $2.99 US • RATED E • DIGITAL FIRST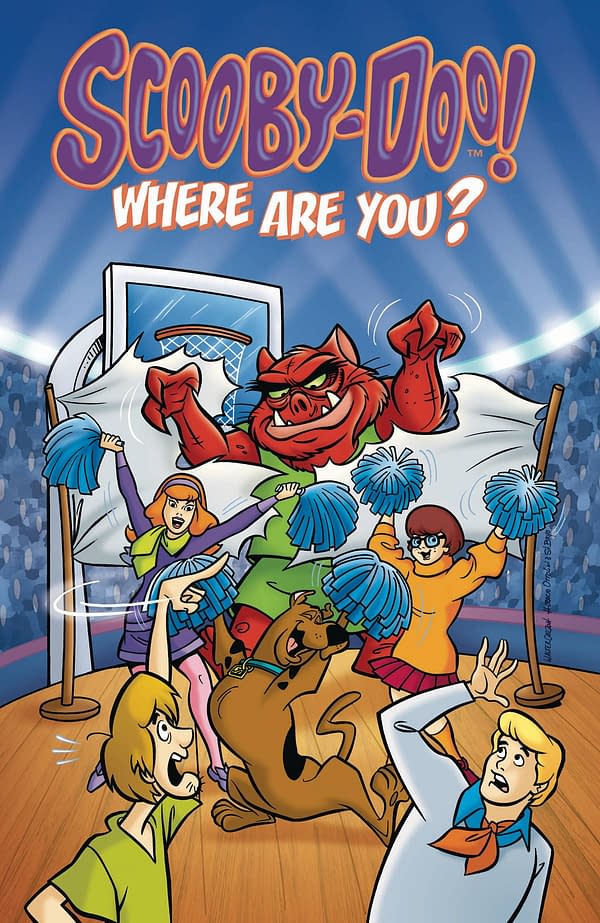 SCOOBY-DOO, WHERE ARE YOU? #70
Written by SHOLLY FISCH
Art and cover by WALTER CARZON and HORACIO OTTOLINI
Sure, most high school mascots are kind of goofy. But when a monstrous version of a mascot goes on a rampage, the only way to solve the mystery is for the Mystery Inc. gang to go undercover—by going back to school! Amid cliques, jocks and algebra, Scooby and the gang might survive the menace of the monster, but can they survive the perils of high school?
On sale JUNE 8 • 32 pg, FC, $2.99 US • RATED E
MAD MAGAZINE #540
Written and illustrated by THE USUAL GANG OF IDIOTS
School's out! Why not pick up the latest MAD and see if you can make it count as "summer reading"?
On sale JUNE 15 • 56 pg, FC, $5.99 US
COLLECTED EDITIONS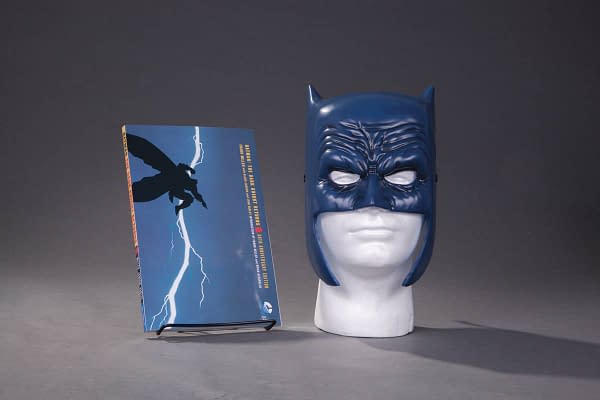 BATMAN: THE DARK KNIGHT RETURNS BOOK AND MASK SET
Written by FRANK MILLER
Art by FRANK MILLER and KLAUS JANSON
Cover by FRANK MILLER
DC Entertainment presents a new book and mask set featuring Frank Miller's vision of the Dark Knight, including a highly detailed PVC mask plus THE DARK KNIGHT RETURNS 30TH ANNIVERSARY EDITION TP, collecting the original, groundbreaking 4-issue miniseries.
On sale OCTOBER 5 • 224 pg, FC, approx. 8.5" wide x 11.75" tall x 5.25" deep, $39.99 US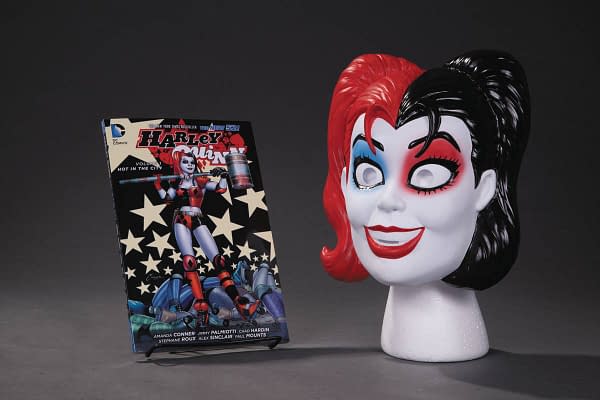 HARLEY QUINN BOOK AND MASK SET
Written by AMANDA CONNER and JIMMY PALMIOTTI
Art by AMANDA CONNER, CHAD HARDIN, STEPHANE ROUX and others
Cover by AMANDA CONNER
Harley Quinn leaps into a new book and mask set that includes a highly detailed PVC mask plus a copy of the HARLEY QUINN VOL. 1: HOT IN THE CITY TP, collecting issues #0-8 of her smash-hit series.
On sale AUGUST 3 • 224 pg, FC, approx. 8.5" wide x 11.75" tall x 5.25" deep, $34.99 US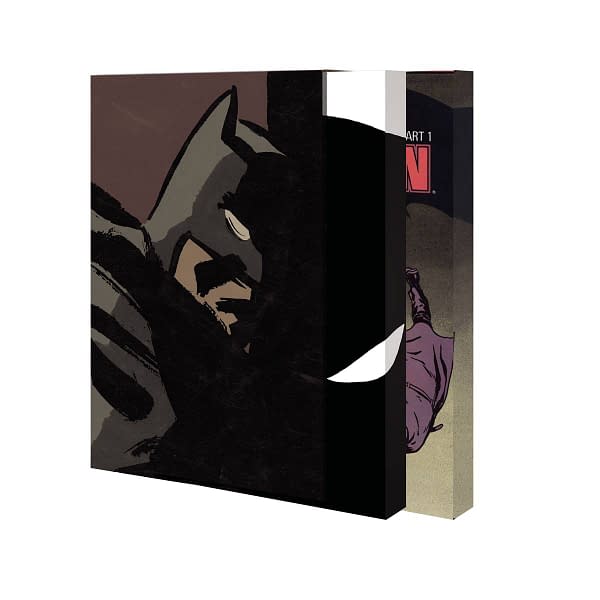 ABSOLUTE BATMAN: YEAR ONE HC
Written by FRANK MILLER
Art and cover by DAVID MAZZUCCHELLI
ABSOLUTE BATMAN: YEAR ONE presents one of DC Comics' most lauded tales in two hardcover volumes contained by a slipcase.
The first volume will reprint the recolored version of the story from previous collected editions, remastered with new, high-resolution scans of the original coloring by David Mazzucchelli and Richmond Lewis.
The second volume will reprint the original 1987 version of the story as it ran in BATMAN #404-407, reproduced from scans made by Mazzucchelli and Lewis from the printed comic book pages, presented on stock that simulates the look and feel of the original comics. This volume will include Miller's complete scripts and Mazzucchelli's complete pencil layouts for all four chapters!
Together, the two volumes will include more than 60 pages of bonus material, including everything seen in the existing hardcover and trade paperback collections.
On sale NOVEMBER 2 • 288 pg, FC, 8.25" x 12.5", $125.00 US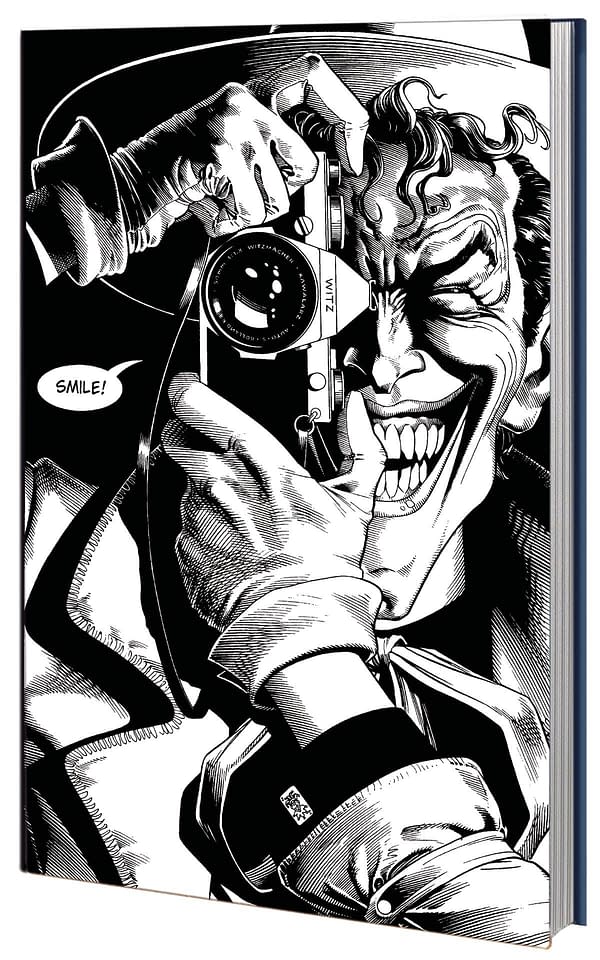 BATMAN NOIR: THE KILLING JOKE HC
Written by ALAN MOORE and BRIAN BOLLAND
Art and cover by BRIAN BOLLAND
This groundbreaking work is a twisted tale of insanity and human perseverance. Looking to prove that any man can be pushed past his breaking point to madness, the Joker attempts to drive Commissioner Gordon insane. Refusing to give up, Gordon struggles to maintain his sanity with the help of Batman in a desperate effort to best the madman.
This new edition presents the exquisite artwork of Brian Bolland in black and white for the first time. Collects BATMAN: THE KILLING JOKE, a story from BATMAN BLACK AND WHITE written by Bolland, plus covers by Bolland and more.
On sale AUGUST 3 • 104 pg, B&W, $24.99 US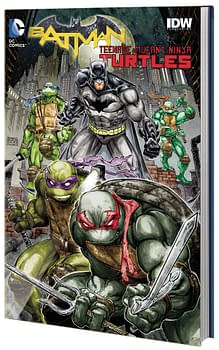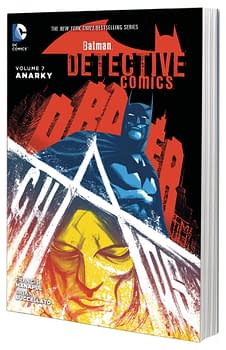 BATMAN/TEENAGE MUTANT NINJA TURTLES HC
Written by JAMES TYNION IV
Art and cover by FREDDIE E. WILLIAMS II
The sold-out, smash-hit 6-issue miniseries co-published with IDW is collected in hardcover. It all starts in Gotham City, as a series of deadly raids leads Batman to believe he is up against a group of highly trained ninjas. Somehow, the Foot Clan has crossed over to another dimension—but they haven't come alone: Leonardo, Raphael, Donatello and Michelangelo are on their trail!
On sale AUGUST 17 • 144 pg, FC, $24.99 US
BATMAN: DETECTIVE COMICS VOL. 7 – ANARKY TP
Written by FRANCIS MANAPUL, BRIAN BUCCELLATO and BENJAMIN PERCY
Art by FRANCIS MANAPUL, JOHN PAUL LEON and others
Cover by FRANCIS MANAPUL
Gotham City is descending into chaos at the hands of Anarky and his quest for revenge on both the villains and protectors of the city in these tales from DETECTIVE COMICS #35-40, DETECTIVE COMICS: ENDGAME #1 and DETECTIVE COMICS: FUTURES END #1! Batman must team up with Harvey Bullock of the Gotham City PD to find Anarky's true motivation for bringing Gotham City to its knees.
On sale JULY 27 • 208 pg, FC, $19.99 US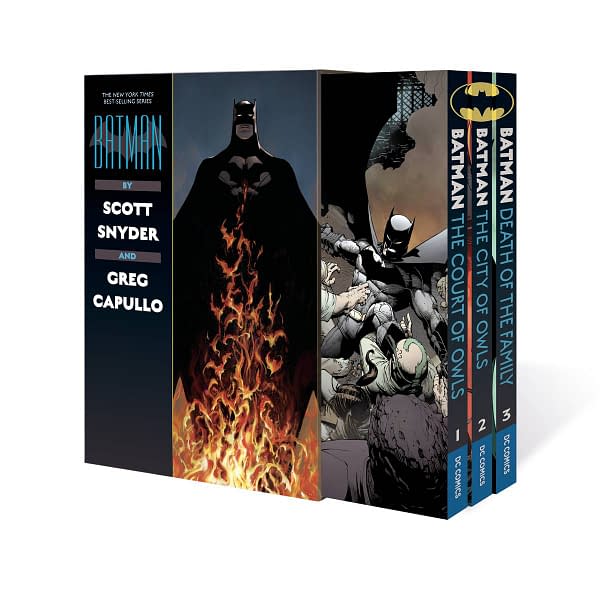 BATMAN BY SCOTT SNYDER AND GREG CAPULLO BOX SET
Written by SCOTT SNYDER and JAMES TYNION IV
Art by GREG CAPULLO, JONATHAN GLAPION, RAFAEL ALBUQUERQUE, ANDY CLARKE, JASON FABOK and JOCK
Cover by GREG CAPULLO
Just in time for BATMAN DAY 2016, the first three volumes of Scott Snyder and Greg Capullo's epic run on BATMAN are collected in a new, slipcased set featuring BATMAN VOL. 1: THE COURT OF OWLS TP, BATMAN VOL. 2: CITY OF OWLS TP, and BATMAN VOL. 3: DEATH OF THE FAMILY TP. These are the epic stories that introduced the deadly Court of Owls and took The Joker to new, horrifying levels of insanity!
On sale SEPTEMBER 7 • FC, approx. 10.375" tall x 1.75" deep x 6.75" wide • $49.99 US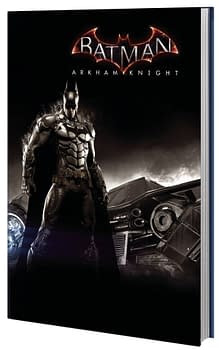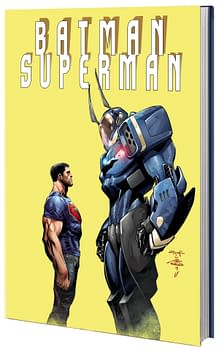 BATMAN: ARKHAM KNIGHT VOL. 2 TP
Written by PETER J. TOMASI
Art by VIKTOR BOGDANOVIC, IG GUARA and JULIO FERREIRA
Video game cover art
In these tales from BATMAN: ARKHAM KNIGHT #5-9, Bane is back—and he's leading a small army of followers to claim Gotham City as his own! It's up to Batman to stop him—but a surprising ally may turn the tide of battle against the Dark Knight! And while the Scarecrow gathers his forces, the Suicide Squad takes aim at Bruce Wayne!
On sale JULY 6 • 160 pg, FC, $14.99 US
BATMAN/SUPERMAN VOL. 5: TRUTH HURTS HC
Written by GREG PAK
Art by ARDIAN SYAF, VICENTE CIFUENTES and others
Cover by ARDIAN SYAF and DANNY MIKI
The truth is out, and the world knows that Superman is Clark Kent—and now, the mild-mannered reporter is a wanted man! From the thugs of Metropolis to the police, everybody wants a piece of Superman. And with threats to his freedom closing in on him, Superman must also face a new form of evil that appears to be coming from Gotham City! Instead of finding the Batman he's always known, Superman is met by a strange, new Dark Knight—James Gordon! This new hardcover collects BATMAN/SUPERMAN #21-27 plus the Sneak Peek story from CONVERGENCE: BOOSTER GOLD #2.
On sale AUGUST 10 • 176 pg, FC, $24.99 US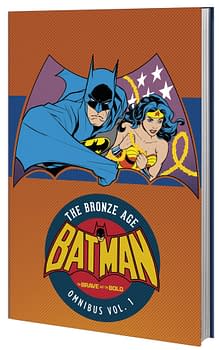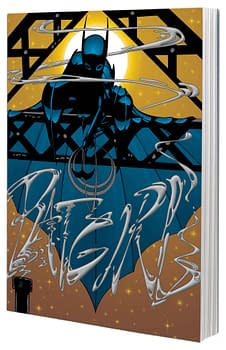 BATMAN: THE BRAVE AND THE BOLD – THE BRONZE AGE OMNIBUS HC
Written by BOB HANEY, MIKE SEKOWSKY and DENNIS O'NEIL
Art by JIM APARO, MIKE SEKOWSKY, NEAL ADAMS and others
Cover by KARL KERSCHL
Through the 1970s, Batman fought evil every month side by side with DC's greatest heroes. Guest-starring Wonder Woman, the Phantom Stranger, Adam Strange, Black Canary, the Teen Titans, The Flash, Green Arrow, Aquaman and more, these stories are collected in a single, massive hardcover for the first time. Collects THE BRAVE AND THE BOLD #87-122.
On sale SEPTEMBER 14 • 1,056 pg, FC, $99.99 US
BATGIRL VOL. 2: TO THE DEATH TP
Written by KELLEY PUCKETT and CHUCK DIXON
Art by DAMION SCOTT, ROBERT CAMPANELLA and JOHN LOWE
Cover by DAMION SCOTT
In this new, action-packed volume starring Cassandra Cain, Batgirl faces The Joker! But the Clown Prince of Crime gets the last laugh when Cassandra and Spoiler must face a "jokerized" Shadow Thief. Then, can Batgirl stop a young boy's father from making a lethal mistake? And just who are the mysterious agents that are after our heroine? Collects BATGIRL #13-25.
On sale JULY 20 • 320 pg, FC, $24.99 US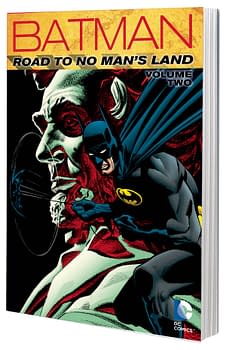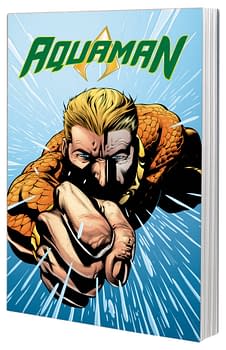 BATMAN: THE ROAD TO NO MAN'S LAND VOL. 2 TP
Written by CHUCK DIXON, ALAN GRANT, DENNIS O'NEIL and others
Art by JIM APARO, ALEX MALEEV, MARK BUCKINGHAM and others
Cover by RODOLFO DAMAGGIO
After an earthquake leaves Gotham City in ruins, Bruce Wayne must put aside his life as Batman and take his fight to Washington, D.C., to stop the government from cutting the city off from the rest of the nation. Collects BATMAN #560-562, DETECTIVE COMICS #727-730, BATMAN: SHADOW OF THE BAT #80-82, BATMAN CHRONICLES #15 and AZRAEL: AGENT OF THE BAT #47-50.
On sale JULY 6 • 392 pg, FC, $34.99 US
AQUAMAN: SUB-DIEGO VOL. 2 TP
Written by WILL PFEIFER, JOHN ARCUDI and JOHN OSTRANDER
Art by PATRICK GLEASON, CHRIS BATISTA and others
Cover by PATRICK GLEASON and CHRISTIAN ALAMY
The residents of Sub Diego must rely on Aquaman to solve their mutation mystery! From sea to land, Aquaman must figure out who is behind this catastrophe while keeping the citizens of Sub Diego safe, in stories from AQUAMAN #23-29.
On sale JULY 13 • 168 pg, FC, $16.99 US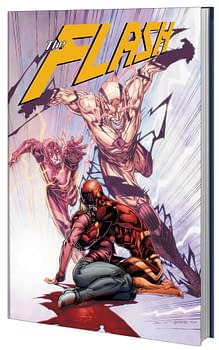 THE DARING NEW ADVENTURES OF SUPERGIRL VOL. 1 TP
Written by PAUL KUPPERBERG and JOEY CAVALIERI
Art by CARMINE INFANTINO, BOB OKSNER and others
Cover by RICH BUCKLER and DICK GIORDANO
In these 1980s tales from THE DARING NEW ADVENTURES OF SUPERGIRL #1-12, Supergirl relocates from Metropolis to Chicago—and meets evil in new forms, including the villainous Psi! Plus, while battling the evil foursome known as the Gang, Kara stumbles upon a conspiracy that threatens all of her new hometown! Guest-starring the Doom Patrol!
On sale JULY 13 • 208 pg, FC, $19.99 US
THE FLASH VOL. 8: ZOOM HC
Written by ROBERT VENDITTI and VAN JENSEN
Art by BRETT BOOTH, NORM RAPMUND, ALE GARZA, VICENTE CIFUENTES and others
Cover by BRETT BOOTH and NORM RAPMUND
Just when Barry Allen's life was starting to return to normal, one of his most powerful and dangerous foes returns! Professor Zoom and his team of acolytes have broken Barry's father out of prison, and now Barry must stop them before his life, reputation, and family are torn apart. Collects THE FLASH #41-47 and the Sneak Peek story from CONVERGENCE: DETECTIVE COMICS #2.
On sale AUGUST 3 • 176 pg, FC, $24.99 US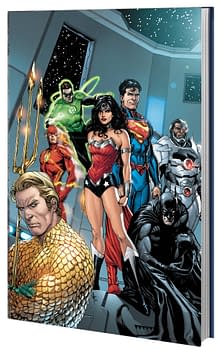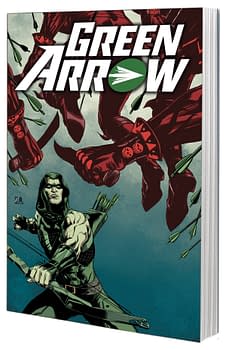 SUPERMAN: THE DEATH OF SUPERMAN TP NEW EDITION
Written by DAN JURGENS, JERRY ORDWAY, LOUISE SIMONSON and ROGER STERN
Art by JON BOGDANOVE, TOM GRUMMETT, JACKSON GUICE, DAN JURGENS and others
Cover by DAN JURGENS and BRETT BREEDING
RETAILERS: THIS TITLE IS NOT OFFERED IN THE APRIL PREVIEWS ORDER FORM. PLEASE ORDER UNDER ITEM CODE JAN168880.
Doomsday. A creature with a single-minded purpose of death and destruction. He has landed on Earth, laying waste to anything—and anyone—who dares stand in his way. The Justice League makes a valiant, but ultimately desperate, attempt to stop the unknown juggernaut. When the beast nears Metropolis, Superman answers the call to stop him. And then the unthinkable happens. The Man of Steel…dies.
DC Entertainment presents a new edition of the best-selling graphic novel of all time, collecting ACTION COMICS #18-20, ADVENTURES OF SUPERMAN #496-498, SUPERMAN #73-75, SUPERMAN: THE MAN OF STEEL #17-19, and NEWSTIME: THE LIFE AND DEATH OF SUPERMAN.
Available now • 224 pg, FC, $17.99 US
SUPERMAN: FUNERAL FOR A FRIEND TP
Written by DAN JURGENS, KARL KESEL, WILLIAM MESSNER-LOEBS, JERRY ORDWAY, LOUISE SIMONSON and ROGER STERN
Art by JON BOGDANOVE, TOM GRUMMETT, DAN JURGENS and others
Cover by DAN JURGENS and BRETT BREEDING
RETAILERS: THIS TITLE IS NOT OFFERED IN THE APRIL PREVIEWS ORDER FORM. PLEASE ORDER UNDER ITEM CODE JAN168881.
After Superman sacrificed his life to stop Doomsday, the world and those who loved him must learn how to continue on without the Man of Steel. Heroes like Supergirl, the Guardian and Gangbuster rise to the challenge—but can they fill the void left by Superman's death? This new title collects ACTION COMICS #685-686, ADVENTURES OF SUPERMAN #498-500, JUSTICE LEAGUE OF AMERICA #70, LEGACY OF SUPERMAN #1, SUPERGIRL AND TEAM LUTHOR SPECIAL #1, SUPERMAN #76-77 and SUPERMAN: THE MAN OF STEEL #20-21!
Available now • 376 pg, FC, $19.99 US
SUPERMAN: REIGN OF THE SUPERMEN TP
Written by DAN JURGENS, KARL KESEL, JERRY ORDWAY, LOUISE SIMONSON and ROGER STERN
Art by JON BOGDANOVE, TOM GRUMMETT, DAN JURGENS and others
Cover by DAN JURGENS and BRETT BREEDING
RETAILERS: THIS TITLE IS NOT OFFERED IN THE APRIL PREVIEWS ORDER FORM. PLEASE ORDER UNDER ITEM CODE JAN168884.
Superman is dead. And now, four mysterious beings appear—all with powers and abilities like the Man of Steel's! One claims he is a clone of Superman. Another says he is a Cyborg Superman. The third is a cold redeemer of justice. And finally, an armored figure says he fights with the heart and soul of Superman. This new title collects ACTION COMICS #687-688, ADVENTURES OF SUPERMAN #500-502, SUPERMAN #78-79, SUPERMAN ANNUAL #5, SUPERMAN: THE MAN OF STEEL #22-23 and SUPERMAN: THE MAN OF STEEL ANNUAL #2!
Available now • 338 pg, FC, $24.99 US
SUPERMAN: THE RETURN OF SUPERMAN TP
Written by GERARD JONES, DAN JURGENS, KARL KESEL, JEPH LOEB, LOUISE SIMONSON and ROGER STERN
Art by JON BOGDANOVE, TOM GRUMMETT, DAN JURGENS and others
Cover by DAN JURGENS and BRETT BREEDING
RETAILERS: THIS TITLE IS NOT OFFERED IN THE APRIL PREVIEWS ORDER FORM. PLEASE ORDER UNDER ITEM CODE JAN168882
As an alien warship approaches Earth, the world still doesn't know which—if any—of the four replacement Supermen is the real Man of Steel. Each has a claim to the title, but two show their true colors when they battle the others for supremacy. Meanwhile, the true Superman—restored by a Kryptonian regeneration matrix—is plotting his return! This new title collects ACTION COMICS #689-692, ACTION COMICS ANNUAL #5, ADVENTURES OF SUPERMAN #503-505, ADVENTURES OF SUPERMAN ANNUAL #5, GREEN LANTERN #46, SUPERMAN #80-83 and SUPERMAN: THE MAN OF STEEL #24-26!
Available now • 480 pg, FC, $29.99 US
SUPERMAN: DOOMSDAY TP
Written by DAN JURGENS, JERRY ORDWAY, LOUISE SIMONSON and ROGER STERN
Art by CHRIS BATISTA, DENNIS JANKE, DAN JURGENS, GIL KANE and others
Cover by DAN JURGENS and BRETT BREEDING
RETAILERS: THIS TITLE IS NOT OFFERED IN THE APRIL PREVIEWS ORDER FORM. PLEASE ORDER UNDER ITEM CODE JAN168883.
Superman travels to the nightmare world of Apokolips for a confrontation with Doomsday, the creature who cost the Man of Steel his life. With the help of the mysterious, time-traveling Waverider, Superman at last discovers the shocking truth of his greatest enemy's origin. And just when he thinks the terror is finally over, the murderous juggernaut returns to Earth even more powerful than ever! This new title collects DOOMSDAY ANNUAL #1, SUPERMAN: THE DOOMSDAY WARS #1-3 and SUPERMAN/DOOMSDAY: HUNTER/PREY #1-3!
Available now • 344 pg, FC, $19.99 US
GRAPHIC INK: THE DC COMICS ART OF GARY FRANK HC
Written by GEOFF JOHNS and others
Art by GARY FRANK, JON SIBAL and others
Cover by GARY FRANK
The latest title in the GRAPHIC INK book series celebrates the work of Gary Frank, one of DC's greatest artists. In these tales starring Supergirl, Batman, Superman and more, Frank's art features a sharp, iconic style that pays homage to classic DC artists while pushing the characters into the future.
On sale AUGUST 24 • 416 pg, FC, $39.99 US
GREEN ARROW VOL. 8: THE NIGHTBIRDS TP
Written by BENJAMIN PERCY
Art by PATRICK ZIRCHER, SZYMON KUDRANSKI and FABRIZIO FIORENTINO
Cover by PATRICK ZIRCHER
In these stories from GREEN ARROW #41-47, GREEN ARROW ANNUAL #1 and the Sneak Peek story from CONVERGENCE: SPEED FORCE #2, Oliver Queen is back in Seattle—and not only does he have to keep the city safe, but he also has to look out for his half sister Emiko. That won't be easy—especially when threats like the mysterious Night Birds are snatching people out of the sky at random. Green Arrow must learn whether the Night Birds are really monsters from above, or if there's something even more terrifying behind them…
On sale JULY 6 • 176 pg, FC, $16.99 US
THE DEMON VOL. 2: THE LONGEST DAY TP
Written by GARTH ENNIS
Art by JOHN McCREA, PETER SNEJBJERG and others
Cover by JOHN McCREA
The Demon is back for more violent, over-the-top adventures in this collection, featuring never-before-reprinted stories, which feature the unexpected return of Merlin, who warns Jason Blood of Etrigan's demonic offspring! Then, The Demon and Jason Blood trick Captain Scumm into selling something he can never get back. And don't miss appearances by Hitman! Collects THE DEMON #49-58.
On sale JULY 27 • 272 pg, FC, $19.99 US
DC COMICS: BOMBSHELLS VOL. 2: ALLIES TP
Written by MARGUERITE BENNETT
Art by LAURA BRAGA, MARGUERITE SAUVAGE, MIRKO ANDOLFO and ELIZABETH TORQUE
Cover by ANT LUCIA
In these tales from issues #7-12, meet the Batgirls! While Batwoman is away in Europe, a group of young women decide to pick up her mantle and protect the streets of Gotham City themselves! Supergirl and Stargirl wonder if they are being used as instruments of propaganda, while mythological creatures attack the Allied forces, bringing Wonder Woman into the fray!
On sale JULY 13 • 200 pg, FC, $16.99 US
DC ELSEWORLDS: JUSTICE LEAGUE VOL. 1 TP
Written by ED HANNIGAN, CHUCK DIXON, JOHN FRANCIS MOORE, BARBARA KESEL, ADAM WARREN and WILLIAM MESSNER-LOEBS
Art by ED HANNIGAN, DICK GIORDANO, J.H. WILLIAMS III, KIERON DWYER, MATT HALEY, ADAM WARREN, PHIL WINSLADE and others
Cover by J.H. WILLIAMS III
The Justice League in the Wild West? A world where Supergirl and Batgirl protect Metropolis and Gotham City? Wonder Woman fighting Jack the Ripper in Victorian England? In Elseworlds, anything is possible. This new title collects LEAGUE OF JUSTICE #1-2, JUSTICE RIDERS #1, ELSEWORLD'S FINEST #1-2, ELSEWORLD'S FINEST: SUPERGIRL & BATGIRL #1, TITANS: SCISSORS PAPER STONE #1 and WONDER WOMAN: AMAZONIA #1.
On sale JULY 13 • 424 pg, FC, $34.99 US
GREEN ARROW BY KEVIN SMITH TP
Written by KEVIN SMITH
Art by PHIL HESTER and ANDE PARKS
Cover by MATT WAGNER
Kevin Smith's acclaimed run on GREEN ARROW is collected in a new trade paperback! In these tales from issues #1-15, Green Arrow is back from the dead, leading the Dark Knight to investigate his mysterious return, while a silent killer targets costumed vigilantes…
On sale JULY 20 • 384 pg, FC, $24.99 US
INJUSTICE: GODS AMONG US YEAR FOUR VOL. 1 TP
Written by BRIAN BUCCELLATO
Art by BRUNO REDONDO, MIKE S. MILLER and others
Cover by HOWARD PORTER
In these stories from issues #1-7, it's the year of gods! Joining the insurgence against Superman, Zeus makes a bid for Earth, bringing the Amazonian Army into the fight. But who will Wonder Woman side with? And how will Batman take advantage of all this godly interference?
On sale JULY 13 • 144 pg, FC, $14.99 US
LOBO VOL. 3: PAID IN BLOOD TP
Written by CULLEN BUNN and FRANK BARBIERE
Art by ROBSON ROCHA, DANIEL HENRIQUES, MATT BANNING, RUY JOSE and ETHAN VAN SCIVER
Cover by LEONARDO MANCO
In these stories from issues #10-13 and SINESTRO #15, Lobo comes face to face with Sinestro! But did our favorite bounty hunter bite off more than he could chew when he agreed to hunt down the last of the Red Lanterns? Plus, Lobo falls victim to a deadly new drug that's making its way through the black markets of the universe—and it's making him doubt his own sanity! Guest-starring Hal Jordan!
On sale JULY 13 • 128 pg, FC, $14.99 US
NEW TEEN TITANS VOL. 5 TP
Written by MARV WOLFMAN and GEORGE PEREZ
Art by GEORGE PEREZ, KEITH POLLARD and ROMEO TANGHAL
Cover by GEORGE PEREZ
While Brother Blood and the Brotherhood of Evil are at war with each other, the Titans find themselves tracking and capturing their former teammate Terra. Lies, betrayal and deceit seep into the team as they try to rehabilitate their former ally. But with threats from without and from within, the very fabric of the team is tested. Collects NEW TEEN TITANS#28-34 and NEW TEEN TITANS ANNUAL #2.
On sale JULY 27 • 224 pg, FC, $19.99 US
TEEN TITANS GO! VOL. 2: WELCOME TO THE PIZZA DOME TP
Written by SHOLLY FISCH, MERRILL HAGAN and AMY WOLFRAM
Art by BEN BATES, JORGE CORONA, LEA HERNANDEZ and DARIO BRIZUELA
Cover by DAN HIPP
In these stories from issues #7-12, the team must face the agony of Valentine's Day and Cyborg's new mustache! Plus, who will win a no-holds-barred staring contest? And what will Beast Boy do with his new pair of Hypno-Specs? The action and fun continue in this new, all-ages collection featuring TEEN TITANS GO! #7-12.
On sale JULY 13 • 128 pg, FC, $12.99 US
NEW SUICIDE SQUAD VOL. 3: FREEDOM TP
Written by SEAN RYAN and TIM SEELEY
Art by PHILIPPE BRIONES and JUAN FERREYRA
Cover by JUAN FERREYRA
Cut off from Belle Reve and presumed dead, Harley Quinn and the Suicide Squad are presented with the opportunity to kill their jailer, Amanda Waller! Plus, Harley, Deadshot, Boomerang and Parasite try to break back in to Belle Reve Prison?! And after being officially "killed in action," the Suicide Squad considers what to do with their newfound freedom—but not for long, as their mysterious liberator reveals his own dark reasons for aiding them in their escape! Collects NEW SUICIDE SQUAD #13-18.
On sale JULY 27 • 144 pg, FC, $16.99 US
SUICIDE SQUAD VOL. 4: THE JANUS DIRECTIVE TP
Written by JOHN OSTRANDER, KIM YALE, PAUL KUPPERBERG, CARY BATES and GREG WEISMAN
Art by JOHN K. SNYDER III, TOM MANDRAKE and others
Cover by KARL KESEL
The Suicide Squad has always been held in check by their leader, Amanda Waller. But now it's clear that Waller is sending the team on missions in the pursuit of her own personal agenda! Soon, other governments and super-villain teams become involved, and all-out chaos erupts. The question now is: who controls the one who controls the super-villains? Collects SUICIDE SQUAD #26-30, CHECKMATE #15-18, MANHUNTER #14, FIRESTORM #86, and CAPTAIN ATOM #30.
On sale JULY 13 • 296 pg, FC, $19.99 US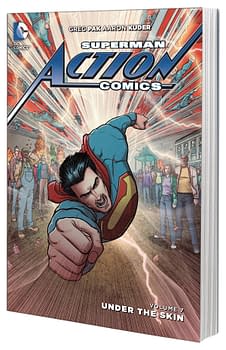 SUICIDE SQUAD: THE SILVER AGE HC
Written by ROBERT KANIGHER
Art by ROSS ANDRU and MIKE ESPOSITO
Cover by MICHAEL CHO
The original 1960s missions of the Suicide Squad are collected at last, including stories from THE BRAVE AND THE BOLD #25-27 and 37-39, plus STAR SPANGLED WAR STORIES #110-111, 116-121, 125, 127 and 128. When all other options are exhausted, the U.S. calls in their new team, Task Force X, led by Rick Flag! Whether a scientist is missing, a dangerous serum is in the wrong hands, or dinosaurs threaten our fighting forces, the Suicide Squad is ready for action!
On sale JULY 27 • 336 pg, FC, $39.99 US
SUPERMAN: ACTION COMICS VOL. 7 – UNDER THE SKIN TP
Written by GREG PAK and SHOLLY FISCH
Art by AARON KUDER, JAE LEE, SCOTT KOLINS and PASCAL ALIXE
Cover by AARON KUDER
In these stories from ACTION COMICS #36-40 and FUTURES END #1, the deck is stacked against Superman when Smallville is poisoned by dark magics! Can Superman figure out what's going on and save his hometown before this evil epidemic spreads across the entire world?
On sale JULY 20 • 160 pg, FC, $16.99 US
SUPERMAN: AMERICAN ALIEN HC
Written by MAX LANDIS
Art by NICK DRAGOTTA, TOMMY LEE EDWARDS, JOELLE JONES, JAE LEE, FRANCIS MANAPUL, JONATHAN CASE and JOCK
Cover by RYAN SOOK
Screenwriter and Eisner Award nominee Max Landis (Chronicle, American Ultra, ADVENTURES OF SUPERMAN) presents the seven-issue miniseries that chronicles Clark Kent's development into the archetypal hero he will eventually become. With the tone of each issue ranging from heartwarming and simple, to frighteningly gritty and violent, to sexy, sun-kissed and funny, SUPERMAN: AMERICAN ALIEN is unlike anything you've seen before.
On sale AUGUST 3 • 196 pg, FC, $24.99 US
WONDER WOMAN BY GREG RUCKA VOL. 1 TP
Written by GREG RUCKA
Art by DREW JOHNSON, J.G. JONES, RAY SNYDER, SHANE DAVIS, SEAN PHILLIPS and JAMES RAIZ
Cover by J.G. JONES
Eisner Award-winning author Greg Rucka's critically acclaimed run writing the Amazon Warrior is collected in its entirety, beginning in WONDER WOMAN BY GREG RUCKA VOL. 1!
When Diana writes a book that shares her beliefs, it ignites a firestorm of controversy—and even gets the attention of the Olympian gods! Now Wonder Woman faces her most personal battle yet as she confronts attacks on all levels, from Veronica Cale to Dr. Psycho to Silver Swan and even the War God Ares himself! Collects WONDER WOMAN #195-205 and the original graphic novel WONDER WOMAN: THE HIKETEIA.
On sale JULY 13 • 392 pg, FC, $29.99 US
GIRL POWER: AMANDA CONNER GALLERY EDITION
Written by JUSTIN GRAY, JIMMY PALMIOTTI, DARWYN COOKE and AMANDA CONNER
Art and cover by AMANDA CONNER
Amanda Conner's amazing artwork showcasing some of DC's most iconic female characters is collected together for the first time in the large, deluxe-format GIRL POWER: AMANDA CONNER GALLERY EDITION. Sourced from the original art, this collection reflects the incredible diversity and power of Conner's style. Contained between the oversized covers of this Smythe-sewn edition are high-resolution scans of Amanda's art boards for POWER GIRL #1, 7, 8 and 9, DC'S WEDNESDAY COMICS Supergirl feature and the complete BEFORE WATCHMAN: SILK SPECTRE saga, as well as an assortment of cover art from these series.
Graphitti Designs' Gallery Editions strive to replicate the look, feel and attitude of the artwork. Every page is reproduced at original size on heavy paper stock to provide the fan and collector with museum-quality reproductions that are unobtainable from any other source.
See for yourself why Conner's fan-favorite work continues to grow in popularity with this larger-than-life presentation!
On sale AUGUST 2016 • 248 pg, FC, 12" x 17", $125.00 US
VERTIGO
ASTRO CITY #36
Written by KURT BUSIEK
Art by RON RANDALL
Cover by ALEX ROSS
When the original Jack-in-the-Box died, it shattered two families and gave rise to new heroes…and new villains. Now, the true secrets of that day are revealed—and they may end the Jack-in-the-Box dynasty forever. Also featuring: The Drama Queen, Chekov's Gun, the Weirdies, the Trouble Boys and more. Part 2 of a 2-part look into one of Astro City's most popular heroes, illustrated by guest artist Ron Randall.
On sale JUNE 15 • 32 pg, FC, $3.99 US • RATED T
ASTRO CITY: HONOR GUARD HC
Written by KURT BUSIEK
Art by JESUS MERINO, JOE INFURNARI, GARY CHALONER and WADE VON GRAWBADGER
Cover by ALEX ROSS
In the latest ASTRO CITY collection, the Living Nightmare—the embodiment of fear itself—goes up against the Honor Guard, and all its secrets come to light. Plus, Starfighter has been enjoying a hero's reward for decades. But with dark forces stirring in the cosmos, will he be called back to action? Or are there other paths? Collects ASTRO CITY #13, #22, #25, #27-28, and #31.
On sale AUGUST 10 • 264 pg, FC, $29.99 US
ABSOLUTE Y: THE LAST MAN VOL. 2 HC
Written by BRIAN K. VAUGHAN
Art by PIA GUERRA, GORAN SUDZUKA, GORAN PARLOV and JOSE MARZAN, JR.
Cover by MASSIMO CARNEVALE
In this second Y: THE LAST MAN Absolute Edition, Yorick's sister, Hero, tracks him to San Francisco, only to find that he has seemingly succumbed to the male-killing plague. Plus, catch up with Yorick's monkey Ampersand and learn the origin of Agent 355. Collects issues #21-40, along with a complete script by Brian K. Vaughan and pencil art from issue #32 by Goran Sudzuka.
On sale SEPTEMBER 21 • 512 pg, FC, 8.25" x 12.5" • $125.00 US • MATURE READERS
AMERICAN VAMPIRE VOL. 8 TP
Written by SCOTT SNYDER
Art and cover by RAFAEL ALBUQUERQUE
In the latest AMERICAN VAMPIRE paperback, it's 1965. Pearl and Skinner escaped The Gray Trader with more questions than answers, and their search for clues leads them to…NASA! You've never seen vampires like this before in these tales from AMERICAN VAMPIRE: SECOND CYCLE #6-11!
On sale JULY 20 • 144 pg, FC, $14.99 US • MATURE READERS
ART OPS #9
Written by SHAUN SIMON
Art by MATT BRUNDAGE and MICHAEL ALLRED
Cover by MICHAEL ALLRED
In New York City's famed Chelsea Hotel, reluctant Art Operative Reggie Riot comes to grips with his father's transformation. While on the opposite coast, J. Gorgeous and the Body take Hollywood by storm with an unforgettable appearance on the red carpet. Part 2 of "Popism."
On sale JUNE 22 • 32 pg, FC, $3.99 US • MATURE READERS
CLEAN ROOM #9
Written by GAIL SIMONE
Art by JON DAVIS-HUNT
Cover by JENNY FRISON
Enigmatic exorcist Astrid Mueller and her arch-rival Chloe Pierce get locked in the Clean Room as the Windy City meets a blood-starved army of Blue Utopians. But is being stuck in a hermetically sealed chamber far below the Chicago streets with someone who knows your darkest, damaged desires any safer than a city on fire?
On sale JUNE 15 • 32 pg, FC, $3.99 US • MATURE READERS
"All signs are pointing towards this being a breakout series for the creative team of Aldridge and Godlewski." —Comicosity
THE DARK AND BLOODY #5
Written by SHAWN ALDRIDGE
Art by SCOTT GODLEWSKI
Cover by TYLER CROOK
The cursed girl Ayah has taken Iris' son Shiloh, leaving Iris no choice but to go after her and confront the demons of his past. To do that, he'll have to bring in the man who was truly responsible for the massacre in Iraq that took Ayah's family from her. If Ayah is seeking an eye for an eye, then it's Eric's head she'll be wanting.
On sale JUNE 8 • 32 pg, FC, 5 of 6, $3.99 US • MATURE READERS
DMZ BOOK TWO TP
Written by BRIAN WOOD
Art by RICCARDO BURCHIELLI, NATHAN FOX, DANIJEL ZEZELJ and others
Cover by BRIAN WOOD
In these stories from DMZ #13-28, Matty heads undercover to infiltrate a terrorist cell, interviews an enlisted U.S. soldier who's found guilty of a massacre, and turns his attention to several locals: a guerilla artist, a former ally who's now worse off than a homeless person, and the powerful head of an organization within the DMZ.
On sale JULY 27 • 416 pg, FC, $24.99 US • MATURE READERS
DOOM PATROL BOOK TWO TP
Written by GRANT MORRISON
Art by RICHARD CASE, KELLEY JONES, MIKE DRINGENBERG, STEVE YEOWELL, VINCE GIARRANO and others
Cover by BRIAN BOLLAND
These stories from DOOM PATROL #35-50 feature the debut of Danny the Street, the first appearance of Flex Mentallo, and, through it all, an incredible saga of cosmic war and super-evolving consciousness! Plus, learn the final fate of the Brotherhood of Dada and witness the rise of the unstoppable Candlemaker!
On sale JULY 20 • 448 pg, FC, $29.99 US • MATURE READERS
LUCIFER #7
Written by HOLLY BLACK
Art and cover by LEE GARBETT
"AN ABSOLUTE MUST READ" —COMICVERSE
The mystery of God's murder has been solved, and Lucifer is back to running his bar, Ex Lux, in Los Angeles. With all resolved in Heaven and on Earth, it means Hell is probably fine too, right? After all, usurpers to the throne of the Nine Circles have always been status quo…
On sale JUNE 15 • 32 pg, FC, $3.99 US • MATURE READERS
THE SHERIFF OF BABYLON #7
Written by TOM KING
Art by MITCH GERADS
Cover by JOHN PAUL LEON
Things are heating up in Baghdad. What started as the search for one man's killer has turned into something much deeper, and everyone has lost something in the violence that followed. Now Nassir is in the hands of the men who may have been responsible for all of it. What they want from him is unclear, but it's a payment they intend to take in blood.
On sale JUNE 8 • 32 pg, FC, 7 of 12, $3.99 US • MATURE READERS
THE SHERIFF OF BABYLON VOL. 1: BANG. BANG. BANG. TP
Written by TOM KING
Art by MITCH GERADS
Cover by JOHN PAUL LEON
"An engaging mystery…complex characters and an even more complex world." —IGN
"A much richer and more enlightening feel than much of the fiction about the Iraq war…a must-read." —Uproxx
"King's terse writing captures the volatility and cynical realpolitik of post-invasion Baghdad." —The Guardian
Baghdad, 2003. In an effort to establish some semblance of order in the war-torn city, Florida cop-turned-military consultant Chris Henry has been assigned to train cadets in law enforcement. But good intentions are not immune to the chaos found in the post-9/11 Middle East. When one of Henry's trainees is found dead, he's forced to ally himself with Nassir, the last policeman in Baghdad, to unravel a bloody mystery. While Henry and Nassir search for answers, forces in the shadows are pulling strings that these men don't even know they're tied to. Collects issues #1-6 of the acclaimed series.
On sale JULY 13 • 192 pg, FC, $14.99 US • MATURE READERS
RED THORN #8
Written by DAVID BAILLIE
Art by MEGHAN HETRICK
Cover by CHOONG YOON
Thorn discovers kilts, the Stepping Orc visits the Whitburn Wiccan and the Upstart Gods rain bloody chaos down on Glasgow. But where are Isla and Tarek? And what secret does the Couril of the Callanish Stone Circle so jealously protect? Meghan Hetrick and David Baillie answer all of these questions and more in "A Wicked Garden," the eighth chapter of RED THORN, and the start of a whole new arc!.
On sale JUNE 22 • 32 pg, FC, $3.99 US • MATURE READERS
"Readers will be on their toes trying to decide if Thorn is a force for good or evil, as human Isla tries to learn the truth about her sister." —Sci Fi Pulse
"Vertigo has another hit on their hands." —Comic Vine
"Baillie and Hetrick are working together seamlessly to weave this modern day tale of Scots mythology, and are doing so in a captivating, exciting fashion." — Big Comic Page
RED THORN VOL. 1: GLASGOW KISS TP
Written by DAVID BAILLIE
Art by MEGAN HETRICK
Cover by CHOONG YOON
On the rain-soaked streets of Glasgow, a girl whose drawings somehow come to life has just stumbled across her one true love. And thousands of miles below those streets, an ancient demi-god plots his escape from the prison where he's been held for nearly two thousand years. In these tales from the first seven issues of RED THORN, evil forces are at play and no one is safe as the legends of Scottish mythology collide with the modern world. Fans of FABLES and THE SANDMAN won't want to miss this riveting dark fantasy epic!
On sale JULY 27 • 168 pg, FC, $14.99 US • MATURE READERS
SCALPED DELUXE EDITION BOOK FIVE HC
Written by JASON AARON
Art by R.M. GUERA, IGOR KORDEY and others
Cover by R.M. GUERA
SCALPED draws to a close in this final Deluxe Edition with a Mexican stand-off like you've never seen before. No one is safe. Especially Dash Bad Horse, whose sins are finally about to catch up to him. As tension on the rez comes to a peak, everyone's priorities are tested. Collects issues of SCALPED #50-60.
On sale AUGUST 31 • 256 pg, FC, 7.0625" x 10.875", $29.99 US • MATURE READERS
SUICIDERS: KINGS OF HELL.A. #4
Written by LEE BERMEJO
Art by ALESSANDRO VITTI
Cover by LEE BERMEJO
"Bermejo gives the comic some real weight by adding in a social conscience, and a huge divide between the have and the have nots." —Bloody Disgusting
Trix can no longer hide the news from her brother Johnny that she's pregnant, but even if he finds out, he has other concerns to deal with first. He and the Kings have been causing so much trouble in Los Angeles, they've quickly become the city's most wanted. The police aren't the only ones on the hunt for the gang, though. Leonard is looking to put the broken pieces of his life back together.
On sale JUNE 29 • 32 pg, FC, 4 of 6, $3.99 US • MATURE READERS
SURVIVORS' CLUB #9
Written by LAUREN BEUKES and DALE HALVORSEN
Art by RYAN KELLY and MARK FARMER
Cover by BILL SIENKIEWICZ
A severed head plays tour guide, and Kiri and Chenzira uncover the secret of what connects them all. Simon gets into haunted-house training and Alice reveals a new toy, as monstrous as her dark ambitions. In the battle of Muskagee, which Survivors will actually survive and what will be left of them?
On sale JUNE 1 • 32 pg, FC, $3.99 US • MATURE READERS • Final issue
UNFOLLOW #8
Written by ROB WILLIAMS
Art by MIKE DOWLING
Cover by MATT TAYLOR
"Chilling, shocking and utterly compelling, UNFOLLOW is your new favorite series, even if you don't know it yet." —Big Comic Page
The 140's numbers are starting to drop—it's so easy to fall in front of a bus these days—and so Larry Ferrell's chosen ones spread across the globe. Some are looking for peace, some for extreme firepower. But who placed the full-page advertisement in many of the world's top newspapers? And who is the 140's new Headspace follower?
On sale JUNE 1 • 32 pg, FC, $3.99 US • MATURE READERS
DC COLLECTIBLES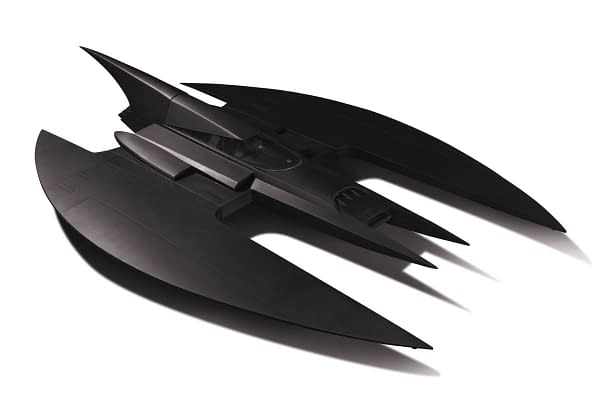 BATMAN: THE ANIMATED SERIES BATWING
Soaring out of the Emmy Award-winning Batman: The Animated Series, it's the Batwing! This sleekly designed replica of the Dark Knight's amazing, bat-shaped vehicle comes with retractable landing gear, battery-powered interior lights and slide-open cockpit canopy—and now, it can be yours!
Measures Approximately 37" long x 25" wide x 6" tall (with landing gear up)
$175.00 US • On Sale October 2016 • Allocations May Occur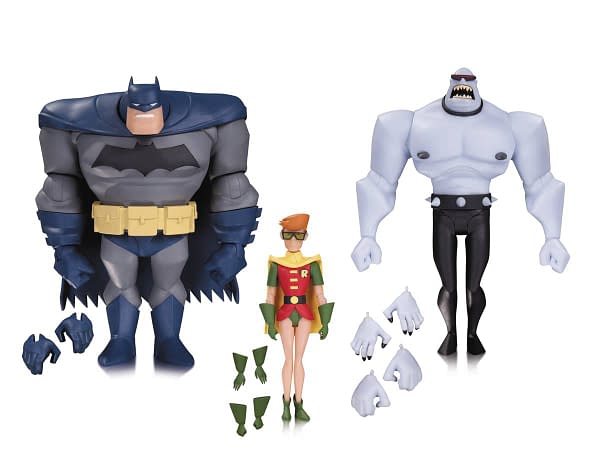 BATMAN: THE ANIMATED SERIES BATMAN, ROBIN AND MUTANT LEADER ACTION FIGURE 3-PACK
This new action figure 3-pack is inspired by The New Batman Adventures episode "Legends of the Dark Knight," and includes Batman, Carrie Kelley as Robin, and the Mutant Leader. Each figure comes with extra hands!
BATMAN – 6.25"
CARRIE KELLEY ROBIN – 5.1"
MUTANT LEADER – 6.1"
$70.00 US • On Sale October 2016 • Allocations May Occur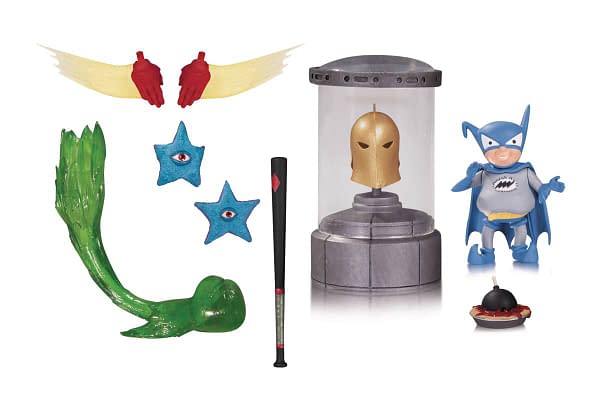 DC ICONS ACCESSORY PACK SET 2
The second DC ICONS ACCESSORY PACK includes essential add-on items for your action figure collection, including two miniature Starros, Harley Quinn's beloved baseball bat, a Justice League trophy case that holds the helmet of Fate, a Green Lantern construct, lightning enhanced hands for The Flash, a pie with a bomb in it, and Bat-Mite!
$28.00 US • On Sale October 2016 • Allocations May Occur
DC COMICS DESIGNER SERIES: AMANDA CONNER HARLEY QUINN ACTION FIGURES
Amanda Conner,co-writer and cover artist of the smash-hit monthly HARLEY QUINN series, goes to town on these new versions of Harley—and each comes with its own quirky accessories!
TRADITIONAL HARLEY QUINN – 6.8" (WITH PET BEAVER)
SUPERHERO HARLEY QUINN – 6.8" (WITH CHIBI-STYLE HEAD)
SPACESUIT HARLEY QUINN – 6.8" (WITH SPACE PIZZA AND POP GUN)
HOLIDAY HARLEY QUINN – 7.05" (WITH HAMMER AND BOMB)
Each figure sold separately.
$28.00 US Each • On Sale October 2016 • Allocations May Occur
DC COMICS DESIGNER SERIES: DARWYN COOKE ACTION FIGURES SERIES 2
Eisner Award-winning writer/artist Darwyn Cooke is back with a second series of designer action figures, including some of the DC Universe's greatest heroes: The Flash, Green Lantern John Stewart, Wonder Woman and Catwoman!
Each figure sold separately. Each measures 6.75" tall.
4. THE FLASH
5. GREEN LANTERN JOHN STEWART
6. WONDER WOMAN
7. CATWOMAN
$28.00 US Each • On Sale October 2016 • Allocations May Occur
BATMAN BLACK & WHITE: THE JOKER BY FRANK MILLER STATUE
Designed by FRANK MILLER
Sculpted by ALTERTON
From the pages of BATMAN: THE DARK KNIGHT RETURNS, it's The Joker as envisioned by legendary comics writer/artist Frank Miller! Grab this one before it sells out—and that's no joke!
Limited Edition of 5,200 • Measures Approximately 7.25" Tall
$80.00 US • On Sale October 2016 • Allocations May Occur
DARKSEID AND GRAIL ACTION FIGURE 2-PACK
Straight from the pages of the JUSTICE LEAGUE epic "Darkseid War" come these two figures of the dark lord of Apokolips and his equally fearsome daughter, Grail, in a new action figure 2-pack. Darkseid comes with extra hands, and Grail includes extra hands, a cape and battleaxe.
DARKSEID – 12"
GRAIL – 6"
$100.00 US • On Sale October 2016 • Allocations May Occur
DC SUPER PETS!: JOKER FISH AND OSITO PLUSH FIGURES
Designed by ART BALTAZAR
DC Collectibles' adorable plush figure series continues with two new Super Pets for you to hug—if you dare! This time we have The Joker's super-creepy Joker Fish, plus Osito, the teddy bear Bane played with as a child.
Each figure sold separately.
7. JOKER FISH – 9"
8. OSITO – 9"
$15.00 US Each • On Sale October 2016 • Allocations May Occur
DC COMICS BOMBSHELLS: WONDER WOMAN BUST
Designed by EMANUELA LUPACCHINO
Sculpted by JACK MATHEWS
Wonder Woman, DC's original Amazon warrior, is reimagined in this new Bombshells bust—and she's tough enough to take the battle to the enemy forces in World War II!
Limited Edition of 2,500
Measures Approximately 7.5" Tall
$60.00 US • On Sale October 2016 • Allocations May Occur
HARLEY QUINN: RED, WHITE AND BLACK STATUE
Designed by ANT LUCIA
Sculpted by TIM MILLER
It's a new vision of DC's red-hot villain, Harley Quinn, as DC Collectibles unveils the first HARLEY QUINN: RED, WHITE AND BLACK STATUE! Get in at the start of this new statue series!
Measures Approximately 6.75" Tall
$80.00 US • On Sale October 2016 • Allocations May Occur
DC COMICS BOMBSHELLS: SUPERGIRL BUST
Based on the art of EMANUELA LUPACCHINO
Sculpted by JACK MATHEWS
It's a new era and a new look for the Girl of Steel in this new Bombshells bust, as she leaps into action on the battlefronts of the European Theater of Operations!
Limited Edition of 2,500
Measures Approximately 7.5" Tall
$60.00 US • On Sale October 2016 • Allocations May Occur
DC COMICS BOMBSHELLS: HALLOWEEN BATGIRL STATUE
Based on the art of ANT LUCIA
Sculpted by JACK MATHEWS and KAREN PALINKO
Calling all ghouls and goblins—Batgirl is here in this new Bombshells statue, and she's a real treat!
Limited Edition of 5,200
Measures Approximately 10.6" Tall
$125.00 US • On Sale October 2016 • Allocations May Occur
DC COMICS BOMBSHELLS: RAVEN STATUE
Designed by ANT LUCIA
Sculpted by TIM MILLER
Raven, the most mysterious member of the Teen Titans, is reimagined in this new Bombshells statue—and she's ready to cast her next spell.
Limited Edition of 5,200
Measures Approximately 10.4" Tall
$125.00 US • On Sale October 2016 Allocations May Occur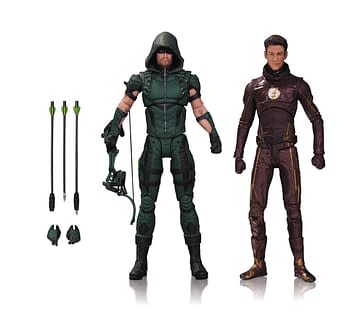 DC TV: ARROW AND THE FLASH ACTION FIGURE 2-PACK
Fresh from their hit TV series on the CW, Arrow and The Flash are back in a new action figure 2-pack. Arrow comes with a bow, three arrows and spare hands.
ARROW — 7"
THE FLASH – 6.75"
$50.00 US • On Sale October 2016 • Allocations May Occur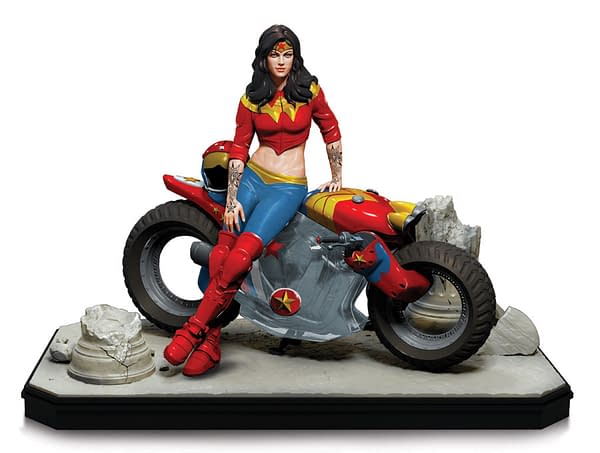 GOTHAM CITY GARAGE: WONDER WOMAN STATUE
Tattoo design by KATHERINE BRADDOCK
Sculpted by IRENE MATAR and ADAM ROSS
Get ready to ride with the Amazon Princess herself in this latest, highly detailed GOTHAM CITY GARAGE STATUE!
Limited Edition of 5,200
Measures Approximately 15" wide x 10.5" high x 7.75" deep
$350.00 US • On Sale October 2016 • Allocations May Occur