The Brakebills crew find themselves making a deal with an ancient dragon in order to find more of the Monster's missing body on "Home Improvement", the 8th episode of The Magicians 4th season on SYFY.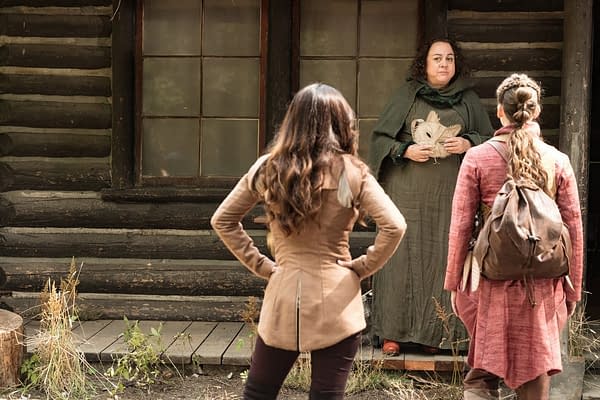 Julia (Stella Maeve) and Quintin (Jason Ralph) need help from the East River Dragon, but they will only get it if they retrieve a stolen vial from a familiar thief. The most recent episode of The Magicians seems like light and fluffy stuff, but there is a little momentum under all of that fluff.
Alice (Olivia Taylor Dudley) agrees to help Zelda (Mageina Tovah) build a beacon to bring her daughter back from the mirror dimension, but to do that, she needs to cast a tricky spell with her mother (Judith Hoag).
Quintin follows a clue about the missing dragon vial and finds a very pregnant Poppy (Felicia Day), and somehow becomes intertwined with her schemes.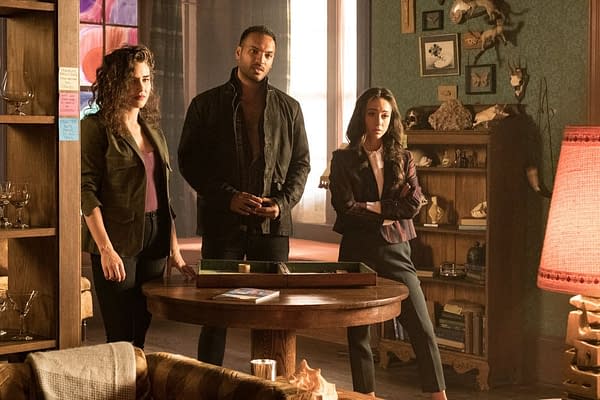 Fen (Brittany Curran) and Margo (Summer Bishil) team up to track down a Questing Beast (the Napster) that has been leaving Fen clues about her destiny- but in order to fin the Questing Beast, the pair end up doing odd jobs for a fortune teller.
"Home Improvement" rambles about a lot, and might be a ton of filler. It also feels a tad indulgent to put a fluff episode this close to the end of the season, especially with as many plot details The Magicians has dangling at the moment. Still, if their is one thing I have learned about this show, it's how well the writers tie things up by the end of any given story arc.
That's not to say the episode is without its merits, though: "Home Improvement" is highly entertaining, with Jason Ralph, Arjun Gupta, and Felicia Day pretty much stealing the episode. And the relationship dynamics between Alice and her mother gave Olivia Taylor Dudley an opportunity to play with her character a little, which was nice.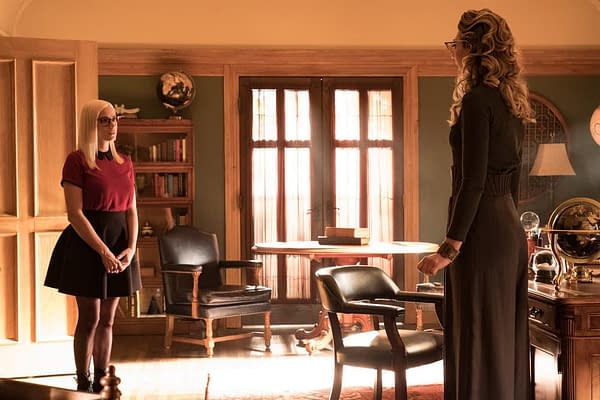 Does "Home Improvement" advance this season's story much? Not really. We barely see the Monster (Hale Appleman), who is bored and wants to do drugs. The Library is recruiting, and Kady is trying to broker a cease-fire with them, but these events happen largely in the background while the dragon shenanigans take center stage.
It is hard to blame the writers, though. Felicia Day and Jason Ralph are a blast together, and play off of each other well.
Let's pull some spoilers out of this hat!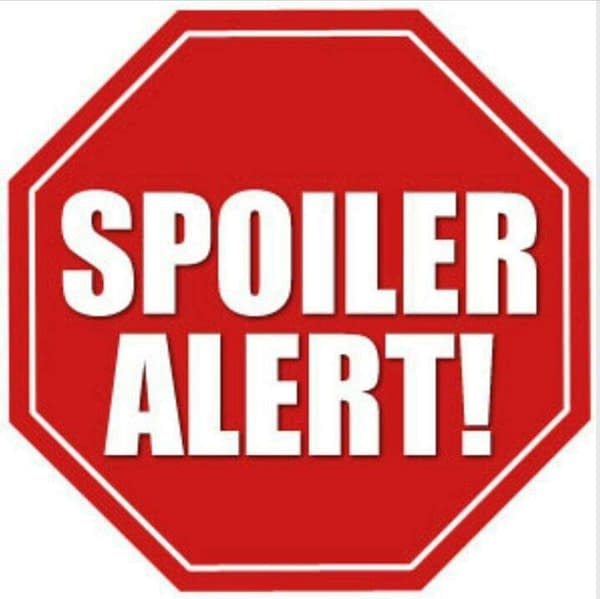 Poor Alice. She goes through all that trouble to find Sheila (Camryn Manheim) only to learn that she's been recruited by the Library. Sheila just wants to help people with her magical abilities, and the Library claims that they'll be able to help her do just that.
Poppy's dragon erotica! Poppy in general!
Quintin is such a geek. I love that he was going to name the dragon Falcor! And does he really want to be a dad now, or was that just residual nurturing left over from the dragon egg?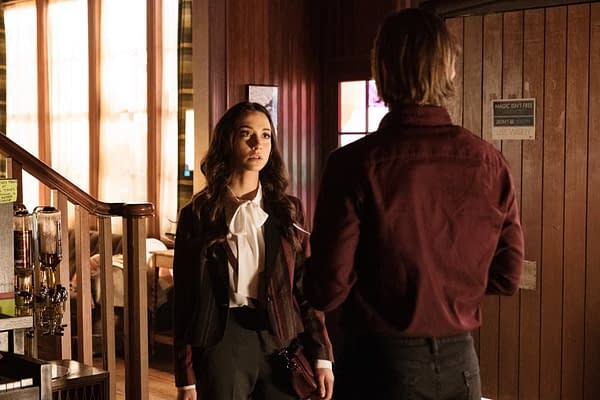 There was also a ton of egg based humor in this episode, with people either licking dragon eggs or rubbing chicken eggs on their faces. Why? I'm not sure. But it was funny as hell, so I'm cool with it.
Julia, face to face with the East River Dragon, ends up getting some clues into what she is now that she's lost her god powers. She's still immortal, magic has little to no effect on her, and she can't be hurt. Now she needs to find a "binder" that should help her find a solution to her "god" dilemma.
Fen's quest is a tough one. Curran plays Fen with such earnestness that you really want to see her succeed, and you know she's just yearning to be more significant that she might actually be. Every time Margo side tracks Fen's quest, you can feel her frustration building to a boil.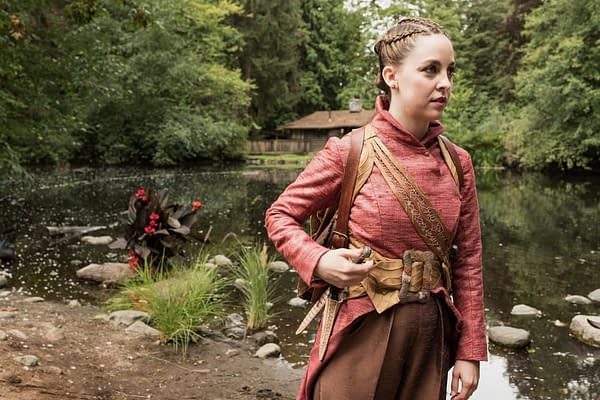 Now that Fen knows her fate, can she really dethrone Margo? Fen has always been very loyal to the High King, so treason isn't going to be an easy act for her!
I have a feeling all of the events from "Home Improvement" will prove to be more significant as the season goes on; for now, though, it felt largely superfluous.
On Wednesday, March 20th, SFYF presents "The Serpent", and it looks like Fen is really going through with a coup!

SYFY's The Magicians stars Jason Ralph, Stella Maeve, Olivia Taylor Dudley, Hale Appleman, Arjun Gupta, Summer Bishil, Rick Worthy, Jade Tailor, Brittany Curran, and Trevor Einhorn. The series' fourth season is executive produced by John McNamara, Sera Gamble, Chris Fisher, Henry Alonso Myers; and Groundswell Productions' Michael London and Janice Williams.
Enjoyed this article? Share it!