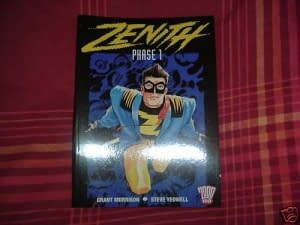 Over the last few weeks, someone has been selling Zenith trade paperbacks on eBay, collecting the 2000AD superhero story by Grant Morrison and Steve Yeowell. All well and good you may think, but they're not actually supposed to exist.
Grant Morrison opened a dispute with 2000AD Rebellion over the ownership of the character, seemingly claiming he had never signed away the rights when first published in the Brtish weekly 2000AD comic in the eighties.
This occurred just as Titan Books were repackaging Zenith in a new trade paperback run, after an earlier print run had sold out long since. Copies of the new remastered print were stored in a warehouse until the dispute could be settled. It never was, it never looked like it was going to, and the entire run was pulped.
But a few copies escaped from a maximum security stockade to the Los Angeles underground… no hang on…
But a few copies were nicked. And every now and then one or two copies turn up.
Like this one, going for £31. Copies have gone for a lot more.
How did the seller come by them? He told me "Hi,yes i bought a few of these at a boot sale in Essex a few months ago,decided to put on here,had no idea they would be so popular."
Hmmm… anyone for a trip to Essex? Has Warren seen any copies lying around?

Enjoyed this article? Share it!