"The Rookie" Season 2 – "Clean Cut" Finally Finds The Funny [SPOILER REVIEW]
Thus far, Season 2 of ABC's police procedural dramedy The Rookie has been all about the drama. While some episodes featured lighter moments, each successive week has introduced even more drama to the show. In this week's episode, "Clean Cut," the eighth of the season, The Rookie finally rediscovers its sense of humor. Restoring balance to the police force, "Clean Cut," is dramatic, funny, witty, and features key character development. Most importantly, the episode also opens up the possibility of Alan Tudyk in a recurring guest role as crime scene cleaner Ellroy Bosso.
Oh no, the spoilers have returned.
The Rookie has finally got its groove back! A pleasant surprise, "Clean Cut," is fun, unpredictable, engaging, and well-written. The interplay between Tudyk's Bosso and Nathan Fillion as rookie John Nolan is fun to watch. Tudyk plays a great straight man to Fillion's whimsy, and the awkwardness of the interplay is superbly acted. Maybe having old friends around is good for Fillion, because he looks like he is enjoying himself for the first time all season. Nolan, as a character, has been through the wringer. It is nice to finally see him – and Fillion – enjoying themselves again.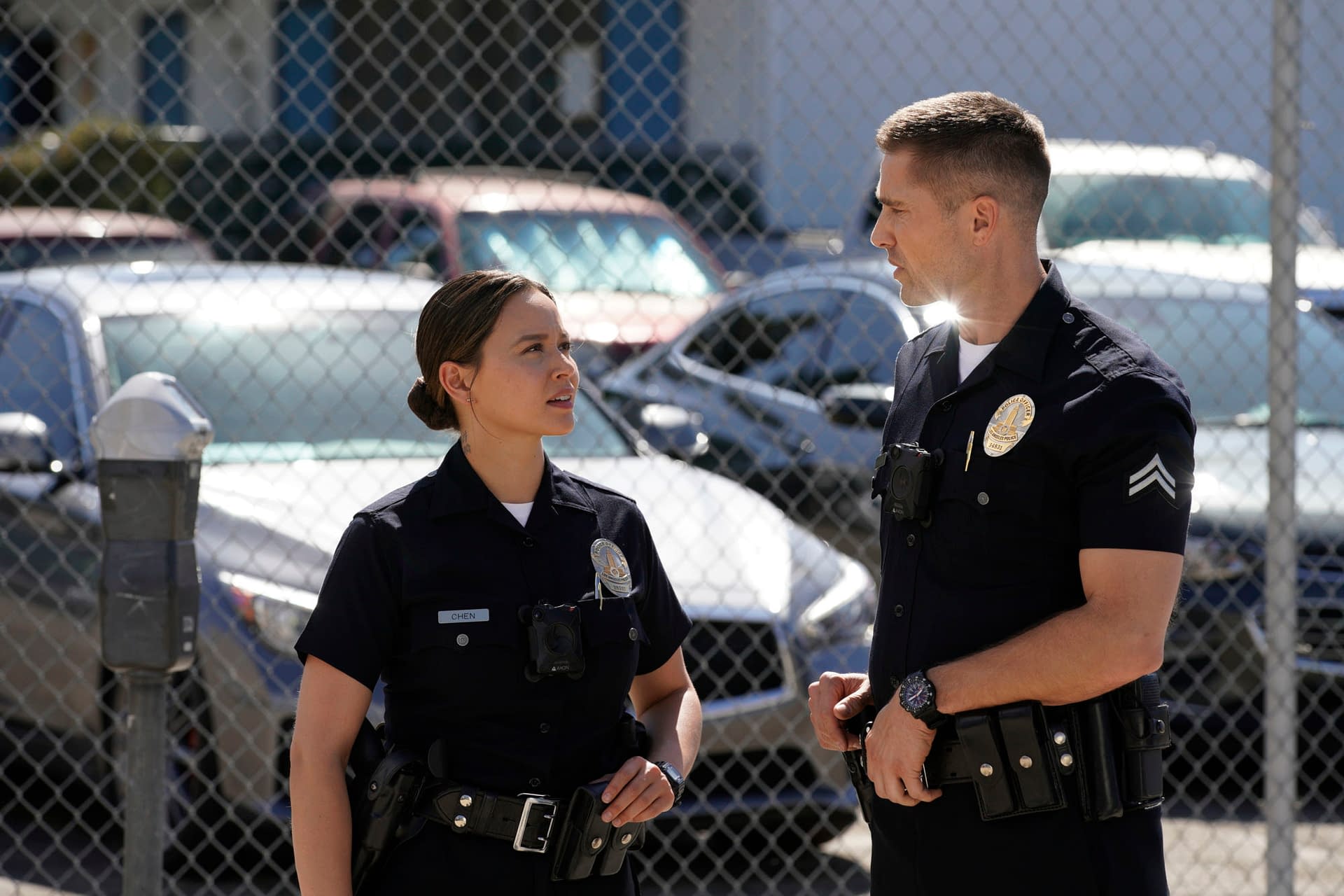 How many times will Lucy Chen (Melissa O'Neil) have to save Bradford's (Eric Winter) ass, career, and life, before he starts listening to her? Bradford's distracted driving gets him pulled into an accident by an insurance scammer. While he is freaking out about the consequences, Chen figures out the scam and helps get a confession out of the other driver. Then, she puts her own life at risk to stop a murder. Overall, she had a pretty good day. However, it would be nice to see Chen be less tentative and more confident. She has been a cop for a while now, it is past time for O'Neil to put a little bit more power behind Chen's words.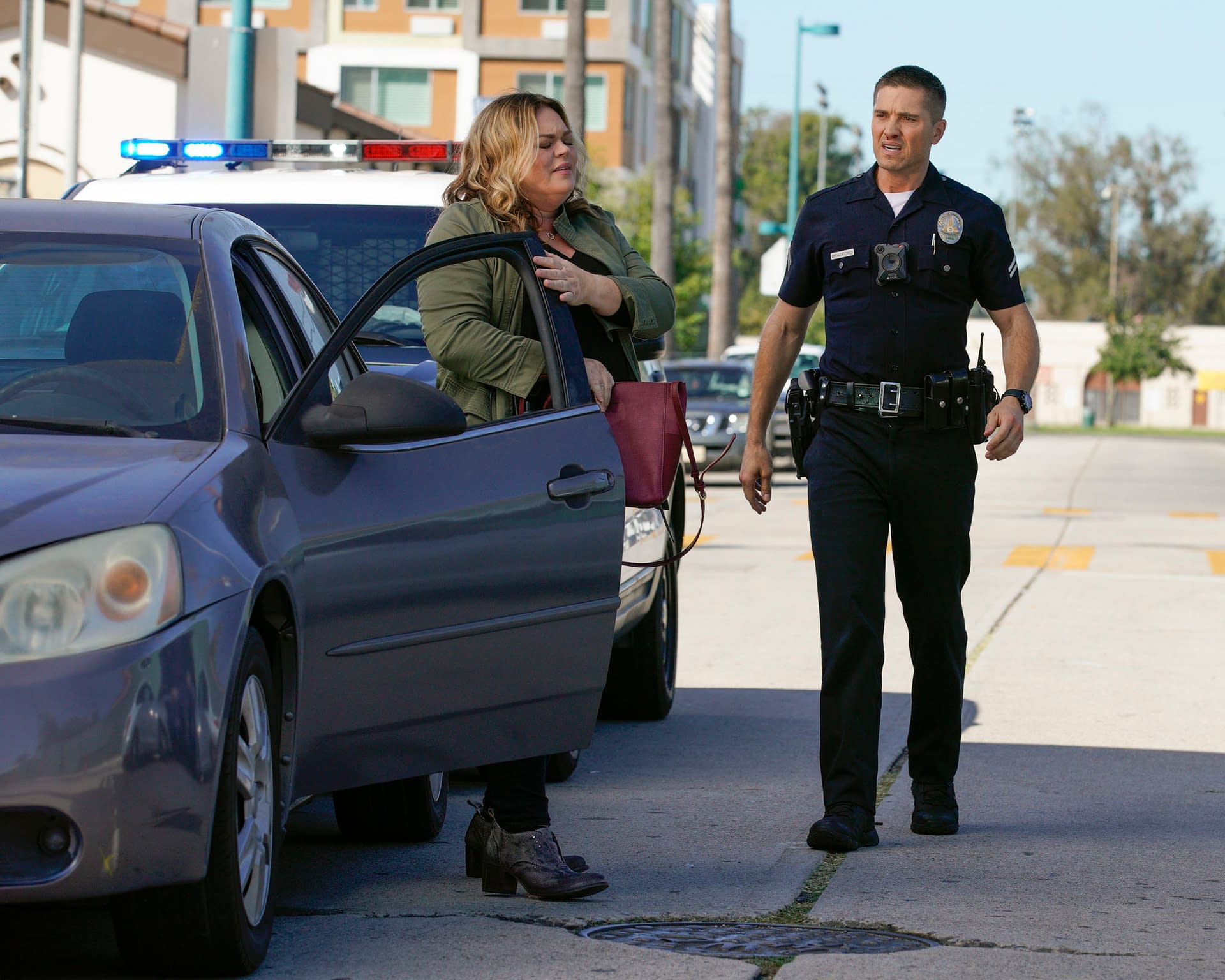 Poor Officer West (Titus Makin Jr.). He survives his quarter-life crisis, moves up with his rookie class, and is set to get an award for saving a family in last week's "Safety." And then he goes and inhales a white powder in a suspect's car. While being tested for drug ingestion, he goes on a hyper efficiency kick and develops a Minority Report plan to predict crime. Officer Lopez (Alyssa Diaz) makes sure he is well cared for, and sufficiently mocked. West is such a nerd! And, gloriously, is just on caffeine and vitamins. Psychosomatic drug symptoms is on-point for the character and Makin's performance is hilarious and believable. Lopez is still the best part of the show, and Diaz's performance continues to reinforce that opinion.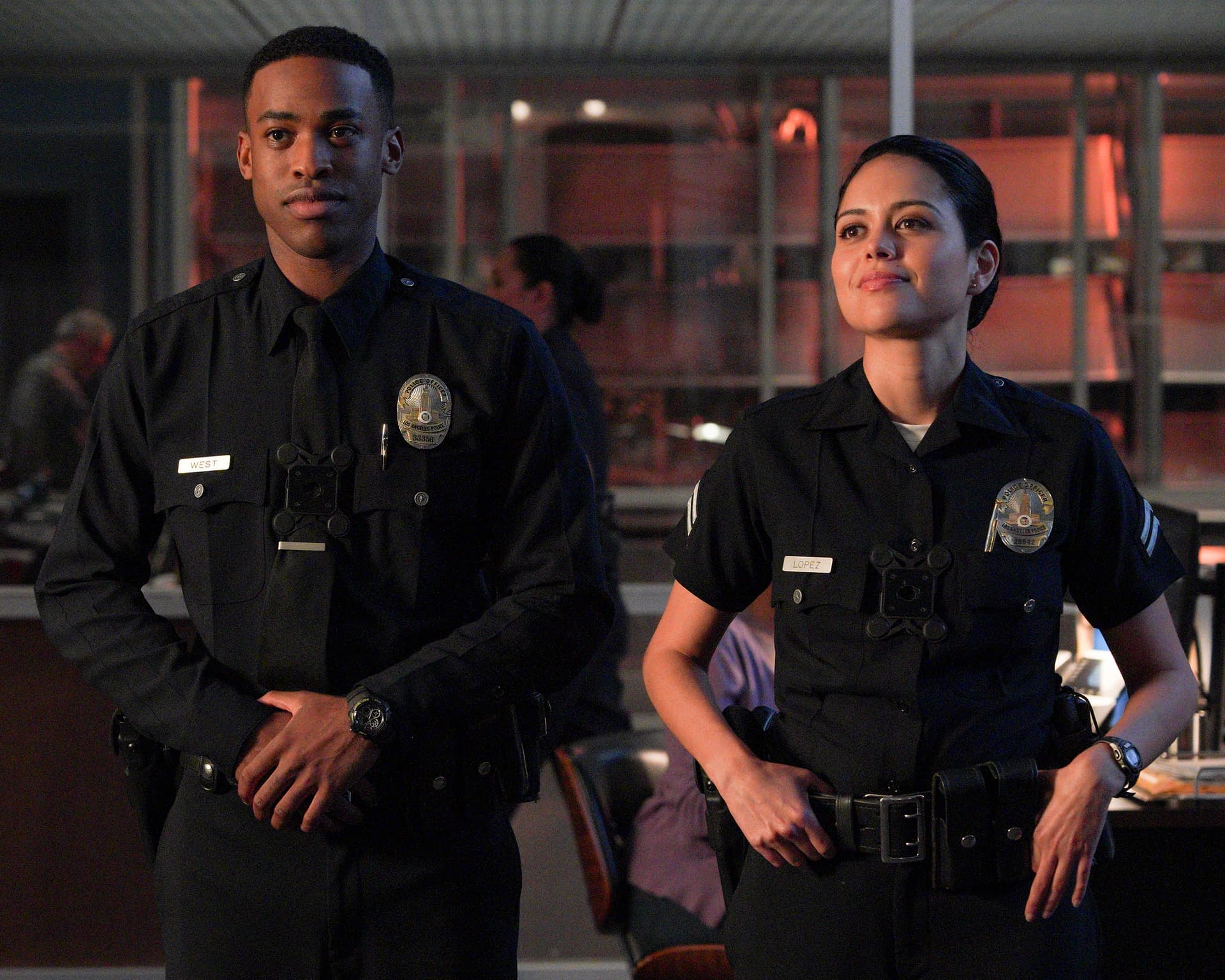 Detective Nyla Harper's (Mekia Cox) character development thus far on The Rookie has been uneven. One minute she is a hardcore "Warrior" who craves action and makes sacrifices for the job. The next, she is questioning her life choices and just punching a clock in order to win back partial custody of her daughter. While those two sides of Harper's personality don't exactly conflict, viewers never see both aspects of Harper's personality at the same time. Until this week's episode.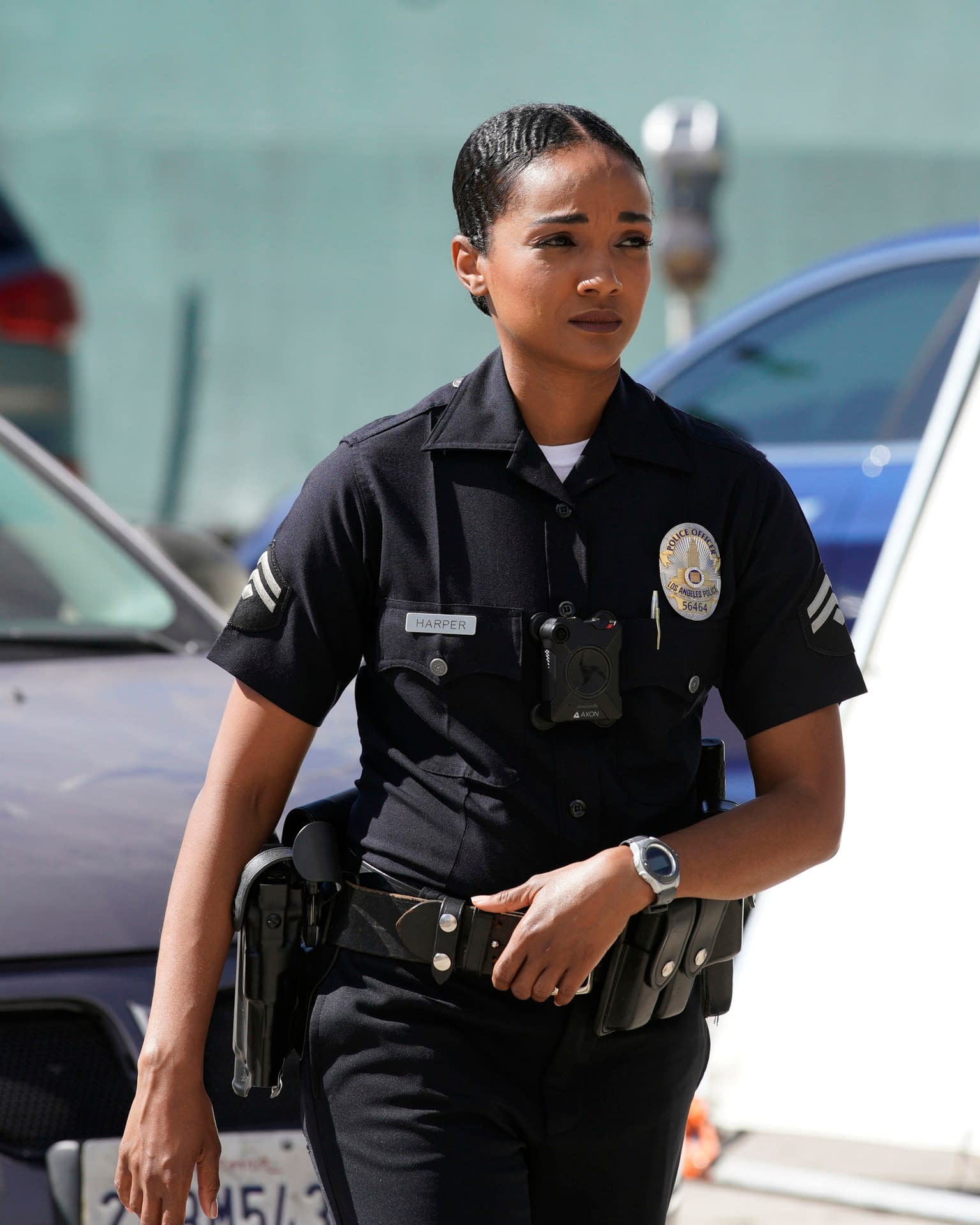 Harper is riding with Sergeant Grey (Richard T. Jones) in order to get a positive review she can share with the judge in her custody case. While out with the Sergeant, Harper is direct, businesslike, quick thinking, empathetic, and even keeled. She knows what is at stake, but doesn't let the pressure turn her into a bad cop. The Detective Harper we see in "Clean Cut" is the one we should have been seeing all along. This Harper is complicated, conflicted, world weary, and willing to share her experiences. Hopefully we will see her again.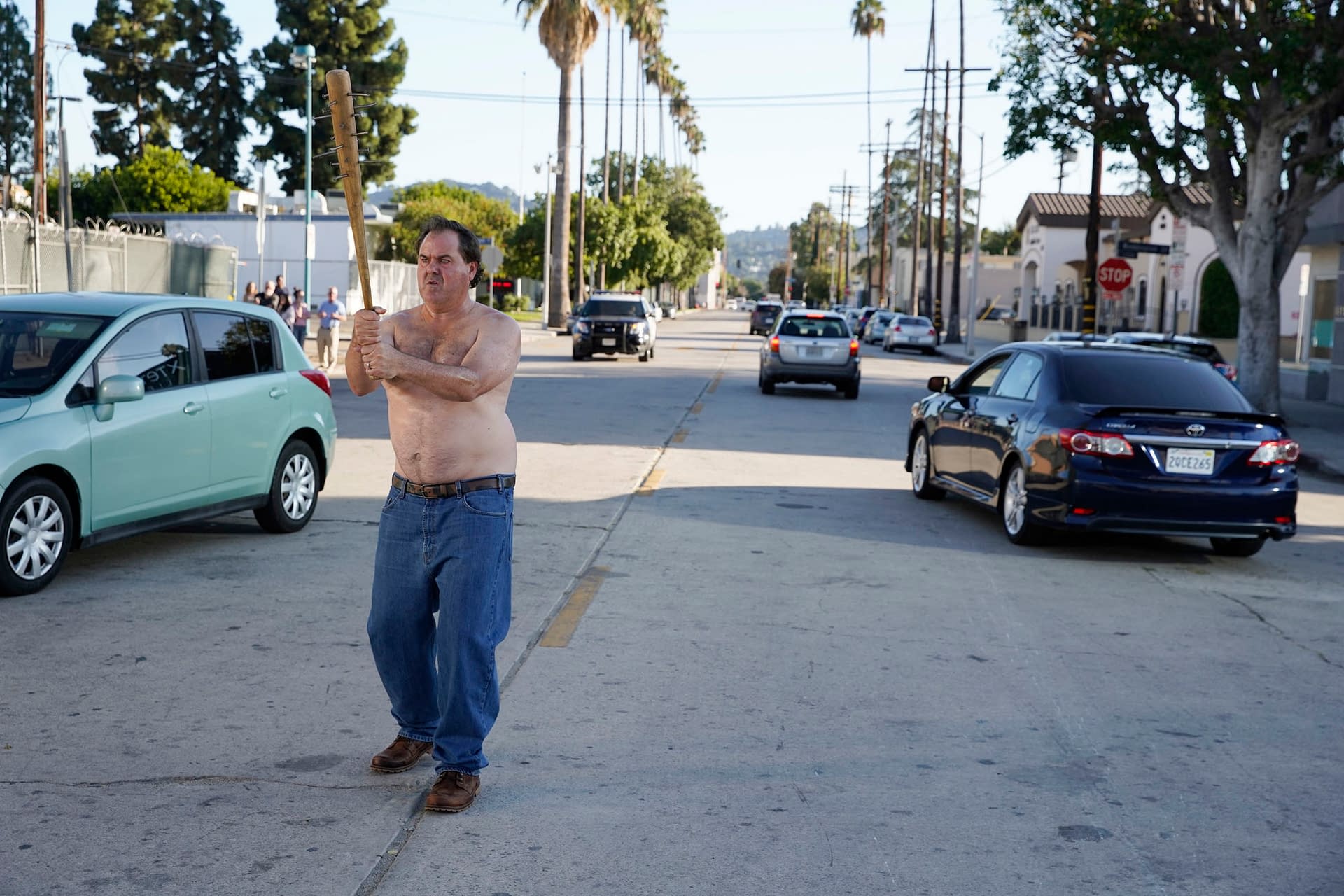 This week, The Rookie had everything, including a shirtless guy fighting zombies with a bat full of nails. But, most importantly, "Clean Cut," had balance. While not terribly realistic, the plot was entertaining, dramatic, and funny. Unlike previous episodes this season, the drama seemed natural to the plot rather than over-produced. The fast-paced, witty, funny, and action-packed episode is exactly what viewers loved about The Rookie's first season. In order to keep those viewers, writers and show-runners need to embrace the energy of "Clean Cut" and repeat it.
An all new episode of The Rookie, "Breaking Point," airs Sunday November 24 at 10PM on ABC.