Things To Do In New York And Philadelphia This Week If You Like Comics
Tuesday, October 21st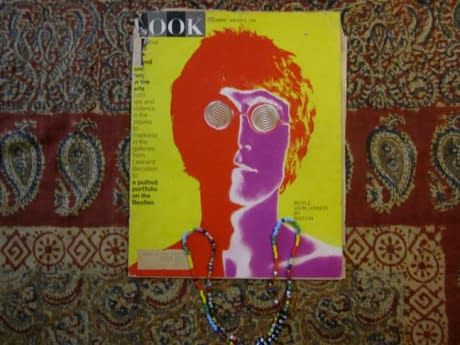 The 104nd meeting of the NY Comics & Picture-story Symposium will be held on Tuesday, October 21, 2014 at 7 pm at Parsons The New School, 2 West 13th Street, in the Bark Room (off the lobby). The event is free and open to the public. Please note 7 pm starting time. Gary Panter attempts to invoke the unfolding lotus of the 1960s by thumbing through an old magazine missing pages – LOOK, Jan 9, 1968.
Wednesday, October 22nd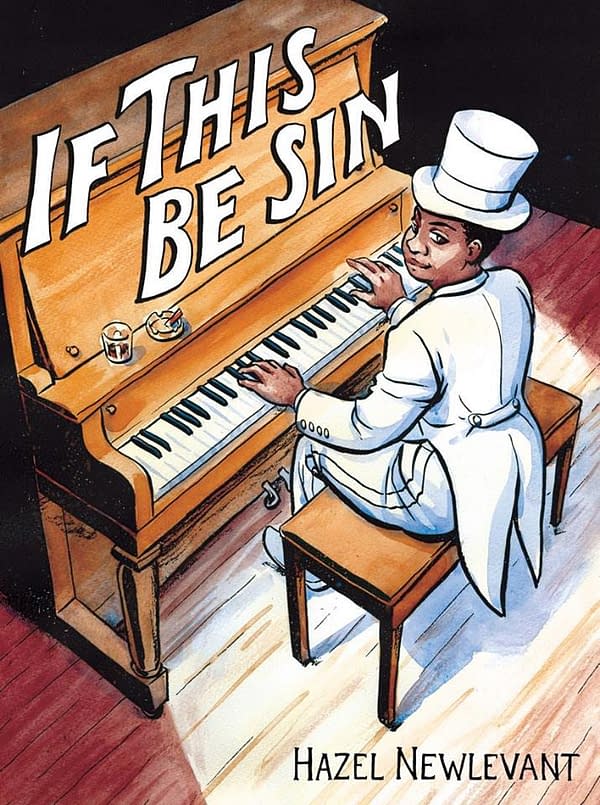 Desert Island Comics at 540 Metropolitan Avenue in Brooklyn, New York will host a Triple Release Party with Hazel Newlevant, Robyn Chapman, and Preston Spurlock from 7 to 9PM. They say: "Join us to celebrate Hazel's new square-bound collection (If This be Sin), the new publications from Paper Rocket (Limp Wrist and The Micro-Press Yearbook), and Preston's new comics (Tact, Sensual Delicacies, and Sensual Delicacies 2) and his new screenprint! With readings by the authors and a song by Preston Spurlock".
Saturday, October 25th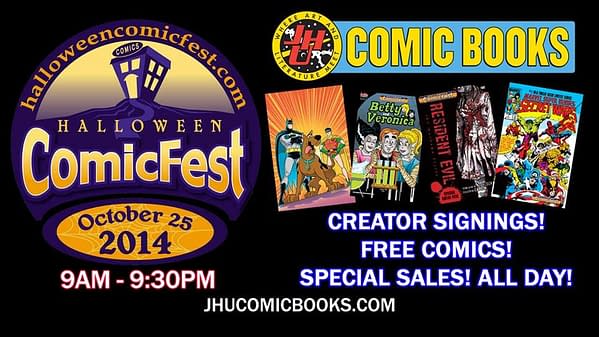 JHU Comics at 32 East 32nd Street in New York will host Halloween ComicFest 2014 from 9AM onward. They say: "We're celebrating Halloween ComicFest on Saturday October 25th!
It's a day full of free comics, "The Greatest Halloween Costume Contest Ever," signings, sales and more for comic and Halloween fans to experience together. During Halloween ComicFest, 19 new full-sized and mini comics will be available at JHU Comic Books for anyone who wants to participate!
Signing Schedule:
10am – Noon – Jacob Chabot (Hello Kitty, Skullboy, Strange Tales)
Noon – 2pm – Diana Leto (My Little Pony, Co-creator and co-ilustrator of the Dark Horse graphic novel, The Halloween Legion ™)
Noon -2pm – Paul Castiglia (Archie's Weird Mysteries, Midnight Marquee Vincent Price, Scared Silly)
5pm – 6pm – Greg Pak (Planet Hulk, Action Comics, Batman/Superman, Storm)
5pm – 6pm – Fred Van Lente (Archer & Armstrong, Cowboys & Aliens, Incredible Hercules, The Delinquents)"
Saturday, October 25th Don't miss out on the extravaganza known as the Locust Moon Comics Festival on Saturday from 10AM to 6PM at the Rotunda at 4104 Walnut Street in Philadelphia.
They say: "Philly's third annual celebration of comics and the graphic arts. Come for the creators, the comics, the burritos & the ice cream (both the best on the east coast), the animals, and of course the free after-party.
Creators coming for this year's Locust Moon Comics Festival include Bill Sienkiewicz, Paul Pope, Mark Schultz, Denis Kitchen, Nathan Fox, Jose Villarrubia, Farel Dalrymple, Rebecca Mock, Tom Scioli, Box Brown, JG Jones, Dave Bullock, Yao Xiao, Dean Haspiel, & Ron Wimberly!
Entry is donation-based and optional — and for kids it's absolutely free, no question!
Festival website: http://locustmoonfest.com/
Guest list: http://locustmoonfest.com/guests/
Festival FB page: https://www.facebook.com/LocustMoonFest
Twitter: https://twitter.com/LocustMoonFest
Sunday, October 26th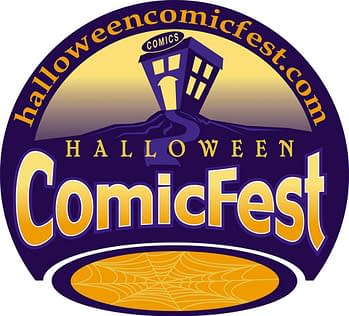 Escape Pod Comics at 302 Main Street in Huntington, Long Island, will be holding Halloween Comictoberfest during normal store hours. They say: "FREE COMICS. 5 free Halloween Comictoberfest comics for all and 10 if you come in costume! Our Cosplayers will be out in full force and we'll be having a store-wide sale and yet another EPIC raffle for all sorts of goodies".