Things To Do In New York and Philadelphia This Week If You Like Comics
Tuesday, February 11th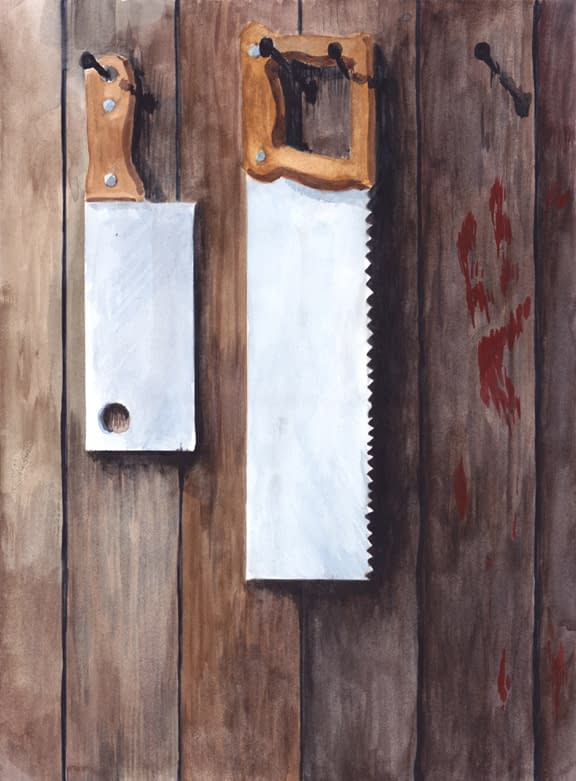 The NY Comics & Picture-story Symposium will be meeting at 7:00 PM at Parsons The New School, Kellen auditorium, 66 Fifth Avenue. This is free and open to the public.
Presentations will be by Conor Stechschulte and Christopher Adams.
Conor Stechschulte will give "a comprehensive look at the ideas and influences that lead to the making of The Amateurs, the lessons learned while making it, and how I've applied those lessons to my current comics work. Other topics that may or may not be glancingly addressed: accidental dismemberment, the true sound a screaming pig makes, drawing comics while standing up, and what affineurs and cartoonists have in common". The Amateurs is forthcoming from Fantagraphics in 2014.
Christopher Adams will talk about his work and some of the work that appeals to him and the direct and indirect connections between the two. Specifically, he will talk about the non-comics work that appeals to him that are somewhat brief, dry, technical and descriptive like instruction manuals or user guides. He has made three comic books: Period, Strong Eye Contact and Yule Log – all published by 2D Cloud.
Tuesday, February 11th

The Many Identities of the Struggling Cartoonist exhibit is launching at 5pm to 8pm at Theatre for the New City at 155 1st Avenue in New York. This is "a show about cartoonists and the other mediums they work with. You will see how comic book art influences works of theater, film, set design, sculpture, live performance, bands, street art, animation, graphic design, burlesque, origami and more".
The launch evening will include "a night of art, live performances and slide shows by cartoonists and fans of comic book art. Drinks and food will be served.
Artists of the show will sell their comics and prints".
Artists already confirmed to be on the show include Arlen Schumer, Robert Sikoryak, Danny Hellman, Mac Mcgill, Kurt Christenson, Ken Wong, Vishavjit Singh SikhtoonWalla, Bill Roundy, Joe Heaps Nelson, Jared Gniewek, Allan Dorison, Ellen Lindner, James Romberger, Muffin Man, Mark Staff Brandl, Mark Lerer, Javier Cruz Winnik, Sharon S. Ma, Karl Kotas, Jenny DevilDoll Gonzalez-Blitz, Isabella Bannerman, Adriano Moraes, Forest Allread, Ami Gorgoroso. The exhibit will run from February 11th- March 25th.
Wednesday, February 12th Charles Soule will be signing at JHU Comics on 32 East 32nd Street in Manhattan from 6 to 8pm, celebrating the launch of all new Marvel Now She-Hulk #1 as well as the release of Superman/Wonder Woman #5, Charles Soule has many great books on the stands, with Swamp Thing, Thunderbolts, Red Lanterns and Letter 44. His original series, 27 is also out and he's writing the Inhuman series which comes this April.

Purchase of either She-Hulk #1 or Superman/Wonder Woman #5 required to participate in the event. Limit 5 items for signing per customer.
Wednesday, February 12th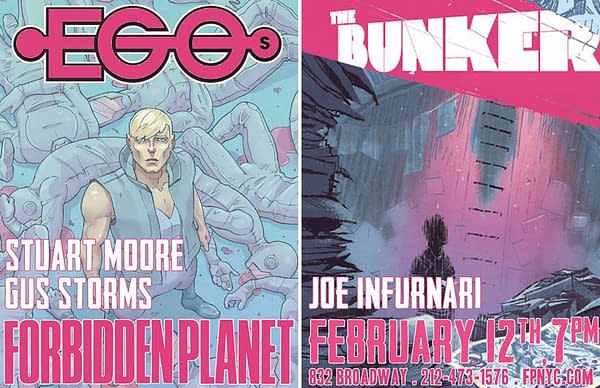 Forbidden Planet NYC is hosting a signing by artist Joe Infurnari of his new to print series The Bunker (written by Joshua Hale Fialkov) from Oni Press and also by Stuart Moore (The 99) and Gus Storms (12 Reasons to Die) for their new series EGOs from Image. The signing will take place from 7pm to 9pm at 832 Broadway in New York.

Wednesday, February 12th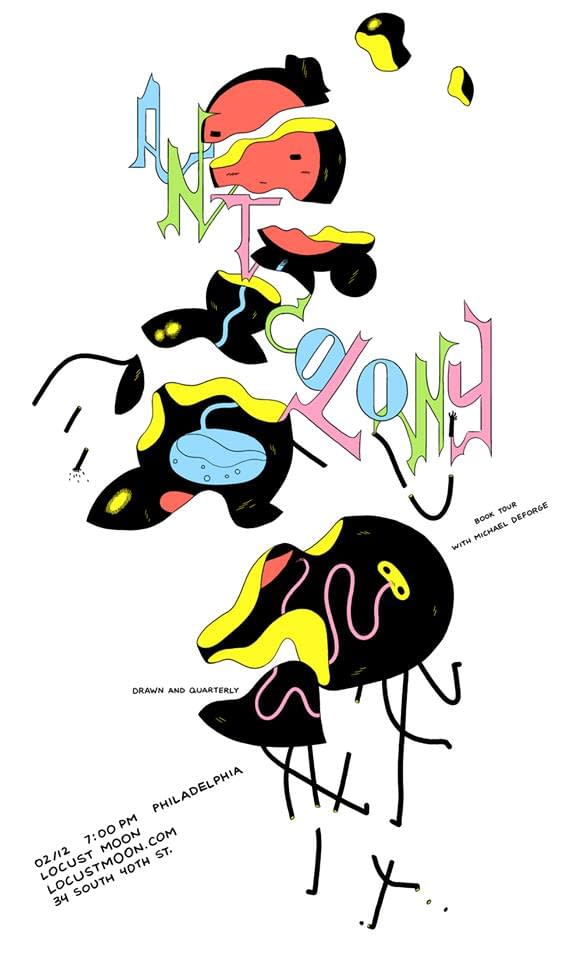 Locust Moon Comics will be hosting an Evening with Michael DeForge at 7pm at 34 South 40th Street in Philadelphia. This is to celebrate the launch of Michael DeForge's "darkly existential graphic novel" Ant Colony. DeForge is hailed as "one of the most exciting new voices in alternative comics". Here, he will present a slideshow with a reception to follow. The event promises "drinx, snax & comix".
Saturday, February 15th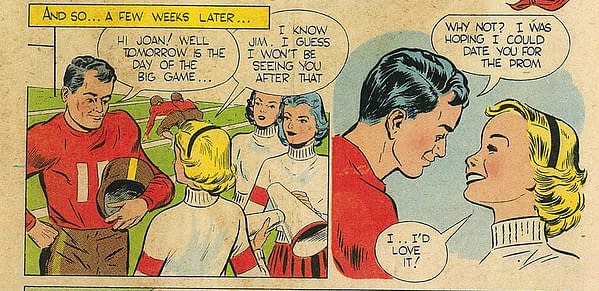 In honor of the release of Quarter Moon: The End of the Night, a "freaky-dirty-sexy book of erotic comics" from Locust Moon, they will be hosting their very own prom. There will be: "Spiked punch. Awkward flirtations. Amazing yet terrible music". You are encouraged to "relive your most embarrassing years (and wear your biggest, frilliest dress/powder bluest tux) at an inexplicable event sure to ameliorate or worsen the post-Valentines' chocolate hangover". They promise "this will definitely be better than your actual prom, if only due to the lower expectations". Fancy dress is mandatory. The event will be held at Locust Moon Comics at 34 South 40th Street in Philadelphia.
Quarter Moon: The End of the Night features the smutty comics and illustrations of Alexandra Beguez, Keren Katz, Robert Woods, Annie Mok, James Comey, Lindsey Wəvrek, Toby Cypress, Benjamin Marra, JG Jones, Caitlin McCormack and Charles Fetherolf, some of whom will be showing off their dance moves and gettin' down to Chumbawamba.
Sunday, February 16th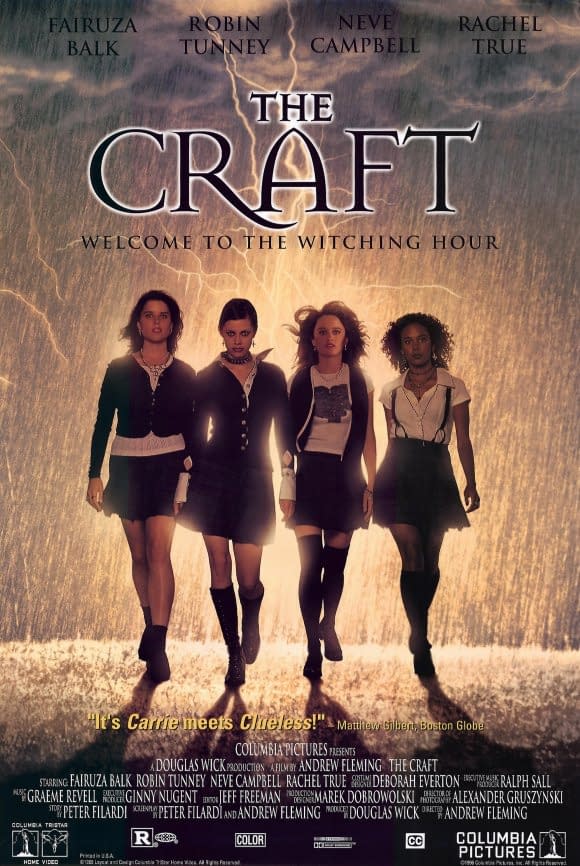 Philly Feminist Zine Fest is hosting a film night fund-raiser for the Fest, presenting The Craft. They say: "The first of a series of feminist film night fundraisers for Philly Feminist Zine Fest, we're showing movies about rad women". The event will start at 6pm at Wooden Shoe Books and Records at 704 South Street in Philadelphia.

Monday, February 17th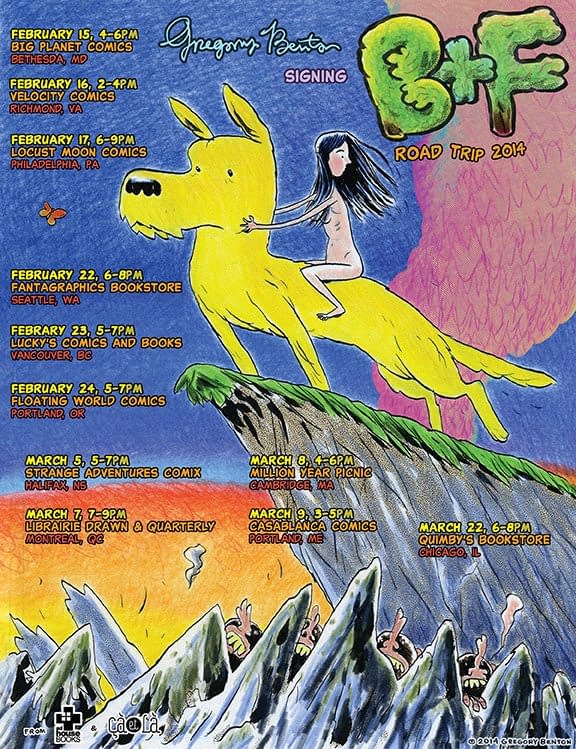 Locust Moon Comics will be hosting a stop on Gregory Benton's massive book signing tour for his award winning graphic novel B+F from 6pm to 9pm. Don't miss out on getting one of Benton's famous double-interior cover original sketch spreads in color (poor guy's hands must be falling off by now). B+F is a "fable" that "explores an otherworldly forest with a woman and a dog as they encounter its denizens, both benevolent and malicious. A wordless meditation on goodwill, hostility, and isolation". The event will be held at 34 South 40th Street in Philadelphia.