 I think most people realized that September was going to be a pretty huge month with the launch of DC's the New 52. But the real question is, what happens next? In a few hours, we'll start to find out.
Most-Read Comic Stories Today:
In Defence Of Starfire And Red Hood And The Outlaws
However I understand that the fuss only helped reorders and the comic sold out ever quicker than its peers, with orders upped for the second issue.
The Man Who Went Under The Knife To Become Superman
Herbert Chavez is an Philippine man who not only adores Superman, but wants to be like him, to the extent that he has had his face, his body physically altered through surgery to be more like his fictional idol. Chin, nose, lips, eyes, skin, thighs…
Spoiling The Ending Of Batman: The Dark Knight #1 (UPDATE)
Yes, yes, another week, another big spoiler for the ending of a new DC Comic. Because I can't think of any other way to do this.
Most-Read TV/Film Stories Today:
Thor, Cap And Black Widow In Luscious New Images From The Avengers
The really rather nice people over at Sci-Fi Mafia have broken into a secure S.H.I.E.L.D video vault somewhere to snag these super-appealing stills from Joss Whedon's upcoming Mighty Marvel Team-Up movie.
Hostile Takeover: Hannah's Monday Night Rushes Kill James Franco, Disfigure Owen Wilson And Break Christoph Waltz's Pelvis
David Cronenberg has confirmed that he's written a follow-up to his 1986 body-swap hijinks comedy The Fly, and that it's not a remake but a sequel of sorts. Getting it made is another matter, though, and the decision is in the hands of Twentieth Century Fox. [STYD]
Superhero Comic Book PBS Documentary To Debut At New York Comic Con
A Never-Ending Battle: 1938-1954 is the first part of a documentary for PBS, previewing first at New York Comic Con next week. The show will include interviews with Joe Simon, Stan Lee, Jim Steranko, Neal Adams, Michael Chabon and Jules Feiffer, followed by a interview and Q&A; sessoon with the makers of the show, Michael Kantor and Laurence Maslon from Ghost Light Films.
Most-Clicked Pics Today: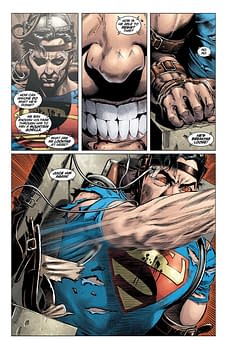 Enjoyed this article? Share it!