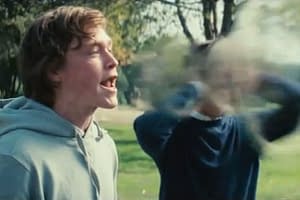 An extremely busy day for comic and film news today, with subjects as diverse as Fear Itself, Charlie Sheen, Terry Pratchett's Discworld, and X-Men First Class topping it off. Here's what people read today:
Most-Read Comic Posts
Swipe File: Final Crisis Vs Fear Itself
I took the mickey out the Fear Itself poster the other day. But it took Brent Keane to spot a certain similarity…
Numbercrunching DC June 2011 Solicitations
CB Cebulski, Marvel's Senior VP Talent Manager just tweeted "Hey, new writers… looking to break in to comics? Judging by their new solicits, all you have to do is get a job as an editor at DC."
SCOOP: Charlie Sheen's Copy Of Action Comics #1 Is A Winner
It's hard to believe we live in a world in which Charlie Sheen can have owned and sold a very nice copy of Action Comics #1, and for that to have remained a virtually unknown event outside of vintage collecting circles. But Action Comics #1 has gained quite a bit of stature in the mainstream news since that 2004 sale due to a pair of recent $1 million+ sales, and Charlie Sheen… wasn't yet a warlock with Adonis dna.
Most-Read TV/Film Posts
Trailer: Justice League Of Pornstar Heroes (SFW) – Exclusive
Warner Bros have mucked about for a decade spending millions of dollars on a Justice League movie and have nothing to show for it. But Exquisite has spend a couple of weeks if that with a budget that wouldn't pay for Warner Bros' coffee for that month and have created a Justice League film, featuring all the main characters in a porn parody that keeps them free from any legal issue.
Terry Pratchett's Discworld Being Adapted To Crime-Of-The-Week Mystery TV Series
Prime Focus Productions, the people behind the upcoming Good Omens TV series and the three existing Discworld miniseries, have commenced development on a new, ongoing show. This one will revolved around the City Watch police force of Terry Pratchett's vibrant fantasy city, Ankh-Morpork. It's an amazing location, as vividly described in the fantasist-satirist's series of 38-going-on-39 Discworld novels.
Russian Trailer For X-Men: First Class Brings Some Nice New Footage
Look close enough at this new, international trailer for X-Men: First Class and you'll see: Bleeding Cool doesn't lie to you. Well, not about things like this anyway.
Trending Retail #comicmarket Topics
Several retailers held an all-day conversation about selling comics on twitter today. Topics were so diverse I'm going to give a little more thought on how to profile this stuff, so for now check it out for yourself. I also dumped the entire contents of the hashtag into a word cloud, and we'll be revisiting analytics on this hashtag in another post.
Most-Clicked Graphics Today: Enjoyed this article? Share it!