Wednesday Trending Topics: Spoiling Thanksgiving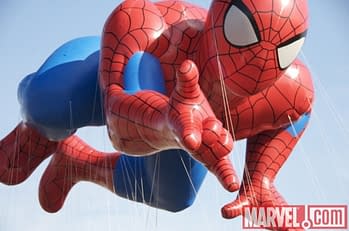 Plenty of spoilers out in the world this week, and again it's a topic of comics internet conversation, as it always is when Marvel has a major media-friendly release. I think at this point we all know we have to avoid the internet when we can't consume entertainment in near-real-time — though pre-release leaks in tv and film make that more and more difficult. It's getting more difficult in comics too, though as always, Rich throws up the big red stop sign when necessary.
Most-Read Comic Stories Today:
SPOILERS – Swipe File: Fantastic Four #600
The six hundredth issue of Fantastic Four is out today – if you count the previous issues of the FF comic in the total. Which they do. It is also the fiftieth anniversary of Fantastic Four #1 – and the beginning of the Marvel Universe.
SPOILERS – The Kiss That Was Heard Around The World – Wolverine And The X-Men #2
The second issue of Wolverine & The X-Men, published today, sees Bobby Drake, Iceman, step up.
The Butt Shot That Was Heard Around The World – Teen Titans #3
This stuck out in the new issue of Teen Titans, rather. Bunker, the new gay Teen Titans character, in his second out-of-costume appearance in the issue. We've already seen the first appearance in promotional pieces.
Most-Read TV/Film Stories Today:
Walking Dead Cast Member Asked To Leave Show With Darabont, Then Changed Their Mind
This is one of those stories that comes from "moles" and "insider sources", and therefore should be taken with a pinch of salt if not the whole shaker. Some of you may remember that series creator and lead writer Frank Darabont was fired from The Walking Dead midway through season 2. A lot of people were upset, and that included people working on the show.
Amazing Prometheus Images – The Giant Head, The Ampule Room And Several Characters
This week's print edition of Entertainment Weekly contains some interesting new images from Ridley Scott's forthcoming sci-fi Prometheus, so naturally they weren't going to remain just in print for long. Here they are in an easily viewable-on-screen format for those of you with a chronic fear of papercuts.
A Look At John Carter's Reinvented Great White Ape
I've seen the scene portrayed in this still image a couple of times now – once at Big Screen, once at a presentation with co-writer and director Andrew Stanton a couple of weeks ago. In both cases it was the last scene shown. In both cases it was easily the least of the scenes shown.
Most-Clicked Pics Today:
… are all FF 600 spoilers.