by Jason Borelli
On the surface, the manga Assassination Classroom seems offbeat, even for Japan. A class consisting of hard-luck cases are looked down upon by other students and their principal, who encourages the scorn. This class has a new teacher: a creature with a huge head, smiley face and tentacle body. He destroyed most of the moon and claims to do the same to Earth in one year. The students are charged with killing their instructor, who is dubbed "Koro Sensei," a pun on the phrase "koro senai," what translates to "can't be killed." Along the way, Class 3-E of Kunugigaoka Junior High School not only learn the skills of assassination, but also how to overcome their shortcomings, even as they attempt to kill perhaps the best teacher they ever had.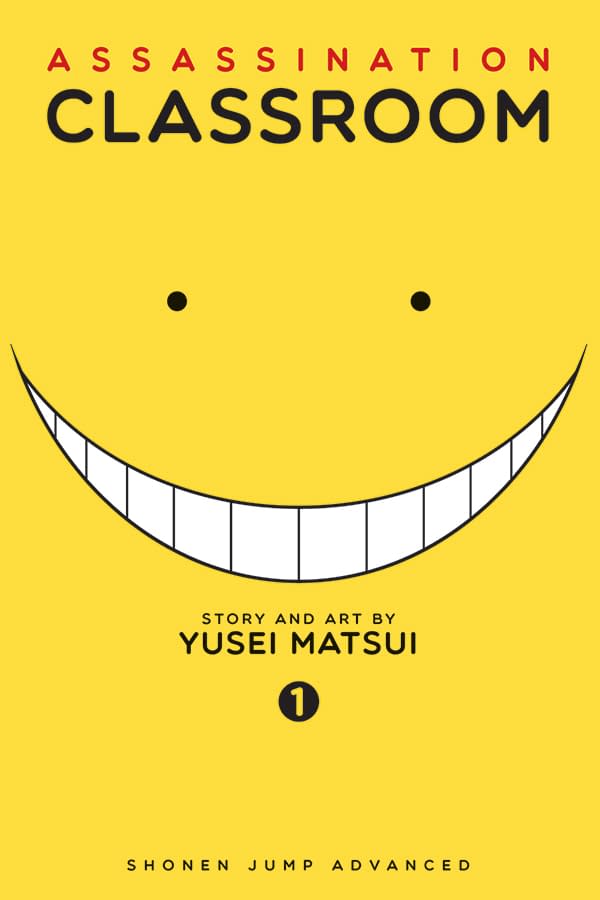 Assassination Classroom was published in Japan's Shonen Jump, wrapping up in March with 21 volumes and 180 chapters. In the United States, twelve volumes have been published by Viz Media, and the first seasons of the anime have been distributed by Funimation. For New York Comic Con, Viz brought the creator Yusei Matsui to the United States for his first visit. In addition to participating in signings at the convention and bookstores as well as getting spotlighted in a panel, he agreed to an interview with Bleeding Cool.
BLEEDING COOL: How did you first get involved creating manga?
YUSEI MATSUI: Like any kid growing up has a dream, mine happened to be [becoming] a mangaka. When I was in high school, I had someone who was a senior, and I saw that he was seriously pursuing in becoming a mangaka, so it inspired me to also go down the same path.
BC: What have been your biggest influences as a writer and artist?
YM: Jojo's Bizarre Adventure did influence me a lot, but it is very specific and stylized, and it's something that anyone would pick up right away. I actually had to reverse-engineer that and make sure that the influence wasn't so obvious.
BC: Do you have influences outside of Japan?
YM: There [are] no individuals I can think of. It's mostly things that are turned into Hollywood films that I've seen. Nothing in particular I can think of.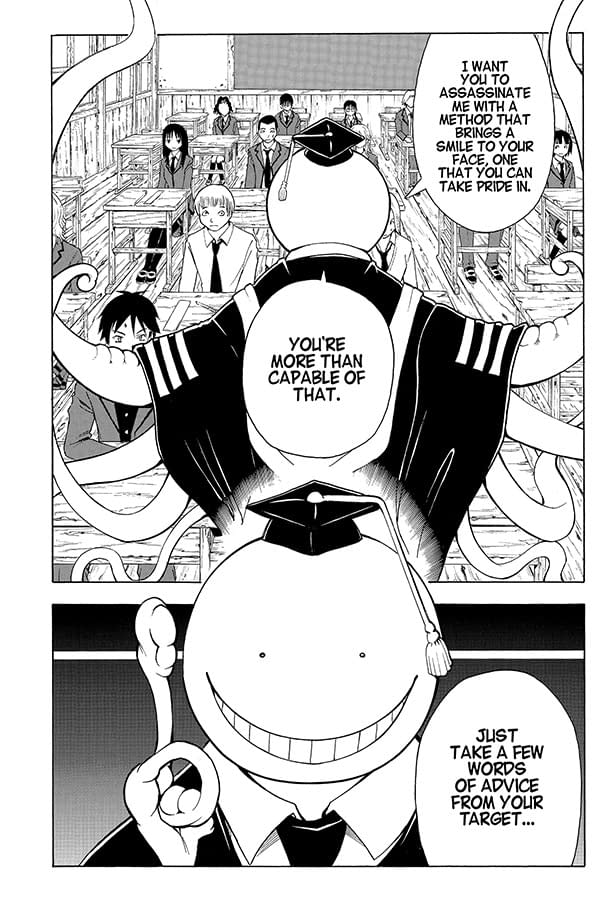 BC: How did you come up with the concept of Assassination Classroom?
YM: The first thing I was inspired to do was in those first two and three pages of the first chapter, which is when all the students get up and try to kill the teacher. From there, I started to build things logically. First of all, you can't have a teacher die in the first two pages of the manga. It wouldn't be a manga. So then I made Koro Sensei be able to move at Mach 20. If your class is trying to kill someone, it's too loud, then it starts to be a disturbance to everyone else. So then I made [Class] 3-E be off-campus a bit in their own little corner. I just started to do everything logically with the world.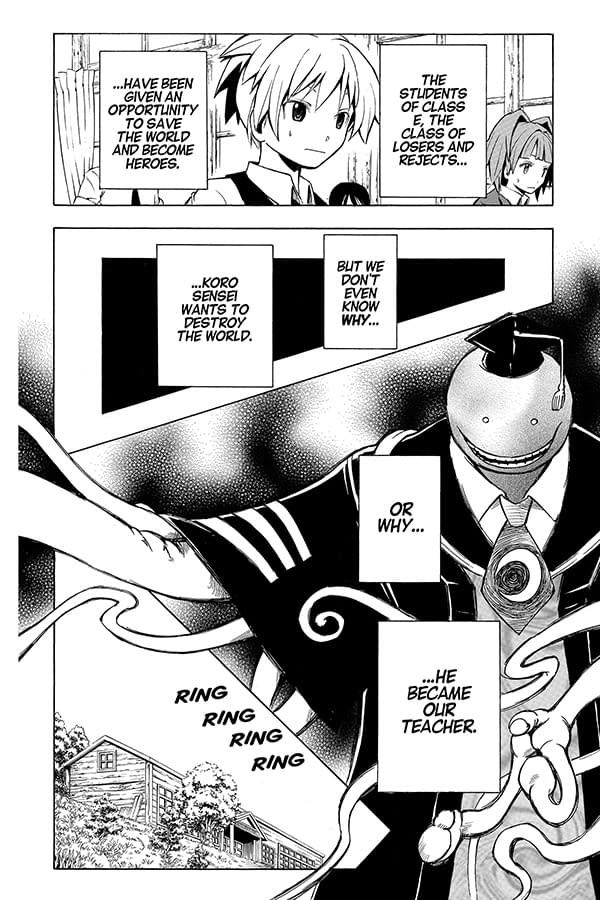 BC: How was Koro Sensei created?
YM: I actually created a different manga, but the Koro Sensei character was the same. I submitted it, but it wasn't accepted. So I ended up just using Koro Sensei again for Assassination Classroom. I always knew that for the next manga, it was going to be something universal.
BC: How long did it take to fully establish the character?
YM: I was establishing the story and fully establishing the characters at the same time. It wasn't the character that was established and then I did the story, it was actually going on at the same time.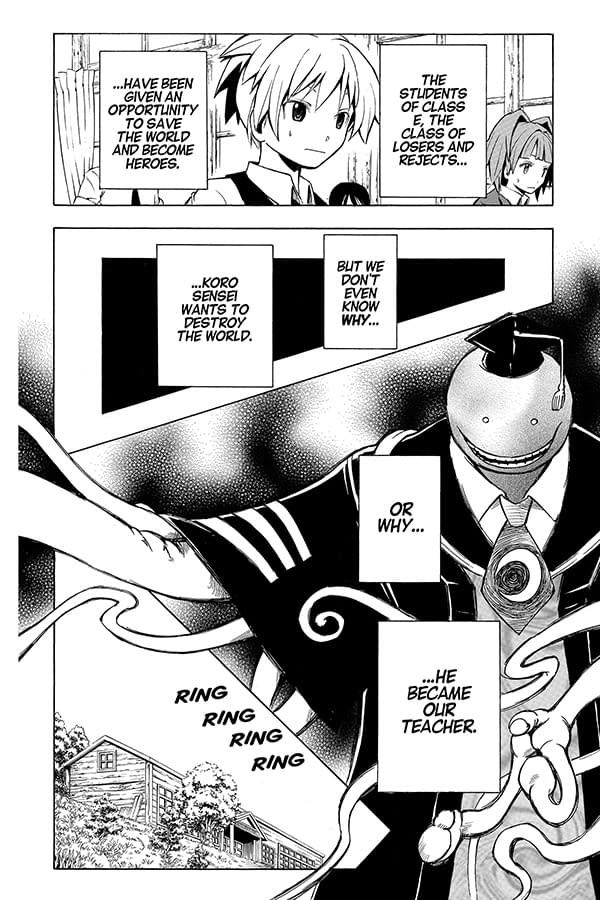 BC: Are "deadend" situations such as Class 3-E prevalent in Japan?
YM: There's something similar. For example, if you had a prestigious high school, but you drop out because of your grades, you end up going to a different school. You're out of that prestigious school altogether. My editor [Shu Murakoshi] went to a school that had something similar. It's not about the grades, but it was more about . . . if he got into fights or if he broke certain school pillars, then that would happen. The school he went to did have a system of what to do with those students who had trouble or just didn't have grades.
BC: How long did it take to catch on as a mangaka?
YM: Neuro: Supernatural Detective [Matsui's first major manga] launched me as a name a little bit, but not to the extent that I could feed myself on a regular basis. When you're a mangaka, that's the only thing you can do, just be a mangaka. When Assassination Classroom was a hit, that's the first time I really realized, "Okay, I've reached a certain level." BC: When did you find out you were catching on outside Japan?
YM: When royalties from foreign versions came in . When it really sunk in is actually today, when I was walking around the floor, I saw a lot of [people] wearing Assassination Classroom cosplay, and it really sunk in. I saw this African-American guy with a big Koro Sensei costume. It was a pretty big guy.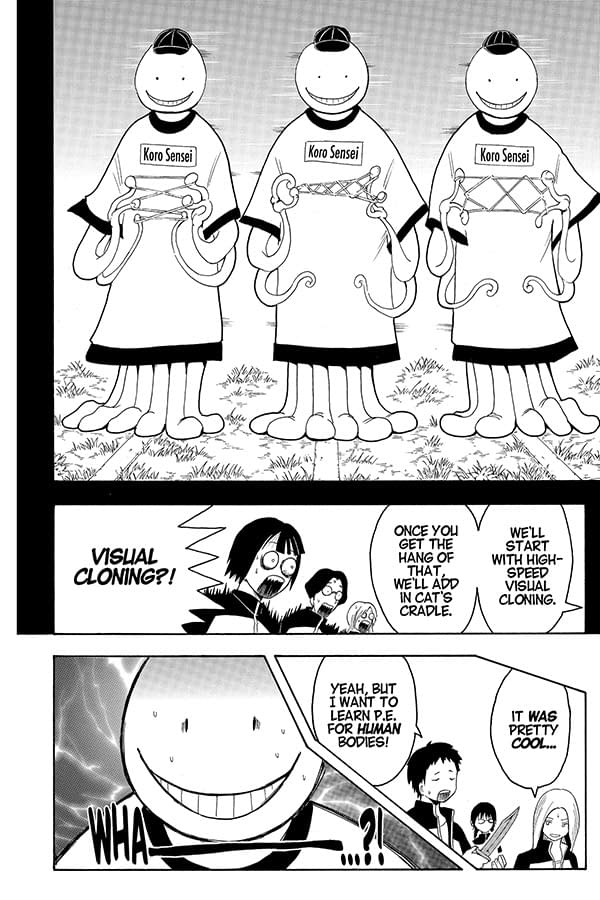 BC: What has the reaction been to Assassination Classroom been outside Japan? Have you received any flak about portraying attempted killings in a semi-comedic way?
YM: I actually thought that I would get flak about [that], but it turned out to be not so much. It turns out that Japan and the U.S. audiences had a similar reaction. A lot of parents, upon seeing just the title, did not want to get it for their kids. Yes, there are comedic instances. When it came to actual "What's going to happen to this character's life," I was careful to really treat that carefully and take care of it, and not write it off as a comedic moment. I have it well-balanced between the most respective moments and comedic moments.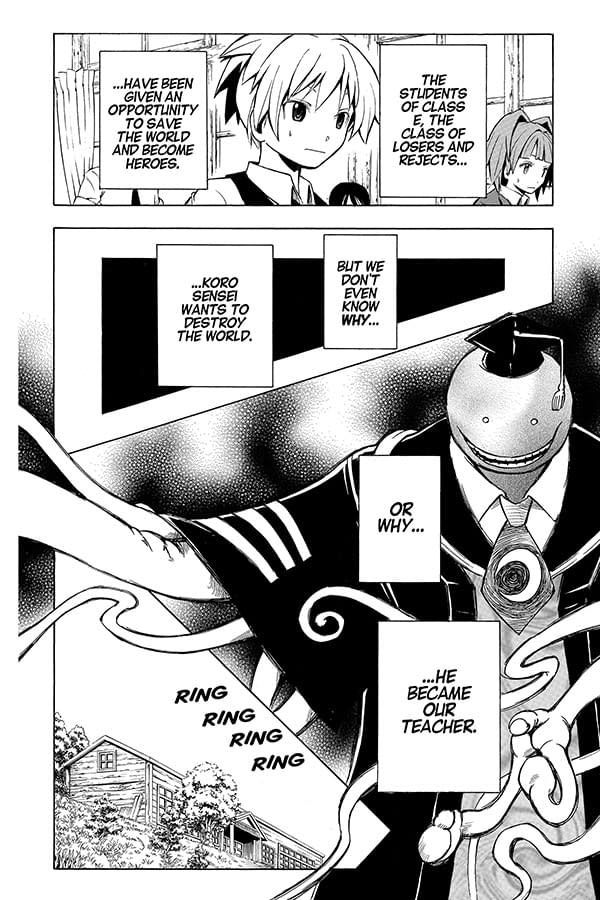 BC: One of the main characters is Nagisa Shiota, who appears to be a middle-of-the-road student. Why is he a central character?
YM: With Nagisa, what's interesting is that he's within the context of an assassination classroom, he really shines. Had he been placed in a normal classroom situation, he would have been a middle-of-the-road kid. Even someone who is completely average could become a hero one day. This work needed to have a character who represented that. In the coming volumes, you will see how Nagisa's skills grow and his story evolves.
BC: Which character do you relate to the most? What about the readers?
YM: A lot of characters, they're a part of me. They're emotionally a part of me, so I can related to each one of them, but in terms of the message that I want to convey from my own experiences and ideas I have, the closest would be Koro Sensei. As far as the readers, [they] relate to Nagisa, according to a questionnaire, especially when he has a larger role in the story. I was really happy to see that.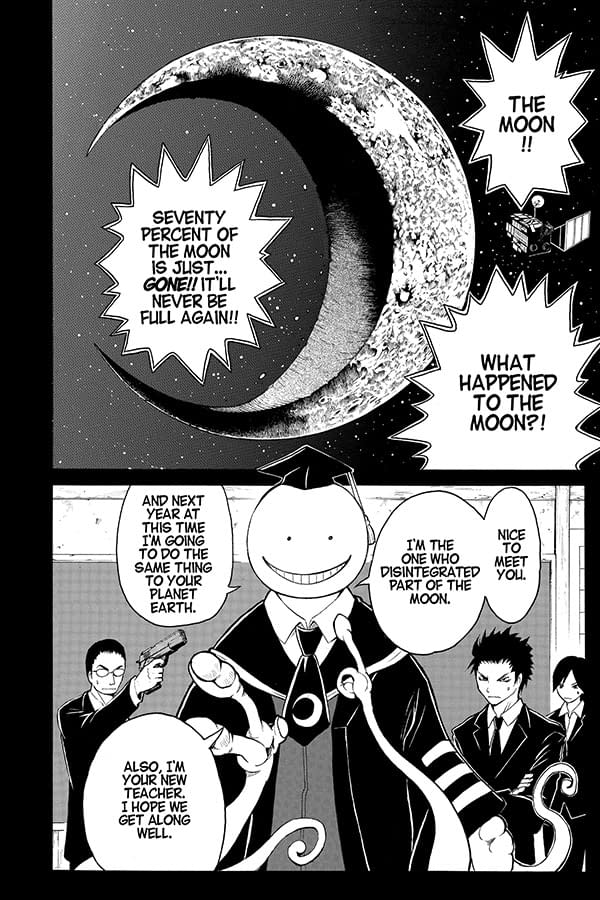 BC: Will you be working on any projects in the near future?
YM: I'm taking a break. As far as the next project goes, it's more about observing society and figuring out what the audience would want to read.
BC: Do you have any final thoughts?
YM: To those who never picked up a volume of Assassination Classroom is that despite the name and the first ten pages of the manga, it's actually about how to overcome your own challenges or complexes that you find within yourself, and how Koro Sensei helps these students get over their issues. After coming here, I felt certain that this manga would appeal to readers in the U.S. The ending is something I'm very proud of, so I hope that new readers will pick up a volume and be taken on a journey by Koro Sensei all the way to the very end.
Special thanks to Junko Goda for her translations services. ANSATSU KYOSHITSU C 2012 by Yusei Matsui/SHUEISHA Inc.
Enjoyed this article? Share it!