Red Sonja/Tarzan #1 Review: Eson Duul is Making All the Wrong Enemies
[rwp-review-recap id="0"]
Eson Duul is attempting to purchase property belonging to a friend of John Clayton Greystoke, aka Tarzan. Not only that, but Duul has abducted the animal family of the Tarzan. This enrages the Ape-Man, and he challenges Duul.
In another time, Red Sonja seeks vengeance against Eson Duul for other crimes.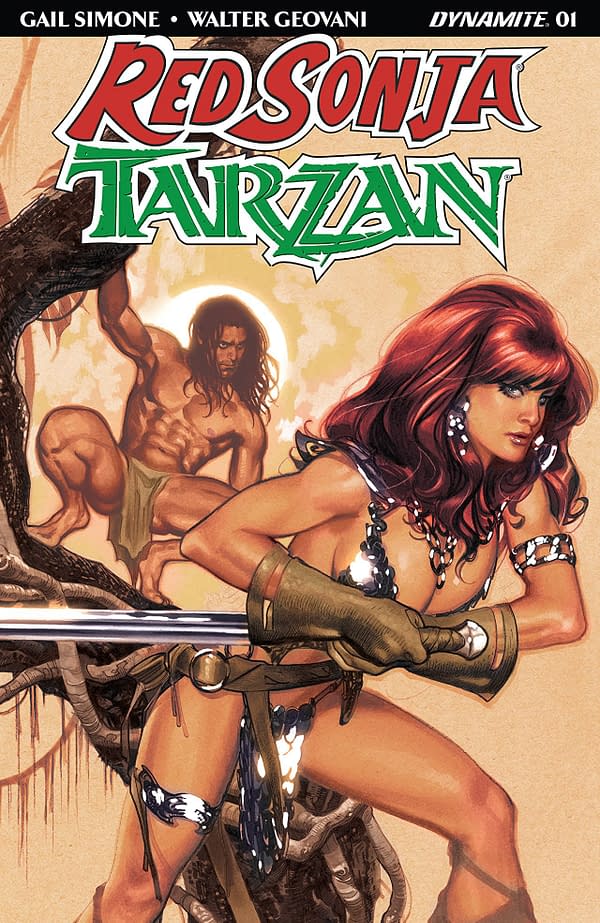 Red Sonja/Tarzan #1 spares no expense in establishing the setup of this crossover. Gail Simone is quite wordy in this opening installment, and it can make the comic drag in parts.
That said, this comic's thorough establishment of the conflict does make it compelling. Eson Duul is an imposing villain, and his obsession with conquest makes him a natural enemy for the likes of Tarzan and Red Sonja. In the same right, his crimes against Tarzan and Sonja makes you want to see them take him down even more.
Red Sonja and Tarzan themselves are well-represented in this comic. Each has a personality and compelling motivations. Sonja's inciting offense is especially interesting, as it plays with your expectations given the "tropes" of a revenge narrative like this centering around a woman. Her honor and identity were taken as opposed to bodily agency, which is a savvy writing decision.
The pacing, as I implied, can get sluggish in parts, and there isn't a lot of action in this first installment. However, the end product almost justifies the pacing, and the lack of action isn't a problem when the comic is this engaging.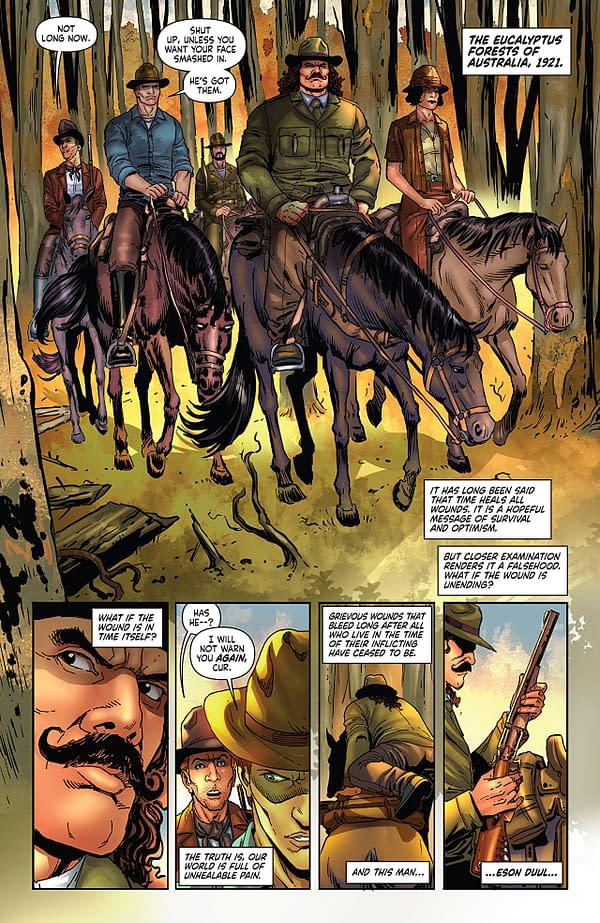 Walter Geovani's artwork does not disappoint. It delivers a well fleshed-out world with a somewhat classical comic styling. Duul, Sonja, and Tarzan are all given imposing and distinct figures. The texturing and detailing is very impressive. Adriano Augusto's color work is well-balanced but bright enough to catch the eyes.
Red Sonja/Tarzan #1 is a compelling and well-made fusion of two classic characters brought together under an excellent creative team. It fuses fantasy and early-20th Century expedition genres, and the art looks great. This one earns a recommendation. Give it a read.
[rwp-review-ratings id="0"]
[rwp-review-form id="0"]