Si Spurrier's Instructions:
Yeah, it's time to pick a new Pope.
Luckily the papal conclave has taken the advice of the hip young brand-management firm it hired and grudgingly accepted that the extant College of Cardinals is a shower of corrupt withered gargoyles with dubious moral records and an unhelpful insistence upon secrecy. And smells faintly of pee.
Even more luckily, the Vatican's world-renowned Science Division has just successfully invented the means to travel between dimensions. 'Huzzah!' quoth the Cardinals. 'Let us outsource to a new pope – an exciting pope, a strong pope, a pope to unite the world beneath the soothing guilt-infecting mantle of the Cult of the God-On-A-Stick and his Dear Old Mum – from across the myriad of realities!'
YOU. Yes you. You get to choose. Behold:
THE EXTRADIMENSIONAL PONTIFEX
@D.Miranda —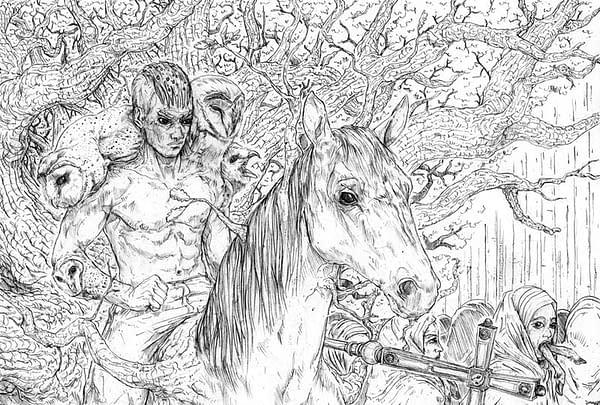 "Pope Tyto the Seventh; 2013-2037; rider of the Horse-Tree, teacher of humility through the Night Scream and leader of the charitable doe-mouthed maids; he left a world with more forests and less churches."
@JackCrowder —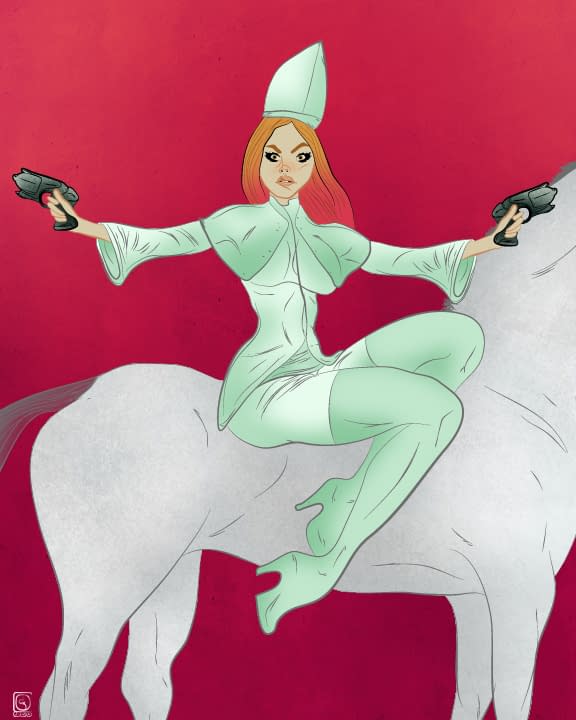 "TRANSGENDERED POPE BRIGRID, to whom all things exist at once, from THE PLANET OF DOORS."
@KMCleod —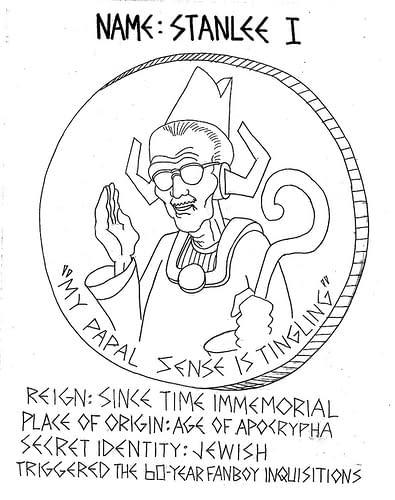 @Herr Hussein —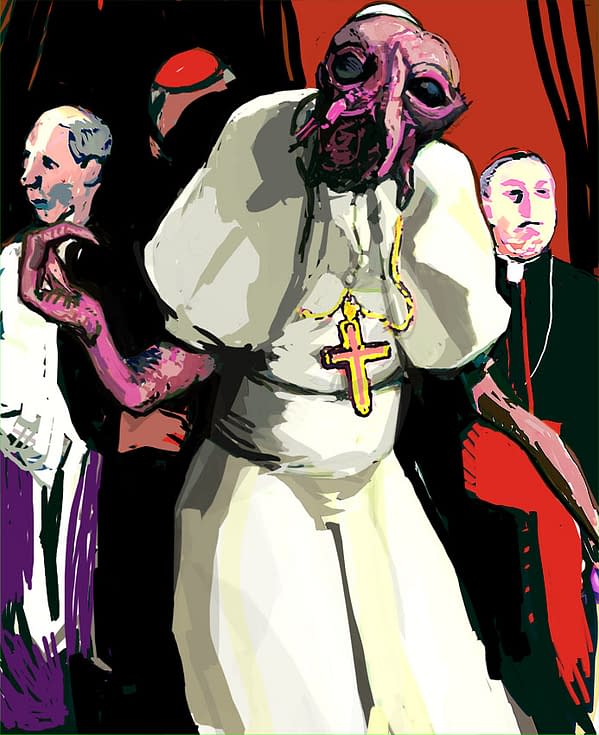 "Brundlepope. Elected John Paul Benedict I in March 2013 as the lone survivor of the College of Cardinals' ill-fated Transdimensional Gateway Experiment, retired for health reasons the same year and officially died in 2014, although rumors persist that he did not really die but pupate, and that he lies sleeping in his papal cocoon in a vault beneath St. Peter's to emerge one day and usher in a new age of glory and wonder."
@SebFowler —
"Pope Paul Pope I, AKA The Pulphope Pope; reign 2025 – 2075; born 1970, THB Timeline; replaced official Biblical Canon with official Comics Canon, only Pope to complete several highly acclaimed graphic novels during his reign."
@DBed —
@-3- —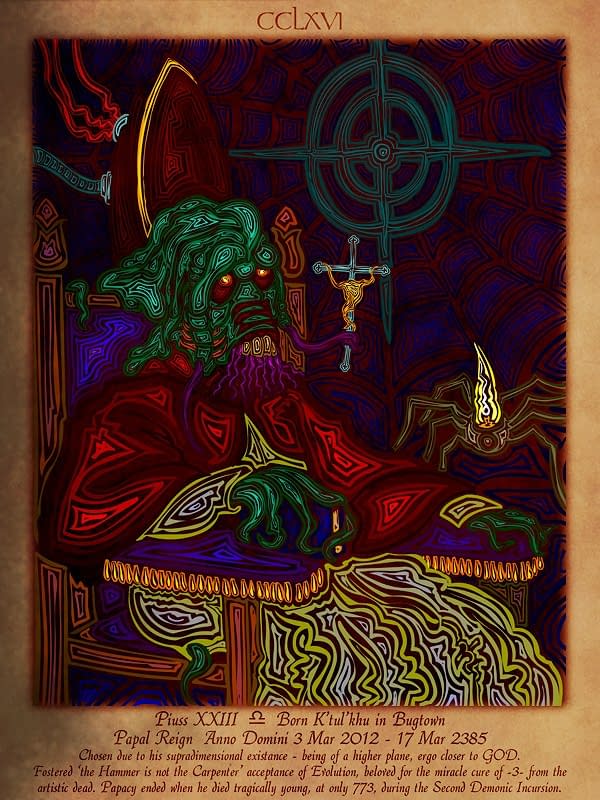 @imaginarypeople —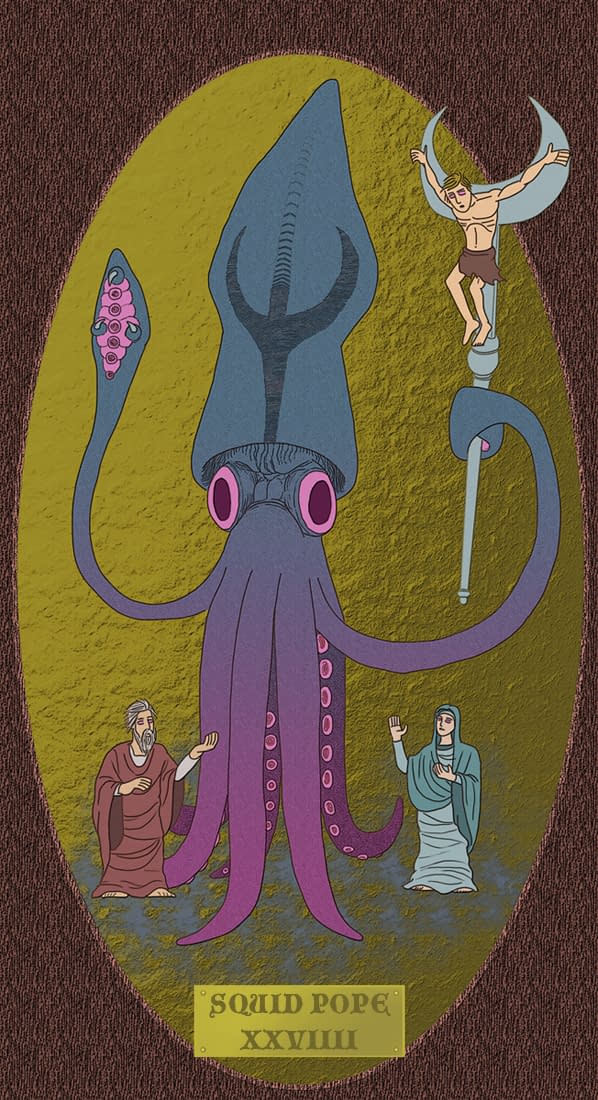 "The being known as Squid Pope came from a higher dimension to feed on the emotions of human beings. It used its telepathic powers to become pope and using religion created a world of bliss and pain to feed on."
And the new one is up already. All artists – pro and amateur alike – should come check it out:
Enjoyed this article? Share it!