Joshua Stone writes for Bleeding Cool:
The panel was moderated by Mark Evanier, and featured an amazing lineup of comic book greats – Sergio Aragones, Paul Levitz, Marv Wolfman, Tom Yates, Jon B. Cooke, Russ Heath, and Neal Adams' nameplate, as he didn't show up.
Evanier started off by saying that Joe loved drawing more than anyone he ever knew (except for one, referring to Jack Kirby.) Mark felt that some of Joe's best work had been in recent years. His favorite work of Joe's was Firehair. Mark then asked each panelist to share a memory or some feelings about Joe Kubert, and Sergio started it off.
Sergio was always amazed by Joe's ability to draw. As fast Sergio draws, Joe could draw something faster that was always amazing. When Sergio first met Joe's family, to him, they epitomized what the American family was based on watching American television shows while growing up in Mexico. He was a perfectly normal man, with a perfect family, and a perfect studio.
Paul Levitz spoke next. Paul said in recent years, every conversation he had with Joe ended with Joe saying he was the luckiest man in the world. Joe loved drawing, loved his school, and loved that his sons were there at the school with him. Paul shared that Joe was so loved that when they had his funeral, the town where he was buried had to borrow police from two other nearby towns in order to control the crowds.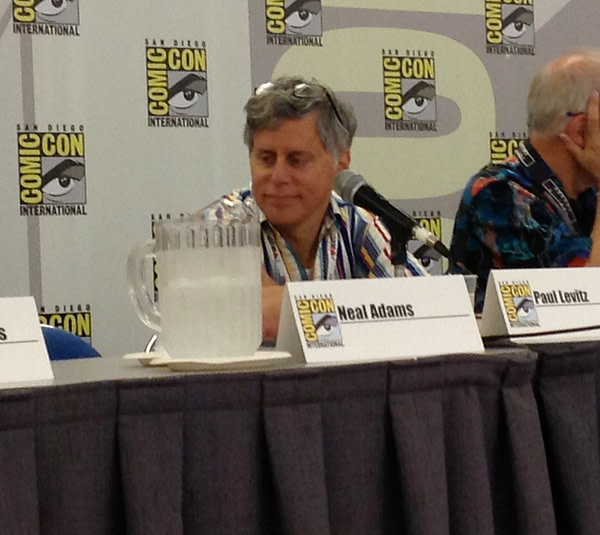 Marv Wolfman spoke next and started out by saying he didn't like Joe's art when he was younger, as he felt it was too impressionistic. As he got older though, he felt the emotion that came out of Joe's work was incredible. Marv said he learned so much from working with Joe. Joe was a brilliant artist, and as an editor – as far as writing goes – Joe gave a lot of freedom as long as the story worked. But as an editor for the art, Joe didn't realize his style was so unique. Joe once drew a head on a Murph Anderson body for John Carter, and two just didn't fit well together.
Marv said that Joe was a master of his business. He knew how to be creative and he knew how to do business the right way. Marv only knew three people in the industry who could do the business side and the creative side, Joe, Will Eisner, and Joe Simon. Not a bad group.
Tom Yates was next, and he shared that roots of his work came from the same place as Joe's, Hal Foster. Tom first met Joe at a convention and Joe liked his work. Joe invited Tom to attend his school, and Tom was there for one of it's first few years. He thought of Joe as the John Wayne of comics. Joe told Tom that he didn't want to do war comics, that he loved doing Tarzan.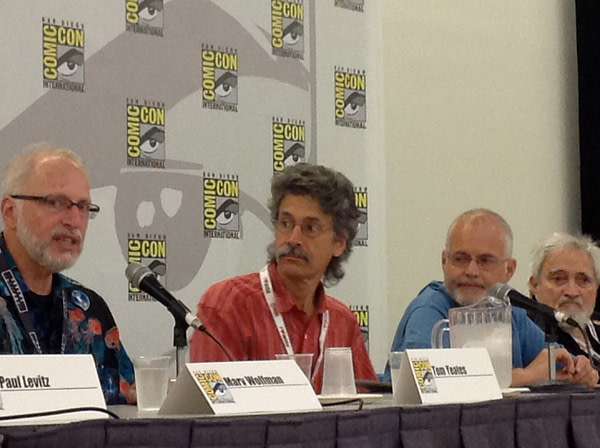 Tom also shared something that Joe's wife Muriel told him. She said to always take a picture of yourself drawing while you are on vacation. This way you can write the vacation off as a work expense.
Jon B. Cooke, founder of Comic Book Artist Magazine, spoke next. He said that Joe got into the business at 11, sweeping up for Will Eisner and that his school was all about giving back. He said that Joe gave respect and attention to whomever he was talking to. Joe was a loyal man, but not a man to cross.
The last speaker was Russ Heath. Russ said he just loved Joe. When Joe would pat him on the back he would often knock him to the floor.  Russ said Joe loved to play handball, but Russ would try to get him to play tennis. Joe would tell him that he didn't want to play those girly, sissy games.
Russ said he had to ink Joe once and wasn't sure how to do it. The best thing he could come up with was to photocopy Joe's pages at a darker level. Joe's best inker was Joe. Russ said time spent working on something didn't make things good or bad with Joe's work, Joe made things good or bad with Joe's work.
Neal Adam's nameplate was quite for the entire panel.