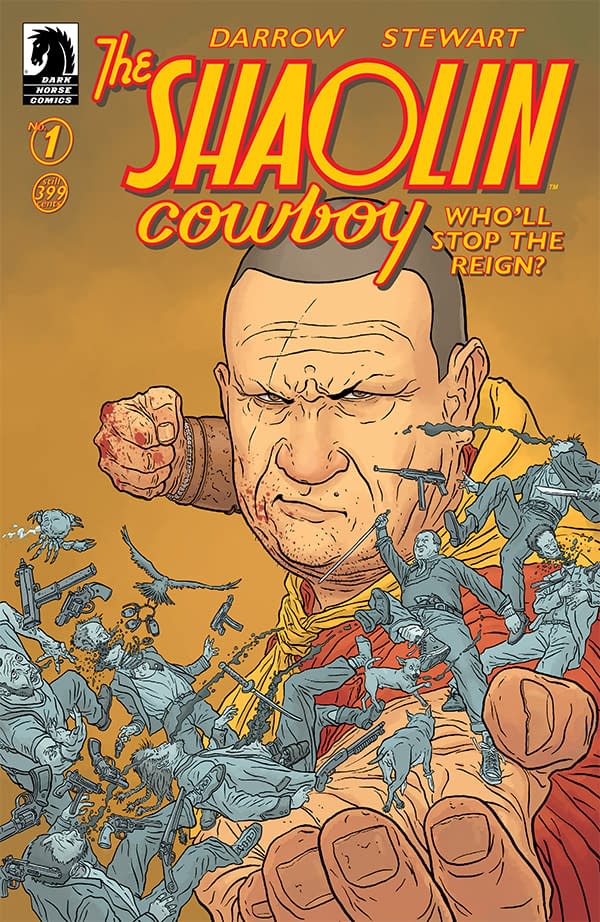 One of the most beautiful, gorgeous, detailed, hyper-violent and funny comic book is back. Shaolin Cowboy by Geof Darrow was first published by the Wachowski Siblings as Burlyman Entertainment in 2004. Issues were sporadic and came to a crawling end. Dark Horse picked it up for a few more issues and then nothing. Until now.
A new four issue Shaolin Cowboy series, The Shaolin Cowboy: Who'll Stop the Reign by Geof Darrow and colourist Dave Stewart and a variant cover by Frank Miller, who worked with Darrow on  Hard Boiled and Big Guy And Rusty.
So what's this story about?
He finds that his road to hell is paved not with good intentions but old nemeses hell bent on bloody revenge.
That'll do. "For a press release about a comic known for not having much dialogue, this press release sure has a lot of words in it," said Darrow.
Yee hah!
Enjoyed this article? Share it!