Rewriting The Origin Of The Watchers In Fantastic Four #43 (Spoilers)
Bleeding Cool ran a little Fantastic Four gossip a few weeks ago, which seems to have come to fruition today. Looking at aspects of The Reckoning War which were set up by Dan Slott almost fifteen years ago are coming to fruition, as the character co-created by Dan back then, Gauntlet gets involved.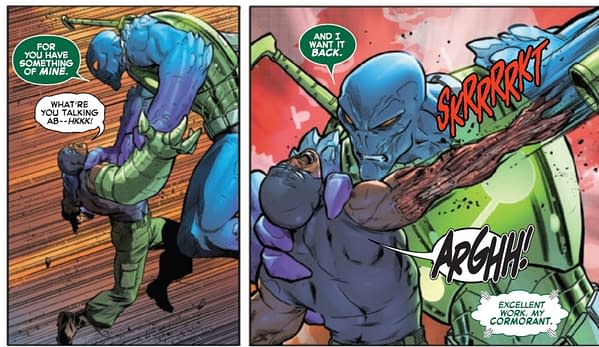 The Badoon want his… well… Gauntlet, and it seems that this and other technological marvels possessed by superheroes, such as the Southpaw's gauntlet…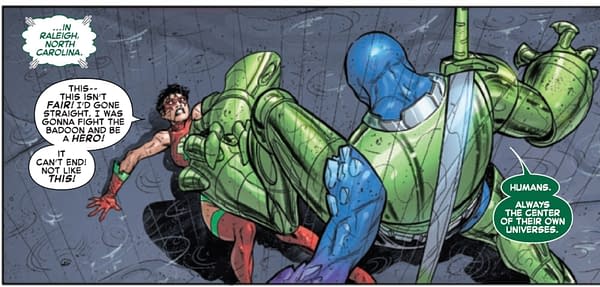 …and the Great Lakes Avengers' Grasshopper's legs…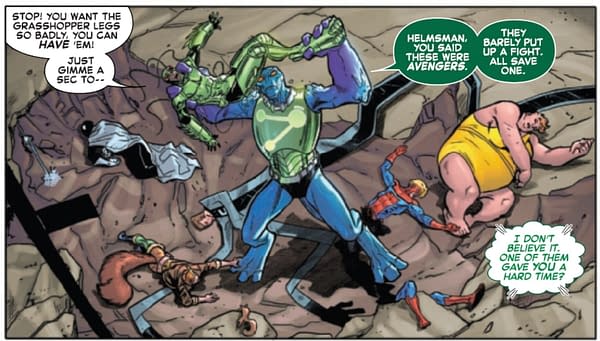 are part of Dan Slott's Build-A-Character collectable action figure – or the Krikket Wicket in Life The Universe And Everything. Some assembly is required. This is all part of the origin of these characters, as well as Southpaw, also part of the Reckoning War history, and originating from the Avengers Initiative Annual #1 from 2007.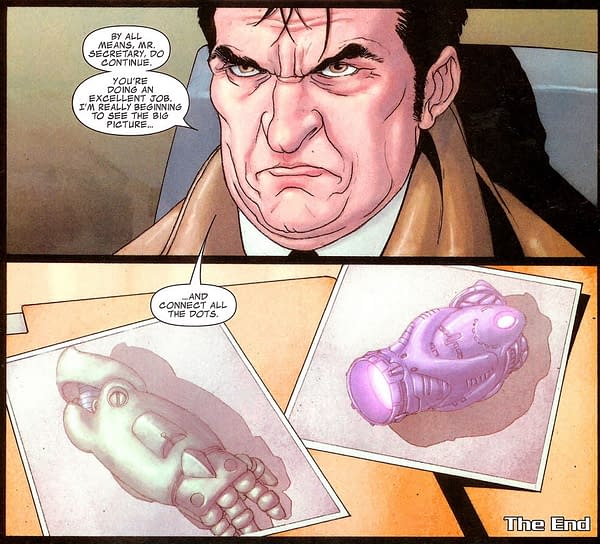 And hey possibly those Grasshopper issues of the Great Lakes Avengers comics too. Maybe we'll get to find out who these aliens from Avengers: Initiative were now? Were they Reckoning as well?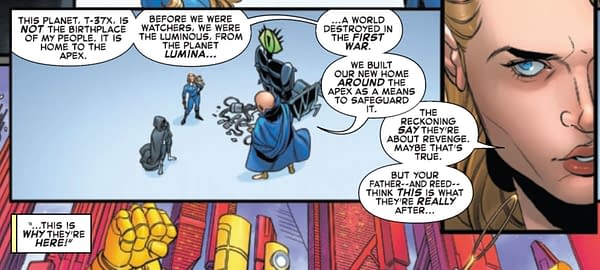 But the big one has to be a rewritten origin story for The Watcher and The Watchers. The Watchers are not from the planet T-37X as originally believed. Instead, they are the Luminous from the planet Lumina.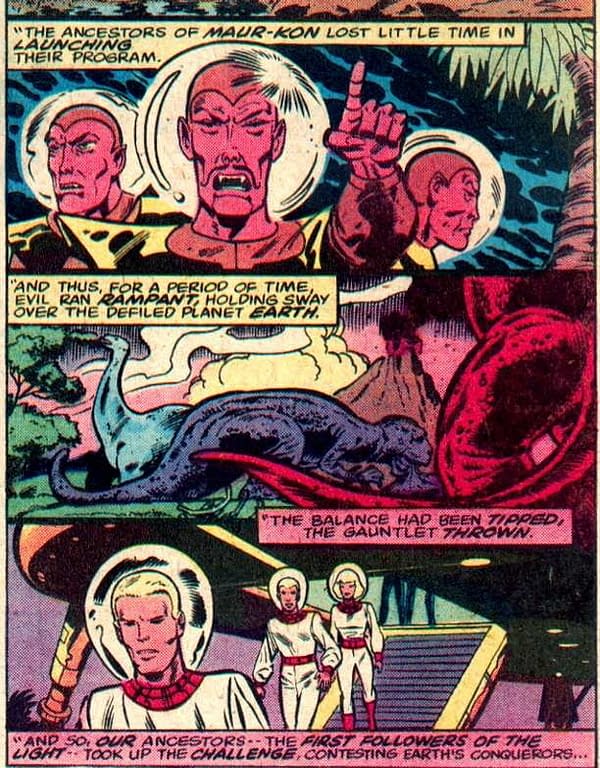 You know, from Shogun Warriors back in 1978. They fought the Followers of Darkness in the Great Chaos Wars, leaving a few behind on Earth dubbed the Followers of the Light to act as sentinels against the return of the Darkness. I'm sure it's on Marvel Unlimited. If not it will be very soon. And now, it seems, all part of Watcher lore.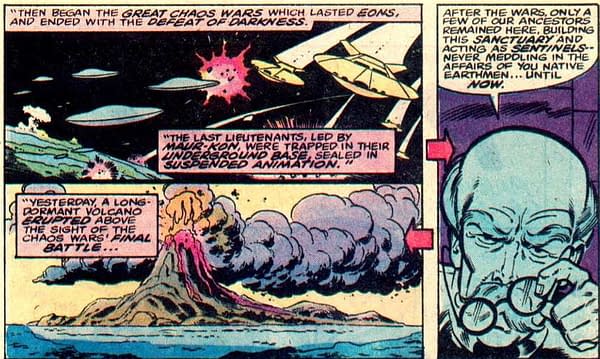 Here are the Fantastic Four solicits for the next few months. Warning, they may slip further.
FANTASTIC FOUR #43
MARVEL COMICS
FEB220978
(W) Dan Slott (A) Rachael Stott, Andrea Di Vito (CA) CAFU
THE RECKONING WAR CONTINUES!
• "Victor Von Doom: Hero of Earth"
• The last time the Cormorant appeared, he destroyed the Baxter Building and the Latverian Embassy, completely overpowered the Fantastic Four, and left without anyone laying a hand on him.
• Now, for the sake of the universe, Doctor Doom must face him alone. Hail Doom!
• Meanwhile, four of Earth's greatest heroes are trapped in the toxic wastelands of the Barrens…and there is no way for all of them to make it out alive.
• Guest-starring: The Silver Surfer, She-Hulk, and an army of Marvel's most cosmic champions!
RATED T+In Shops: May 18, 2022 SRP: $3.99
FANTASTIC FOUR #44
MARVEL COMICS
MAR221033
(W) Dan Slott (A) Rachael Stott (CA) CAFU
THE RECKONING WAR HEATS UP IN THIS OVERSIZED ISSUE!
• "The End of Everything That Ever Was or Ever Will Be"
• This is the final battle of the Reckoning War.
• At the Apex of the All Reality, the fate of the Marvel Universe will be decided.
• And no matter who wins, nothing will ever be the same again.
• This is not hyperbole. This is happening. There will be consequences.
• If you care about the Fantastic Four, their extended family and the rest of the Marvel U…you will not want to miss this.
• Starring Reed, Sue, Ben, Johnny, Nick Fury, Victor Von Doom, Norrin Radd, Uatu and Jennifer Walters.
RATED T+In Shops: Jun 08, 2022 SRP: $4.99
FANTASTIC FOUR #45
MARVEL COMICS
APR220974
(W) Dan Slott (A) R. B. Silva (CA) CAFU
THE RECKONING WAR: EPILOGUE – "OPEN YOUR EYES"!
Following the explosive events of the Reckoning War, the Marvel Universe has changed. We told you this was important. To see where all the pieces have fallen and what lies ahead, you're going to want to read this one, Marvelite. The future awaits!
RATED T+In Shops: Jul 13, 2022
SRP: $3.99
FANTASTIC FOUR #46
MARVEL COMICS
MAY220962
(W) Dan Slott (A/CA) CAFU
"FAMILY FIRST"!
• Not a dream. Not a hoax. This is real.
• Thanks to the knowledge of the Watchers, the lost daughter of Nathaniel Richards has been found.
• It's time to finally meet the mysterious sister of Reed Richards.
• But is it time to welcome her into the family?
• It's a day of amazing adventures both in her world, and in the world of the Fantastic Four.
• Guest-starring Namor, King of Atlantis.
RATED T+In Shops: Aug 03, 2022
SRP: $3.99