Ripley and Hendricks team up for Alien: Resistance from Dark Horse (REVIEW)
[rwp_box_recap id="0"]
Amanda Ripley and Zula Hendricks join forces to take down the Weyland-Yutani corporation in the ambitious Aliens: Resistance from Dark Horse Comics.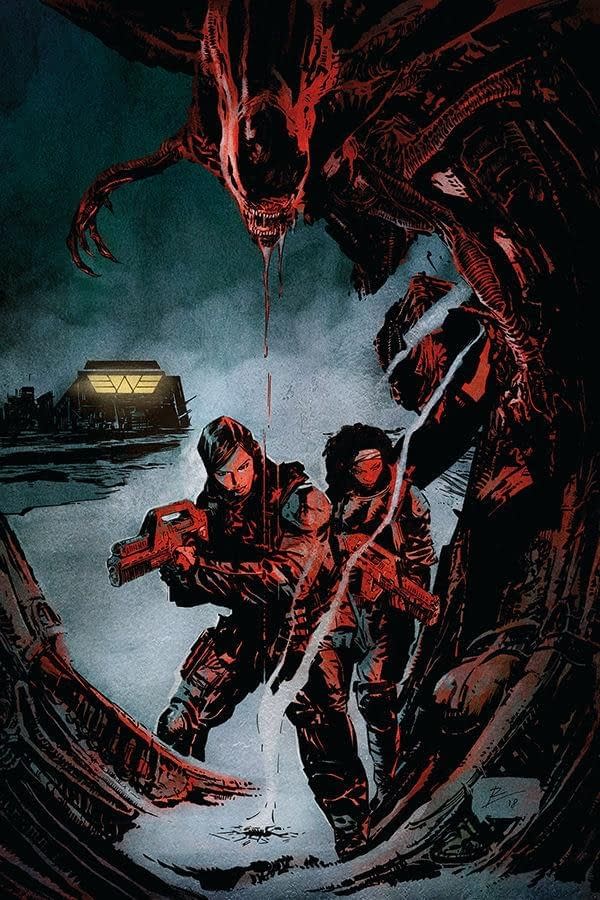 Aliens: Resistance marks an interesting team-up for the franchise, as Amanda has thus-far been delegated to act as a placeholder for her mother Ellen in the 2014 video game, Alien: Isolation. Zula Hendricks has a storied history with the Dark Horse Aliens series, having appeared in Aliens: Defiance. It has already been established that the two are friends prior to the events in Resistance.
Aliens: Resistance opens with Zula tracking Amanda down on earth- Amanda has been in hiding after her escape from Xenomorphs in Isolation. Zula convinces Amanda to join her on a mission to stop Weyland-Yutani from developing an organic weapons system cultivated from Xenomorph DNA. The pair are assisted by the operating system of Davis One, a sympathetic Synthetic that Hendricks rescued from her last mission.
Aliens: Resistance has a tight script, with plenty of the corporate chicanery and mistrust that fuels the overall franchise. While the Xenomorphs are certainly the ex Machina of the narrative, Weyland-Yutani is definitely the overarching villain of the series, determined at any cost to retrieve viable xenomorph samples. Brian Wood does an excellent job of injecting fresh life into what could become a tired narrative, with fresh new twists on Synthetics, and more sinister plots from the corporation. Hendricks and Ripley are both given plenty of agency, and it's great to see two strong female characters team up.
The art team of Robert Carey (pencils) and Dan Jackson (colors) do passable work here; there's nothing ground-breaking (or breathtaking) in Aliens: Resistance, but there's nothing about the art that derails the story, either.
Aliens: Resistance will be a four-issue limited series, and there's enough compelling material in the first issue to warrant continued reading, especially for fans of the Aliens franchise. Honestly, it's better than most of the movies.
Summary: Words: Brian Wood; Art: Robert Carey; Colors: Dan Jackson; Letters: Nate Piekos of BLAMBOT!; Cover Art: Roberto De La Torre; Editor: Spencer Cushing; Publisher: Dark Horse Comics; Release Date: January 23, 2019; Price: $3.99; 22 pages.
[rwp-review-ratings id="0"]
[rwp-review-form id="0"]