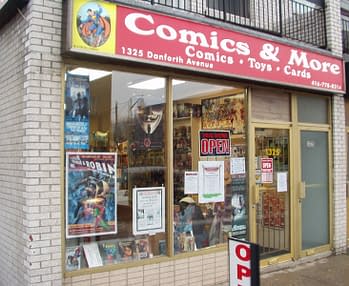 Longtime comics owner Robert Charpentier passed away on October 17th from cancer. The owner of Comics And More in Toronto, Canada and much loved comics seller for 25 years, received an obituary in the Toronto Star,
CHARPENTIER, Robert Joseph – Quietly in his sleep at Sunnybrook Health Sciences Centre after a short battle with cancer at the age of 54. Brother to Stephen Douglas (Elaine), James Thomas (Lynda) and Edward Anthony. Beloved uncle and granduncle to his numerous nieces and nephews and their children. Predeceased by his parents Douglas Charpentier and Evelyn Dame and his sister Sarah Hacker. He will be dearly missed by his whole family, as well as his family at 'Comics and More'. Visitation will be held from 12-2 p.m. on Saturday, October 25, 2014 at the HERITAGE FUNERAL CENTRE, 50 Overlea Blvd., 416-423-1000, with a memorial service in the Chapel at 2 p.m. In lieu of flowers, donations to the Canadian Cancer Society or the Canadian Diabetes Association would be greatly appreciated by the family.
And the store's website has run the following,
In the early hours of October 17th 2014, Superman aka Robert Charpentier, left the bonds of his adopted home Earth and returned to the heavens. Some of you may wonder how we at Comics & More can call "The Man Who Did Nothing" Superman.

He did nothing. He never traveled. Cars were too cramped and drove him squirrelly. Airplanes sent him into a panic. Yet he visited and took us along to so many fabulous places. Through the books, stories and films he loved and shared with us, he helped us grow, imagine and dream.

But he did nothing. Sports were not his thing. Despite this, year after year, he supported team after team, helping to build not only the community in which he lived his whole life, but the bodies that lived there as well. Children were what mattered in all things.

Still you say he did nothing. Robert never saved a life, but he touched so many lives. He was surrogate Father and Uncle to so many children. He led by example: correcting and teaching how a true MAN should behave when there was no other man there to offer instruction. Boy became better men just by knowing him. Making a difference to so many.

Nothing. It isn't the fact that he led a board game group at the local library on his one day off, it wasn't the numerous charities and school events that he donated to over the years, it isn't even the customers that he treated like family in his store that have us calling him Superman. It is the fact that he did all this and so much more, yet never called attention to the deeds or himself. Mild mannered he made our world a better place. If this is what it is to be "The Man who did nothing". Then when it is time may it be said of all of us that "We Did Nothing"

MAY HE READ IN PEACE

ROBERT CHARPENTIER

JULY 16TH 1960 – OCTOBER 17TH 2014
We reproduce them here by request of friends.
Enjoyed this article? Share it!