What Can We See In Rorschach #1 From Tom King and Jorge Fornés?
Yesterday, Bleeding Cool reported on Tom King and JorgeFornés upcoming unauthorised sequel to Watchmen, Rorschach. But what can we see in the images revealed so far? And can we start a campaign from this point to get Tom King to give us his take on Alan Moore and Bill Sienkiewicz's Brought To Light? Anyway…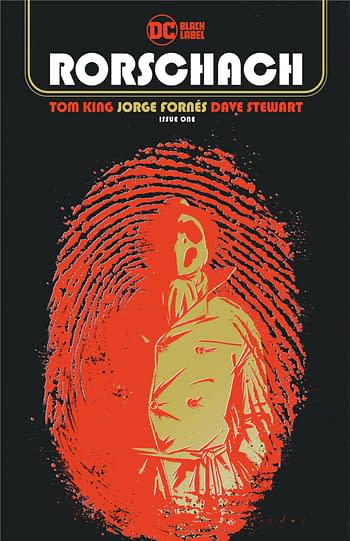 We have a cover design that reflects the seventies and eighties -when Watchmen is set but also a period that Rorschach belongs in, that of Scorcese's New York. The Rorschach test takes meaning from random images – a fingerprint is a very specific image, that cannot be argued with. It is not to be interpreted, it is what it is and nothing else. Which is probably more objective than a Rorschach test, but both are monochrome, binary, presence and absence, there is black and there is red and there is nothing in between.
Watchmen was a murder mystery disgusted as a superhero comic book. Here we see similar, with the FBI looking at two bloodied sets of clothes, one for Rorschach, one for what appears to be The Lone Ranger.
The Lone Ranger comes from the same pulp tradition of storyteller that informed, police, detective and superhero tropes to come. The lone man, led by duty, standing up for what is right, and defeating the bad guys through a) force and b) being the one who will take a stand. The Watchmen HBO unauthorized sequel to Watchmen looked at Bass Reeves, the real-life black Sherriff who inspired the Lone Ranger, and also joined the line from then to modern day superheroic stories – as well as the myth of the policeman, which is all tied in with the same storytelling tradition. The comic PR tells us "so what does it mean when Rorschach reappears as part of a pair of assassins trying to kill the first candidate to oppose President Robert Redford in decades? Follow one determined detective as he walks backward in time, uncovering the identities and motives of the would-be killers, taking him deep into a dark conspiracy of alien invasions, disgraced do-gooders, mystical visions, and yes, comic books."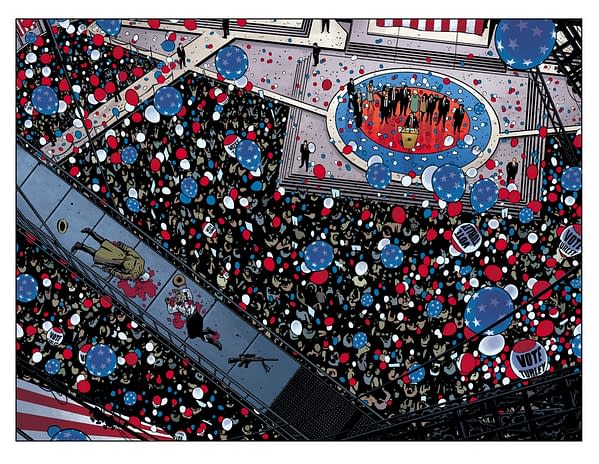 So we see the bodies of Rorschach and the Lone Ranger – or those in costume. Both dead, presumably shot, weapons by their side, while looking down on what appears to be a victory party for this candidate. The candidate's name is Turley and the Lone Ranger figure looks like a blonde woman. The identity of this Rorschach is unseen but we did see her in previous teased artwork, and they don't appear to be enemies.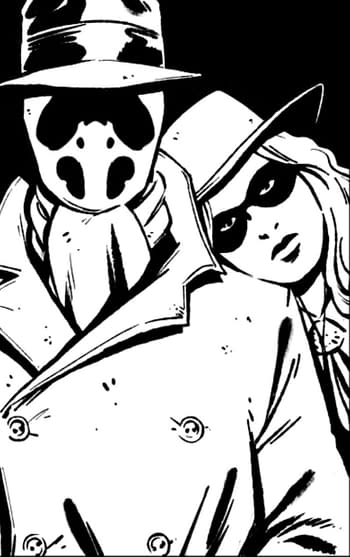 So what is their story in Rorschach?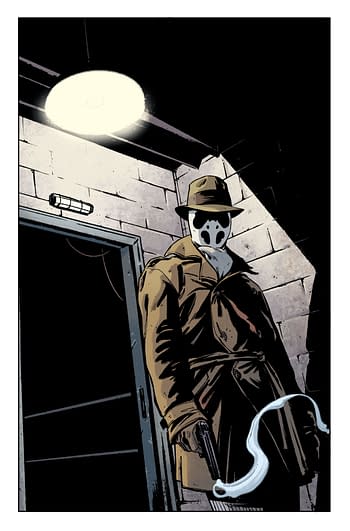 We also get a Rorschach with a smoking gun. Who or what has been shot, no idea.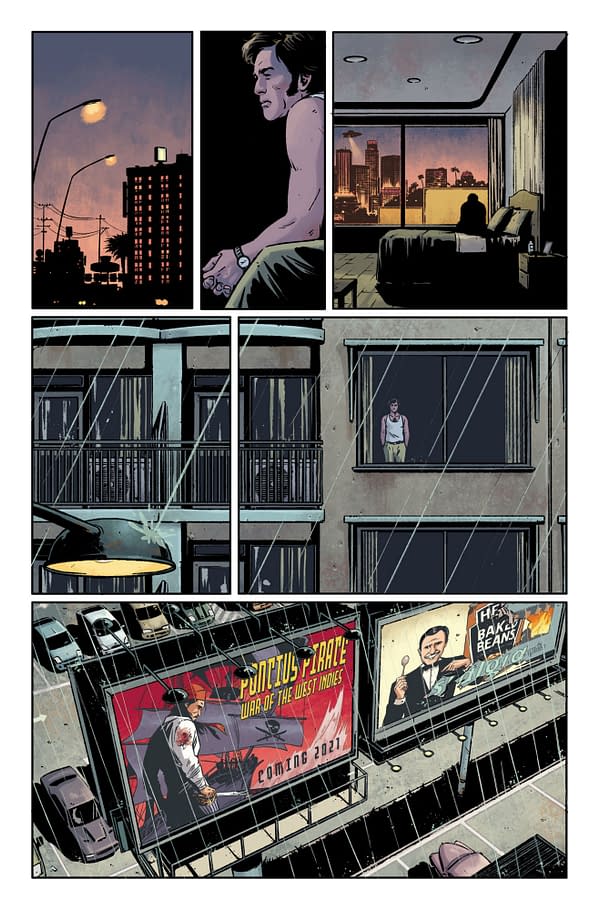 We have a modern-day scene in Rorschach #1, presumably 2020, with zeppelin still in the sky – even if they haven't had a mass-helium-producing Dr Manhattan on hand for quite some time as they as they did in Watchmen. That was the official reason for all the zeppelin in Watchmen – will we have another in Rorschach, set 35 years after? The cars seem to be set back, technology wise without him… Pontius Pirate: War Of The West Indies continues the Watchmen idea that the comics were all about pirates, and it seems that just as superhero movies had a resurgence in our world, that pirate movies have had the same in the Watchmen world. Could there be a Pirate Cinematic Universe? While a Heinz Baked Beans posted (with brown tins) and maybe a James Bond figure reveals ads for Nostalgia, Adrian Veidt'sperfume brand from 35 years ago.
Is this fellow one of the two detectives? Because I think they are also the figure seen in other artwork, walking through a lobby. And look who was also in the apartment. Our mysterious Lone Ranger gunman.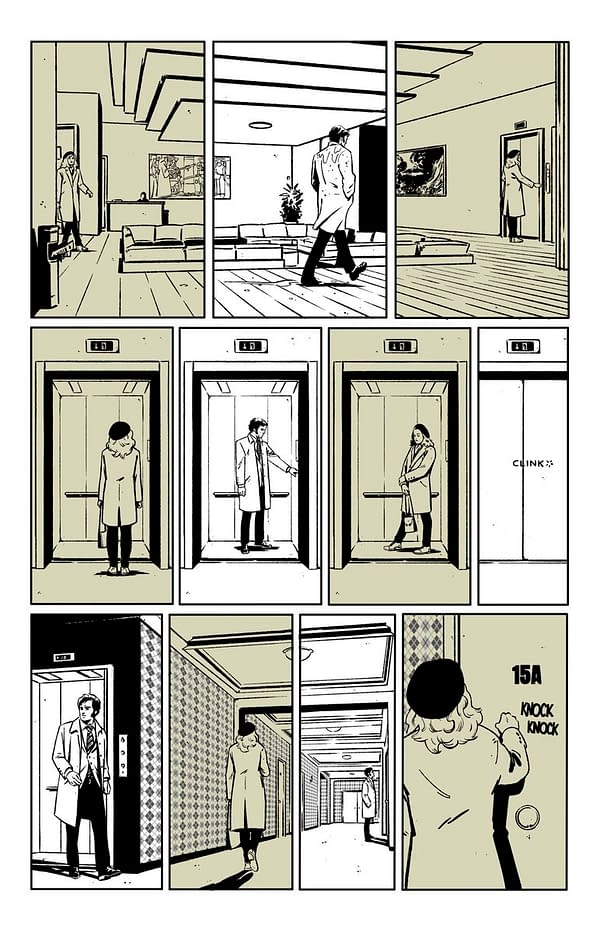 As has been pointed out, the painting in the lobby in Rorschach #1 is the same one owned by Adrian Veidt.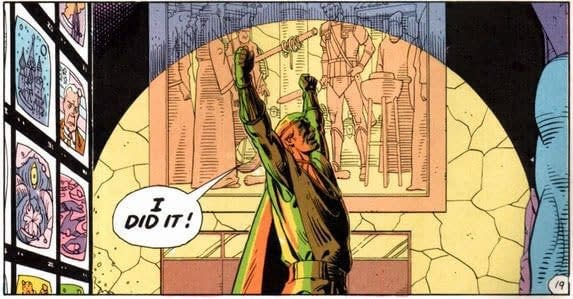 The painting is of Alexander The Great cutting the Gordian knot. This was a legendary famous knot that no one was able to unravel, but that Alexander solved by cutting it with a sword. It was how Ozymandias viewed his attempt to avoid nuclear armageddon by introducing a new alien threat. The Watchmen scene however, saw Ozymandias as sacrificing something about himself in the process, framed so that against the background, he is being crucified. Ozymandias also owns the Gordian Knot Locksmith seen throughout the comic, fitting his locks, and also enabling him to bypass them when he wishes to. The painting does not exist in the real world, it was commissioned by Ozymandias.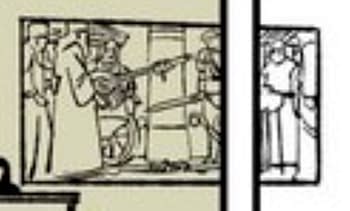 What it is doing in Rorschach is unknown. And hey, anyone recognise this one?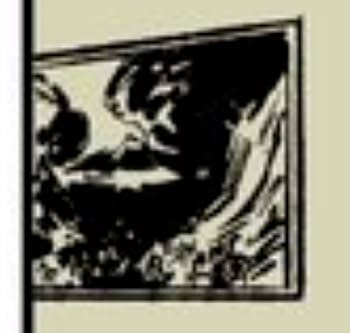 Rorschach #1, by Tom King, Jorge Fornés, Dave Stewart and Clayton Cowles, will be published on October 13th, 2020, from DC Black Label. $4.99 with card stock cover artwork by Fornés and a variant cover by Jae Lee.
---
---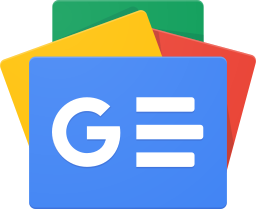 Stay up-to-date and support the site by following Bleeding Cool on Google News today!