We won't find what Rough Riders: Book II will be called for a while. That will only be revealed in a few weeks. I wonder if I looking side the exclusive Local Comic Shop Day factfiles if it will be revealed?
Anyway for now, we have to make do with this… ROUGH RIDERS: BOOK II #1
Writer: Adam Glass
Artist: Pat Olliffe
Colorist: Gabe Eltaeb
Cover Artists: Pat Olliffe w/ Gabe Eltaeb
Great jumping on point! Three years have passed since the Rough Riders' last adventure, but when an assassin's bullet takes President William McKinley's life, Vice President Theodore Roosevelt is thrust into the role of Commander in Chief. As a country mourns the loss of their leader, Roosevelt believes that the assassin is part of a bigger conspiracy, one whose tentacles reach back to Europe and whose intentions are to destroy humanity through world- wide ANARCHY.
To stop them, Roosevelt must convince Harry Houdini, Jack Johnson, Thomas Edison and a surprisingly very alive Annie Oakley to band together again. But time has strained the bonds that once united them and the ideologies of their enemies may have already seeped into one of their own. Welcome to ROUGH RIDERS BOOK TWO: "DARE MIGHTY THINGS".
Price: 3.99
Page Count: 32
Age Rating: 15+ ANIMOSITY #6
Writer: Marguerite Bennett
Artist: Rafael de Latore
Colorist: Rob Schwager
Cover Artist: Rafael de Latore
When Jesse is abducted by humans, Sandor, her faithful and protective Bloodhound, will cut a swath of blood and bone through everything that stands in his path to find and rescue his beloved friend.
From the writer of INSEXTS, BOMBSHELLS, and A-FORCE and the artist of SUPERZERO!
Price: 3.99
Page Count: 32
Age Rating: 15+ BLOOD BLISTER #2
Writer: Phil Hester
Penciller: Tony Harris
Inker: Eric Layton
Colorist: Guy Major
Cover Artist: Tony Harris
You don't have to die to go to hell. The corruption Brandon Hull once believed was confined to his soul has now spread to his once-perfect body. Struggling to come to grips with the supernatural realm, Hull seeks answers in the darkest corners of the natural world. Can he stop the infection from not only taking over himself but also the family he loves?
Opening a jarring window on to a world of horror from the Eisner Award- nominated writer of THE COFFIN, FIREBREATHER, and DEATHSTROKE and the Eisner Award-winning artist of EX MACHINA and STARMAN.
Price: 3.99
Page Count: 32
Age Rating: 17+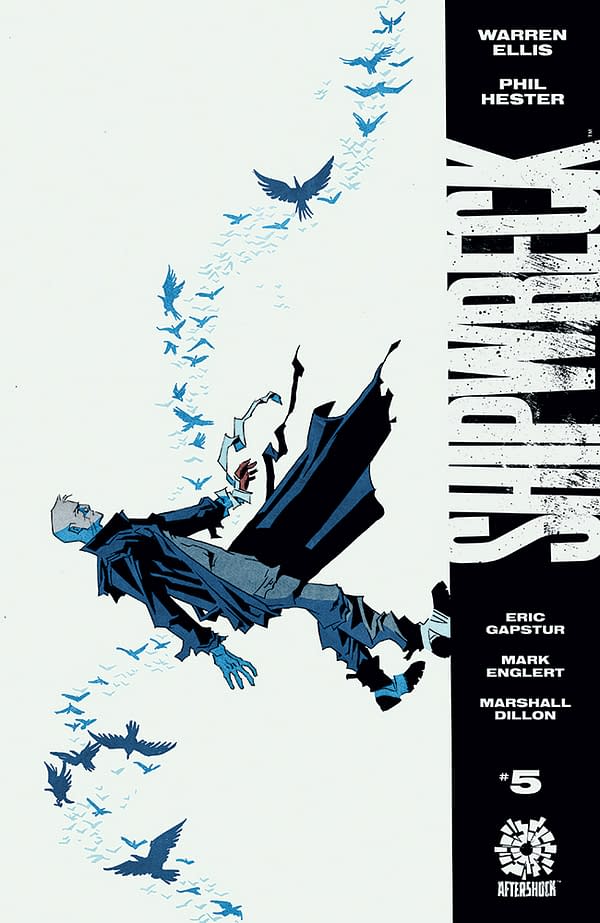 SHIPWRECK #5
Writer: Warren Ellis
Penciller: Phil Hester
Inker: Eric Gapstur
Colorist: Mark Englehert
Cover Artist: Phil Hester
The clock is ticking. There's a rescue mission ahead. But so is the saboteur who stranded Jonathan Shipwright here in the first place. Can Shipwright reach the end of the road in time? Or does the road have no end?
From the co-creator and writer of AUTHORITY, TRANSMETROPOLITAN, and PLANETARY, and artist of GREEN ARROW and THE COFFIN!
Price: 3.99
Page Count: 32
Age Rating: 15+ ALTERS #5
Writer: Paul Jenkins
Artist: Leila Leiz
Colorist: Tamra Bonvillain
Cover Artist: Leila Leiz
Trapped and outnumbered, Chalice has a final showdown with the dreaded fascist Matter Man, and his band of domestic terrorists. The entire Eastern seaboard may be at risk, and there seems to be no way to stop this madman. A new secret threatens to tip the scales — Chalice's plan may be the craziest gambit of all time, but it may just work. And the entire thing rests on the shoulders of a young woman who is only just beginning to come to terms with her brand new powers.
From the writer of WOLVERINE: ORIGIN, SENTRY, and HELLBLAZER.
Price: 3.99
Page Count: 32
Age Rating: 15+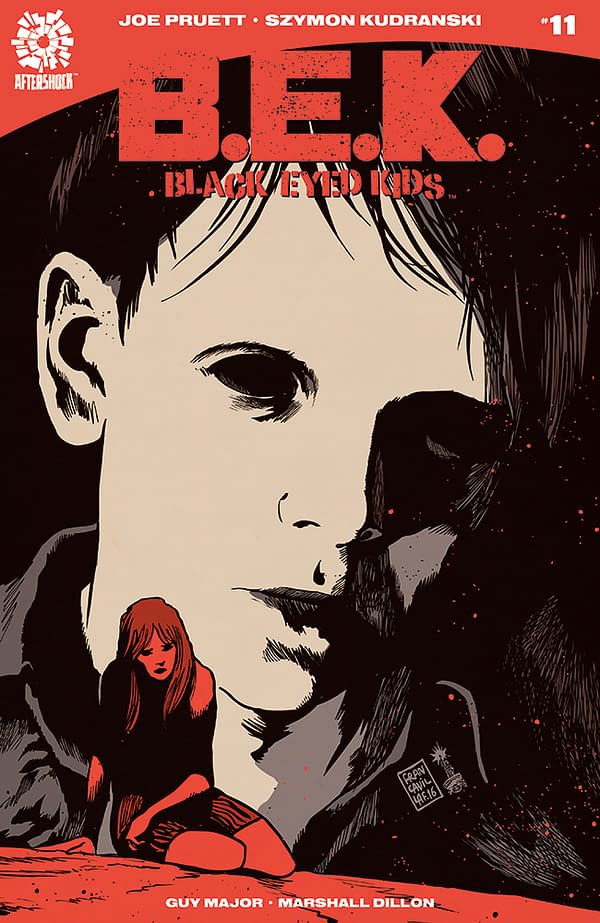 BLACK-EYED KIDS #11
Writer: Joe Pruett
Artist: Szymon Kudranski
Colorist: Guy Major
Cover Artist: Francesco Francavilla
The BEK Boy King plots his revenge. Jim sets into play his desperate plan to save his possessed son. Gus and Meredith come face-to-face with someone familiar from the past. The Black-Eyed Children go on the hunt.
From EISNER AWARD winner (and six-time nominee) Joe Pruett and the artist of DAREDEVIL/PUNISHER and SPAWN, Szymon Kudranski.
Price: 3.99
Page Count: 32
Age Rating: 15+ SECOND SIGHT VOL. 1
Writer: David Hine
Artist: Alberto Ponticelli
Colorist: John Kalisz
Cover Artist: Alberto Ponticelli
Collecting the mind-altering six- issue series from David Hine and Alberto Ponticelli!
Twenty years ago, Ray Pilgrim became a celebrity when he discovered his unique ability to see through the eyes of psychotic killers who were terrorizing London. But his world collapsed around him when he was accused of the same crimes as the monsters he hunted. Now, Pilgrim's teenage daughter is using her blog to investigate a ring of child abusers that includes some of the most powerful men in British society – men who are prepared to kill anyone who threatens to expose them. In order to protect his daughter and uncover the truth, Pilgrim must reluctantly revisit his past and the twisted path that led to the hotel room the media called The Bloody Chamber.
Price: 17.99
Page Count: 144
Age Rating: 15+
Enjoyed this article? Share it!