(Spoiler), (Spoiler) and (Spoiler) are the New Power Rangers in Mighty Morphin' #40, Out Today. Um, Spoilers.
Look, we warned you that Necessary Evil, the new Power Rangers comic event from Boom! Studios, was going to be bigger than Shattered Grid. And in today's Mighty Morphin Power Rangers #40 we learn just why.
In the Mighty Morphin Power Rangers TV show, the characters of Jason (Red Ranger), Trini (Yellow Ranger) and Zack (Black Ranger) left the show for a UN peace summit. They were replaced with Rocky, Aisha and Adam in their new respective roles.
But fans have wondered for years what happened to those original Rangers – even though Jason did return as the Gold Ranger – after they left the show.
Now we know. And it changes everything about Power Rangers canon when we learn who's on the teams.
Yes, plural.
The issue kicks off with a time jump, which explains why the not-so-dead Tommy is alive as the White Ranger…and Adam, Rocky and Aisha are part of the Mighty Morphin team.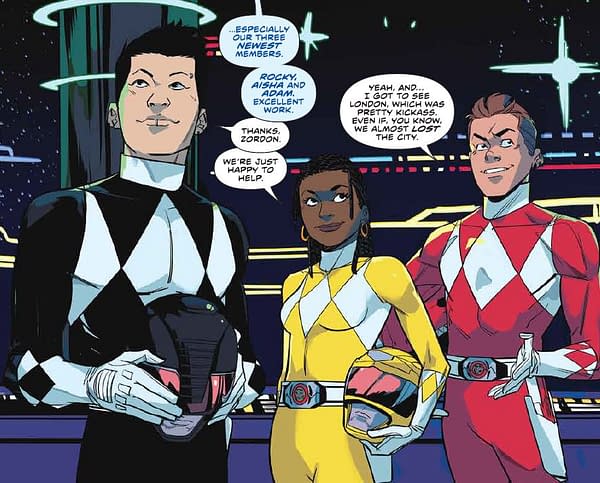 And Mighty Morphin Power Rangers #40 reveals that Jason, Trini and Zack are now part of a covert team of Power Rangers. This is the FIRST APPEARANCE of the New Power Rangers and their new costumes.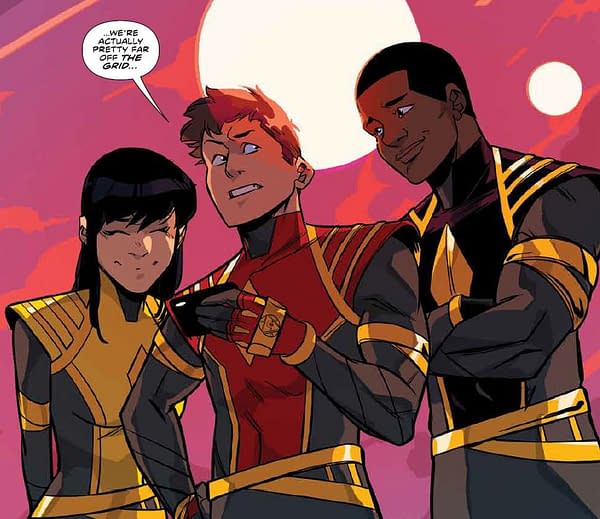 But do they work for Zordon? Or someone else? What are their powers? Do they have Zords?
And why did the New Power Rangers lie to the Mighty Morphin team?
We do know that the Power Rangers comics are in canon so this change is REAL and PERMANENT. Don't expect any continuity fixes or reality changes. These three were always a covert team of Power Rangers…and we just didn't know about The New Power Rangers till now.
That changes the way we might see Jason, Zordon, Tommy and every other Power Ranger when we rewatch the series, depending on what the characters learn about the New Power Rangers in Necessary Evil…and beyond. And now, for the first time, we'll see more of Zack and Trini after they left the Mighty Morphin team. This is uncharted territory.
It also could be leading to some kind of Jason and Tommy conflict like fans have wanted since they learned about the plans for the aborted Hexagon series that would've been like Marvel's Civil War for Power Rangers.
Who knows, perhaps that's where it's all heading…
What else did we learn in the issue?
As part of the time jump, it's Lord Zedd who's now the main villain for the Power Rangers teams.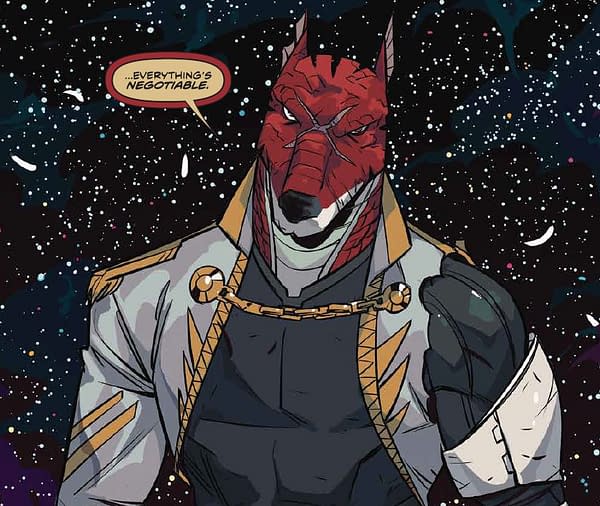 And this issue is the first appearance of Dayne, a chiseled bipedal canine whose full splash page debut is a sign he has a major role to come. Could he be tied to the Shadow Ranger, AKA Cruger from Power Rangers SPD?
Perhaps the most overlooked aspect of this issue will be the Story Variant cover by Ryan Parrott and Dan Mora. They're telling an original eleven-page story through covers from MMPR #40-50 and this cover was severely underordered by retailers. Will this story ever be collected?
We're also hearing you shouldn't sleep on Go Go Power Rangers #21 next month. The issue has FOC'd but you'll want to get your orders in now, since writer Ryan Parrott is writing both series (along with co-writer Sina Grace on Go Go) as part of the Necessary Evil event and a series set in the past would seem like the perfect place to reveal the origin of this new Power Rangers team, wouldn't it?
MIGHTY MORPHIN POWER RANGERS #40 MAIN
(W) Ryan Parrott (A) Daniele Di Nicuolo (CA) Jamal Campbell
Last year, Shattered Grid made comic book history-this year NECESSARY EVIL changes what you think you know about the Power Rangers with a reveal that will have everyone talking!
The Power Rangers comic book event of 2019 begins here with the first appearance of the Power Ranger everyone's been asking about-the fan favorite White Ranger!
The all-new team of creators from record breaking Power Rangers; Shattered Grid; Ryan Parrot and Daniele Di Nicuolo present the return of the Mighty Morphin Power Rangers-but what happened to the universe after the defeat of Lord Drakkon, and what do our Rangers remember?
In Shops: Jun 26, 2019
SRP: $3.99