Dark Horse Comics is set to confuse the crap out of comic book readers next July. Dark Horse's upcoming release, Sacred Decay, doesn't feature superpeople punching each other in tights. It doesn't even feature hell boys or aliens or predators or any of that stuff. Okay, Jude Terror, so they're publishing an art book. Big deal! What video game is it based off of? Well, you might want to sit down for this: it's not based on a video game.
Sacred Decay is a book featuring the art of Lauren Marx, not a comic book artist, but a fine artist, you philistines!
Check out the press release below for more details.
Discover Lauren Marx's First Art Collection Presented by Dark Horse Books

MILWAUKIE, Ore. (December 13, 2019) — Fungus blooms and dies, bones weather, and moths form halos around dismembered animals in this darkly exquisite collection from acclaimed artist Lauren Marx. In Sacred Decay: The Art of Lauren Marx, Marx brings her uncanny subjects to life–or death–with awe-inspiring texture and intensity. Birds, beasts, fish, plants, and more blossom radiantly on the page in their cycle of birth and destruction.

The new oversized collection features the striking work from Lauren Marx's latest gallery exhibition, "Chimera," and more, featuring over 120 pages of full-color art. Don't miss this stunning hardcover for $29.99!

Sacred Decay: The Art of Lauren Marx goes on sale July 22, 2020, and is available for pre-order on Amazon, Barnes & Noble, and at your local bookstore or comic shop. And for fans in the Los Angeles area this holiday season, be sure to check out Lauren Marx's latest art show, opening December 14th at the Corey Helford Gallery!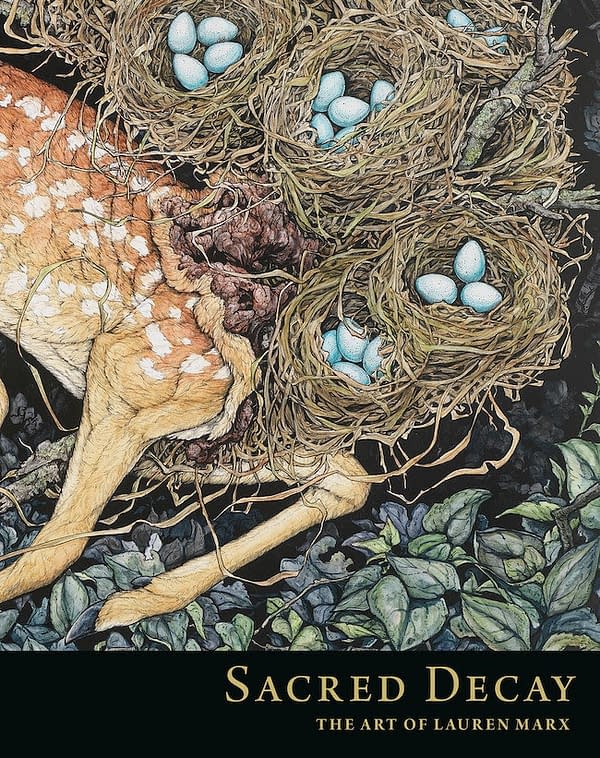 Enjoyed this article? Share it!