Sami Zayn Turns on Roman Reigns, Splinters Bloodline at Royal Rumble
Asked to assault a beaten Kevin Owens with a steel chair, Sami Zayn instead attacked the Tribal Chief in the shocking ending to the Royal Rumble main event.
---
Kicking off the final act of what has been one of the best stories WWE has told in a long time, Sami Zayn finally turned on Roman Reigns at the Royal Rumble to the delight of the San Antonio crowd. Reigns defeated Kevin Owens in the main event of the PPV, but it was the aftermath of the match that served far and above as the best part of the show. Though Zayn ended the night unconscious in the middle of the ring, he also officially ascended to the most over babyface on Smackdown and maybe in all of WWE.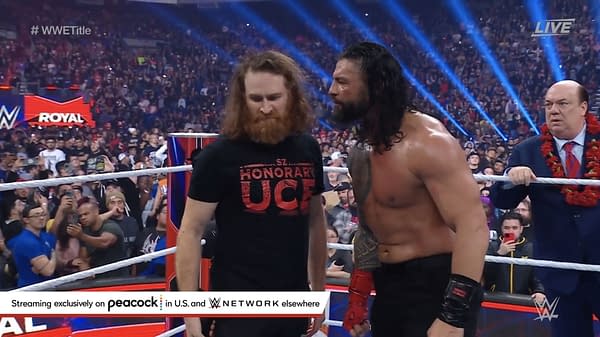 After Reigns put Owens away following a pair of brutal slams on the sharp edges of the steel stairs and a spear, The Bloodline prepared to officially welcome Sami Zayn into the family. But before Jey Uso could plant the Ula Fala on Sami's neck, Reigns stopped him and demanded that the Bloodline first decimate the beaten Kevin Owens. A brutal beatdown ensued, culminating in a superkick part on Owens, who was handcuffed to the ropes. Reigns then picked up a steel chair and prepared to finish Owens off, but Zayn stepped in front of him.
Zayn pleaded with Reigns to stop the violence, but that just led Reigns to demand Zayn use the chair on Owens instead. After some teasing, Zayn hit Roman with the chair instead, as the crowd erupted in cheers and the rest of the Bloodline reacted in shock. Zayn apologized to Jey Uso as Jimmy Uso and Solo Sikoa attacked. A beatdown ensued, but Jey refused to join in as the crowd chanted his name. Jey left the ring and walked out on the Bloodline, who beat on Zayn and Owens a little but more before leaving with the belts.
Where the story goes from here is unknown, as you have Sami Zayn and Cody Rhodes, who won the men's Royal Rumble match, each with legitimate claims to a title feud with Reigns. Could WrestleMania feature a triple threat, or might Roman Reigns compete in double-title matches? The mystery will surely bring viewers to WWE Smackdown on Friday to find out. In addition to months of build with Sami, the drama with Jey Uso can be traced back to the very start of the Bloodline storyline when Roman Reigns first turned heel and forced a then-babyface Jey Uso to join him, and the resulting story all the way to tonight's Royal Rumble match has been some of the best work WWE has produced in decades.
Read our full coverage of the 2023 Royal Rumble here.