Sarah Graley and Sfé Monster on the Non-Binary Appeal of a Minecraft Comic at ECCC
Sarah Graley and Sfé Monster were interviewed on stage at ECCC today, about their work on the upcoming official Minecraft comic book from Dark Horse Comics. And they were very keen to emphasise how official this one is, as opposed to a number of unofficially non-licensed Minecraft comics that have been published over the year.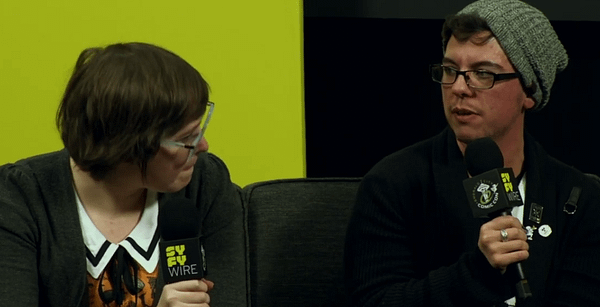 Sfé Monster was asked about the diversity potential of a Minecraft comic, based on a game where characters are presented as undetailed blocks, with greater scope for the interpretation of identity. They replied,
The most exciting part as a queer person, and a nonbinary person working in the environment of Minecraft, the people who were supporting the comic, who wanted it to exist want to include diversity, we want to show that its not just binary kids playing, white kids playing, we get to show the full spectrum of identity playing in this game, literally limitless, you can be and do anything which is so exciting to see taking shape in comics, especially in Minecraft.

It was wild to me, because coming up in the industry was a very binary game, the editors that we're working with, when they pitched it were like we want to make sure diversity is at the forefront of Minecraft and that's one of the keystones of the platform

Infinite diversity means you can model and reshape the world, and the friendships that you're building are constantly modelling and reshaping and your identities can transition within the game, the game can accommodate that, make a space to explore yourself and figure out who you are and what you are and how you fit into the world.
Sarah Graley added,
With Minecraft being such a big thing, it's going to get to a lot of people, its really exciting so many kids are going to see themselves in this book.
Oh and slight spoilers, she boasted of a cool Ender Dragon she got to draw… as a end of comic boss.