Grab A Nice 9.6 Copy Of Savage She-Hulk #1 On ComicConnect Today
She-Hulk is finally having her moment. In comics, she is part of the current Avengers roster, and outside of comics, Jennifer is getting her very own MCU show on Disney+. That means it is time to start picking up key back issues while you can, like a CGC 9.6 copy of Savage She-Hulk #1 by Stan Lee and John Buscema. A copy is live on ComicConnect right now, part of Session 4 of Event Auction #42. The current session ends today in about 8 hours, and with so little time to go, now is the time to pounce. The price is hovering at $178, way affordable for a key issue that is sure to soar fast. Check out the copy below.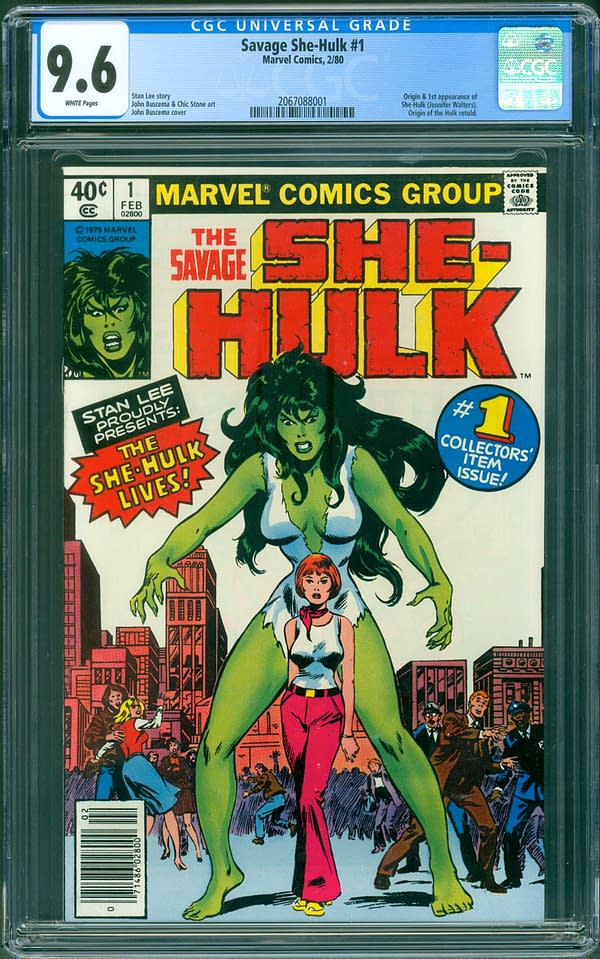 "Before his return to comics in 1992, Legendary writer/editor Stan Lee's last creation for Marvel Comics was the Savage She-Hulk. With the success of the "Incredible Hulk" TV show and "The Bionic Woman," Marvel feared TV execs might try to introduce a female version of the hero like what was done with the "Six-Million-Dollar Man." Enter attorney Jennifer Walters, cousin to Bruce Banner, who after a near-fatal accident gets a blood transfusion from her gamma-irradiated cousin giving her the incredible super-powers of the Hulk. Just Like her cousin, Jen's transformation is triggered by anger. However, she would eventually gain control over her powers and be able to change at will. Over the years, her personality was retooled from an angry, violent heroine to a more fun and whimsical attitude, as she is also one of the few Marvel characters to break the fourth wall. Also, unlike her cousin She-Hulk can communicate fluently in her hulked-out form, she's described as fiery, confident, and assertive as she chooses to retain her bulky form even when in the courtroom. Although her initial run was canceled in 1982, She-Hulk garnered a cult following where she made guest appearances in several books while becoming a member of various superhero teams, including the Avengers and the Fantastic Four. She-hulk has also appeared in Marvel TV shows and video games over the years."
Bronze age comics with white covers like this one are starting to get harder to find with no fading as the years go on. That will only make this issue climb higher, even after the hype of the show wanes. Do not miss the chance to grab a very nice copy of this book at a cheaper price while you can. Session 4 of ComicConnect Event Auction #42 ends today, so check out this and many other great books before time expires.