Scott Snyder Has A Fancy New Logo For… Something
It's not too bad to be Scott Snyder right now, even considering everything that's going on. Death Metal is topping the comic book charts, his editor Marie Javins is rising the ranks at DC Comics, American Vampire is coming back and his Undiscovered Country series is burning through the printings and Wytches is coming back too. Naturally, of course, that means he has to go and try something new. Something very new.
Scott Snyder has just updated his social media channels with this image. A burning ring of fire or light against the black. Could this be an eclipse? A one ring? The mark made by a coffee cup that has just spilled liquid gold and now that has stained your jet black sidetable and you will never ever get it out no matter what cleaning agents to can scrounge from the local corner store? Something else entirely? Make your best guesses in the comments below…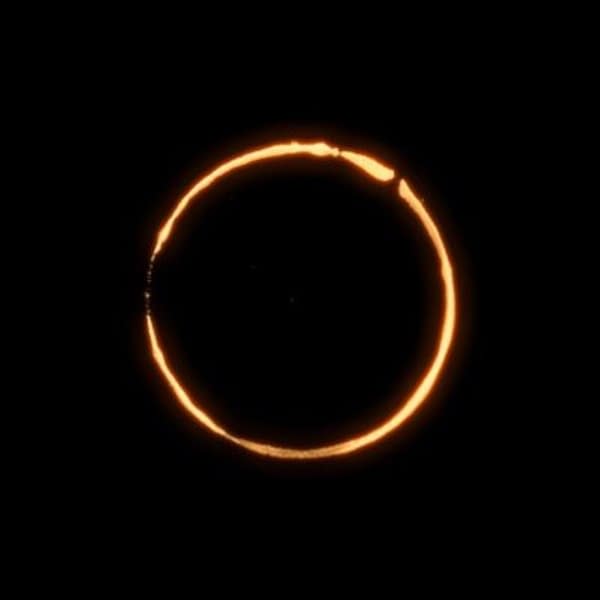 Scott Snyder is a comic book writer with work being published at DC Comics and Image Comics. He relaunched Batman with Greg Capullo as part of the New 52 in 2011, including creating The Court Of Owls. He also relaunched Justice League, telling a story that led into major DC events DC's Year Of The Villain, Dark Nights: Metal which span off the creature The Batman Who Laughs, and the current sequel Dark Nights: Death Metal. He is the co-creator of American Vampire with Rafael Albuquerque, also published by DC Comics, and with Greg Capullo, put out the Black Label title Batman: Last Knight on Earth, that pulled in all sorts of threads from their Batman title into some apocalyptical future. He is also the co-creator of Wytches with Jock, Undiscovered Country with Charles Soule and Giuseppe Camuncoli, with more projects in the works. This image could be for one of them, could relate to Death Metal, or it could just be a picture that Scott Snyder liked.