SDCC '15: Magnetic Press Studio Discusses Current And Upcoming Releases
By Michele Brittany, West Coast Correspondent
Magnetic Press Publisher Mike Kennedy opened up the panel announcing to the audience that the independent publisher has just celebrated their one-year anniversary and it has been a successful one. Kennedy related that in their first year they have published twelve books, forty-four digital releases and two Eisner Award nominations for Tony Sandoval's Doomboy (Best Publication for Teens, aged 13-17) and Dave Dorman's Wasted Lands Omnibus (Best Graphic Album – Reprint). In year two, Kennedy stated they have planned 35 releases. Joining Kennedy to discuss current and upcoming releases included Tom Delonge (Blink-182, Angels & Airwaves, Poet Anderson: The Dream Walker); Ben Kull (Father of the Pride, The Oblongs); Suzanne Young (The Remedy); Tony Sandoval (Doomboy, A Glance Backward); Pierre Paquet (A Glance Backward); Bengal (Batgirl, Naja); and Dave Dorman (Wasted Lands, Aliens: Tribes).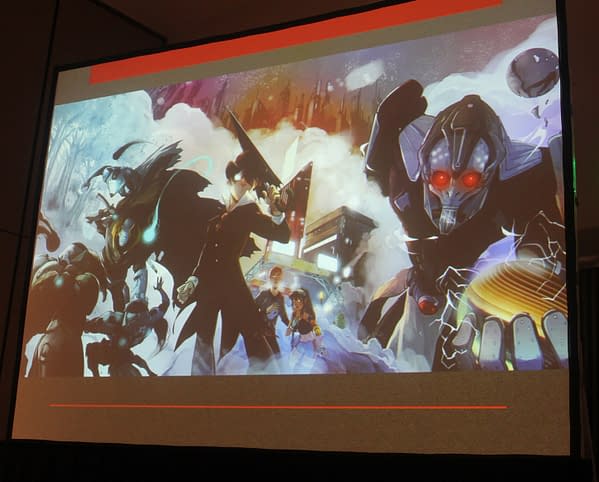 Kennedy introduced Poet Anderson: The Dream Walker, a new comic book series from writer/creator Delonge. Delonge described that inspiration struck him late one night in a posh Paris hotel and his thoughts drifted to an imagined fantastical world, the backdrop of a coming-of-age story. Meeting Kull was fortuitous for the two: Kull helped Delonge hone the story and conceptualize the world that artist Djet would visualize into a style of fluid motion. Novelist Young will be writing the novel and said that she has been working with amazing images as well as with Delonge and Kull. All three were complimentary of each other's talents; Kull added that the series has been a successful collaborative effort, building from each other's input and feedback along the way. The first two issues are currently available and the novel will be dropping on To The Stars website. Delonge teased the audience that a movie deal will soon close that will establish Delonge's story as a transmedia franchise. The Eisner nominated Doomboy was up next. Sandoval said the story, translated from French, is also a coming-of-age story about a boy named Id. Kennedy said it is a universal that resonances with readers. Like Poet Anderson: The Dream Walker and Doomboy, A Glance Backward is also a coming of age story about Pepe written by Paquent and illustrated by Sandoval. It will be out in September. Artist Bengal created graphic novels in Europe before establishing a reputation of stellar talent here in the US. Magnetic Press has published Naja, Meka and Luminae Volume 1 and he is currently working on DC Comics' Batgirl: Endgame. Kennedy described Bengal's art as filled with motion and movement. Bengal is diverse in his artistic styles as witnessed by his crowdfunded project last year, playing card game World of Cassyno. The Wasted Lands Omnibus finished up the books presented by Kennedy. Eisner Award winning Dorman explained that it took him years to create the characters and world that blends western and steampunk genres into an adventure oriented narrative. Revisiting his story, Dorman made some changes, bringing his 15 years of knowledge and experience to Wasted Lands. He recolored the book and re-worked some of the panels and dialogue. He expressed his appreciation for the second life that this story has gotten through Magnetic Press; it paid off with an Eisner nomination. Dorman announced that there is a Risk-like game in development. Kennedy finished the hour providing teasers of upcoming projects: Sidekicked (with Darby Pop); Adventure of Basil and Moebius Volume 3; Love: The Fox, the second book in the wordless graphic novel animal series; Golem; Klaw, an animal mutant high school angst adventure story; Robot Envy: Zenith, an artbook; Angelarium, also an artbook; Re*Pro*Duct; and Beer-o, a story of a dog finding detective. Event photos were taken by Michele Brittany.
Michele Brittany is an independent popular culture scholar and semi-professional photographer and editor of James Bond and Popular Culture: Essays on the Influence of the Fictional Superspy (McFarland & Company) as well as the forthcoming book Essays on Space Horror in Films, 1950s – 2000s. Read her reviews and analysis on the spy/espionage and space horror genres via her blogs at Spyfi & Superspies and Space Horror Films. Follow Michele on Twitter: @mcbrittany2014.