SDCC '15: The Dark Horse Originals Panel With Colleen Coover, Matt Kindt, Fabio Moon, And Gabriel Ba
Hosted by Steve Sunu, the Dark Horse Originals line, he said, represents a place that's approachable for all readers, not necessarily just to comics readers, and the work of the panelists present reflect that ethos. Colleen Coover (Bandette), Matt Kindt (Mind MGMT), Fabio Moon and Gabriel Ba (Two Brothers) spoke about their work.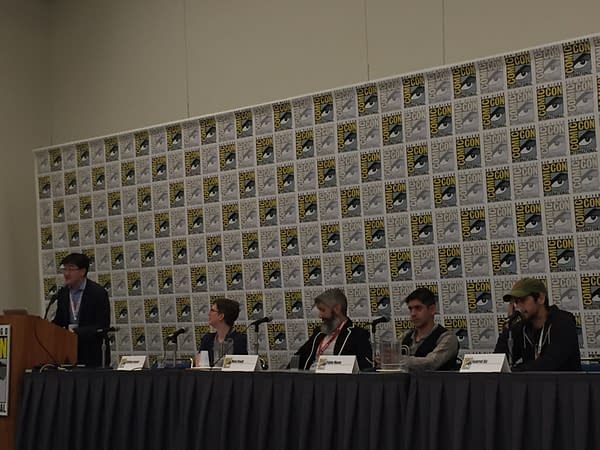 Moon and Ba are twin brothers and their new book Two Brothers is about brothers who hate each other. Ba joked that their schedule is to wake up, meet, and beat each other up to make the other work faster. They collaborate better on scripts, Moon said. Since this book is an adaptation they had to read the book many times and decide which bits of dialogue to keep. Then they had to decide who would draw the book so it would have a more "constant" look. They chose Ba this time. "It's such an upbeat book", Moon joked, showing a panel with the brothers facing off, glaring at each other.
Matt Kindt was introduced as finishing up Mind MGMT and he reminded us (as stated on social media) that he had just actually finished it. Doing the "massive undertaking" of both writing and drawing, he feels he "learned a lot about comics" rather than the graphic novels he was familiar with before. With a monthly book, you have to plan very carefully because "there's no fixing it". He learned that he hates lettering, and wishes he had a brother he could draw, he laughed, looking at Boom and Ba. Time management and figuring out the plan is important (an alternate title for the book he joked). Mind MGMT isn't "ending" on its same title. The last issue will actually be called New MGMT since something bad happens in the second to last issue. It goes up to 35 and is followed by New MGMT #1.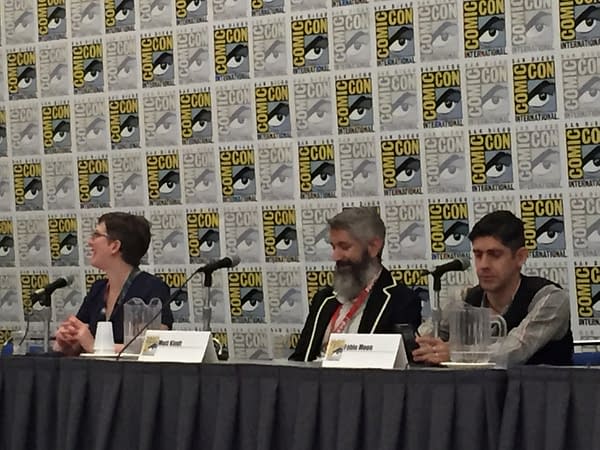 Asked what Mind MGMT is about, Kindt said "spies with mind powers, a woman reporter who goes on a secret journey". She's trying to "make things better", he said. He wanted to "show off what comics can do and the different stories that can be told". He pointed out hidden messages in the covers and warned there's lots of that in the book. Pistol Whip has recently been remastered and collected by Dark Horse. Pistol Whip was Matt's first published work in 2001. It's a story told "from 5 points of view that comes together in the end". 2 Sisters, also forthcoming in new collection from Dark Horse started Kindt off on superspy stories and also was his first experimentation with the process of narrative at a whopping 200 pages.
Moving on to talk about Bandette, the Eisner-winning series, Coover, who is artist on the book, said that it "comes from a nostalgia for something that never was". It is reminiscent of Nancy Drew, Tintin, Modesty Blaise, and the like. Trying to create a "European comic" as Americans, set in the 60's in influence. It's a "false memory" of the world's greatest thief who has many friends who aid her. She "foils plots" and runs through a city that's "sort of Paris and kind of not". Asked what her process is like working with Paul Tobin, she said he works in full scripts. She then does an ink wash and digital coloring. The movie Amelie has informed her color choices.
Sunu said that some other new books coming out this year for Dark Horse Originals includes Nanjing: The Burning City, by Ethan Young, The New Deal, by Jonathan Case. It's about the roaring 20's and is a caper tale that takes place in the Waldorf Astoria hotel in New York.
Steve Sunu announced that Matt Kindt would be writing and drawing Department H, described as a combination of 24 and Tinker Tailor Soldier Spy underwater. Kindt's wife will actually be coloring the book, and he won't be painting it as he did in Mind MGMT. The new series is about a woman who visits a deep sea base to investigate a murder, and that will be the basis of the story, with all the while the base flooding. When it concludes the mystery will be solved and the base flooded. Some issues only cover a series of minutes and follows a "crazy mission". It feels like a TV show, Steve Sunu said, waiting until the next month though, with a plan for 24 issues.
I asked if Department H would follow more than one character's experiences the way that Mind MGMT does, and Kindt said that he hasn't fully decided yet, but thinks he's going to try make a "full on action adventure story" that follows her. He may cheat a little with some back story and the whole arc involved 2 years of time in context.
Kindt amusingly narrated opening his "unreadable" fanmail from fans who are sending him notes in code because of the stuff he embeds in his comics. He's always interested to see "how hard readers are willing to work" to piece things together. It's a "game where you're silently interacting" with the reader, he said.