In a now-deleted tweet, Sean Gordon Murphy announced that his White Knight Batman comics will be continuing after their first two mini-series, Batman: White Knight and Curse Of The White Knight, spinning off into a line of books in what he is dubbing The Murphyverse.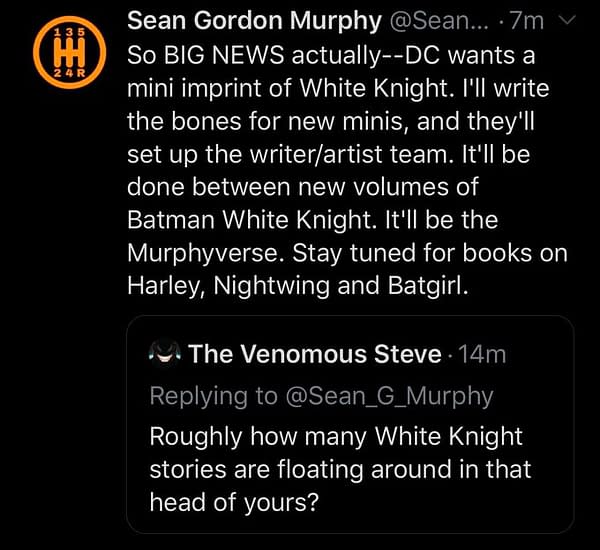 The series has seen a different Gotham, one in where Bruce Wayne as the Batman went too far and where the Joker is seemingly sane and fights back, creating a very different power dynamic. As Sean says,
DC wants a mini imprint of White Knight. I'll write the bones for new minis, and they'll set up the writer/artist team. It'll be done between new volumes of Batman White Knight. It'll be the Murphyverse. Stay tuned for books on Harley, Nightwing and Batgirl.
So basically it will be Sean on, Sean off, for their duration. But a tweet he didn't delete was over the rules as to who he'll get to do those mini-series.
Rules of the Murphyverse
1. Dead characters stay dead.
2. No inner monologues. Not a fan of using them.
3. Stuff comes out on time.
4. Only the best talent who puts customers/readers first.

— Sean Gordon Murphy (@Sean_G_Murphy) March 2, 2020
So no 'lucky old man' for White Knight… what's the betting Blake Northcott, who he has picked to co-write his upcoming Catwoman storyline, will be on the list? I'm sure every creator believes they put customers and readers first…
Batman: Curse of the White Knight #8 by Sean Murphy is on sale March 25th.
Enjoyed this article? Share it!