Second Printings for Thor #5, A Man Among Ye #1 and Adventureman #1
As we start to slide back into the new normal, so a few familiar signs can be greeting like the new buds of spring. Such as second printings of sell-out books. Thor #5, rewriting the history of Galactus gets a second printing in July 29th from Marvel Comics. While two Image Comics launch titles get second printings for June 22nd, Adventureman #1 by Matt Fraction and the Dodsons and A Man Among Ye #1 by Stephanie Phillips and Craig Cermak we got a lot of interest in this title when we first ran the news, from fans of Annie Bonny and Mary Read. No surprise it burnt through the stock…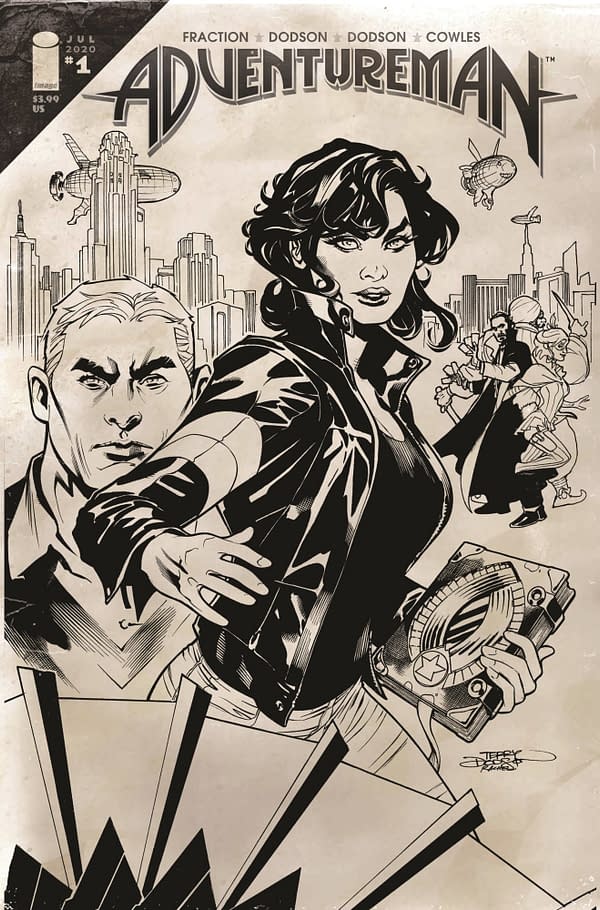 A MAN AMONG YE #1 2ND PTG
IMAGE COMICS
(W) Stephanie Phillips (A) Craig Cermak (CA) Francesca Fantini
SERIES PREMIERE
High adventure on the high seas in the waning days of piracy, when men were men, and the best pirates were…women? Writer STEPHANIE PHILLIPS (Butcher of Paris, Descendent) and artist CRAIG CERMAK (Red Team, Voltron) bring to life the tale of Anne Bonny and Mary Read as they hoist the skull and crossbones, draw cutlasses, and seek a treasure that will make them legends. In an era when sailing with women was thought to be bad luck, Anne and Mary might just be the only people capable of saving the pirate way of life.
ADVENTUREMAN #1 2ND PTG
IMAGE COMICS
(W) Matt Fraction (A/CA) Terry Dodson, Rachel Dodson
SERIES PREMIERE! A CATACLYSMIC ADVENTURE DECADES IN THE MAKING!
In this WILDLY AFFORDABLE TRIPLE-LENGTH FIRST ISSUE, revisit how the legend of the greatest pulp hero of them all, ADVENTUREMAN, ended in a heartbreaking CLIFFHANGER with our hero facing execution at the vile hand of his ultra-nemesis BARON BIZARRE on the eve of the MACABRAPOCALYPSE…or did it?!? Eighty years after his apparent demise, single mother Claire and her Adventurefan son Tommy seem to be the only two people alive that remember the thrilling ADVENTUREMAN sagas…but from that memory burns THE SPARK OF RESURRECTION! WHERE HIS STORY ENDED…HER STORY BEGINS! This sense-obliterating, earth-shaking, imagination-quaking adventure that spans generations comes to you from MATT FRACTION (SEX CRIMINALS, Hawkeye) and TERRY & RACHEL DODSON (X-Men/Fantastic Four, RED ONE)!!!
THOR #5 2ND PTG KLEIN VAR
(W) Donny Cates (A) Nic Klein (CA) Olivier Coipel
THE BLACK WINTER IS HERE.
A god. A king. A herald. Every title Thor has worn has come with its own powers, its own terrible responsibilities.
But none of them will be enough to stop the Black Winter. To save the Ten Realms – the entirety of the Multiverse – the Odinson must become…something else…
Parental Advisory SRP: $3.99