Buffy The Vampire Slayer #1 debuted last month and has already hit a third printing on issue #1. But is April's Buffy #4 the really big issue?
Last week, BOoom Studios sent this note only to retailers in their Guarantee program – unusual for a company that seems to earn a commission from sending out press releases every day.
It read:
ATTENTION RETAILERS: ADVANCE INTEL
BUFFY THE VAMPIRE SLAYER #3

RETAILERS! This week's FOC focuses on issue #2, but you need to know that we've got something incredibly special planned that is directly tied to your orders of BUFFY THE VAMPIRE SLAYER #3 and will be included with your shipments of BUFFY THE VAMPIRE SLAYER #4. I'm telling you now that it's not a traditional promotional item nor is it an exclusive variant…it's WAY better.

If you want this item, I need you to:

Make sure your Diamond Account has opted-in for receiving promo material. Any account who has opted out will not receive this item.

Know that whatever you order of BUFFY THE VAMPIRE #3 will determine the quantity you receive of this promotional item, which will be delivered with your issue #4 shipment.

As a reminder, BUFFY THE VAMPIRE SLAYER #1-4 are fully returnable for BOOM! Guarantee registered retailers, and you do NOT want to miss out on what we've got planned for you. Have I ever steered you wrong?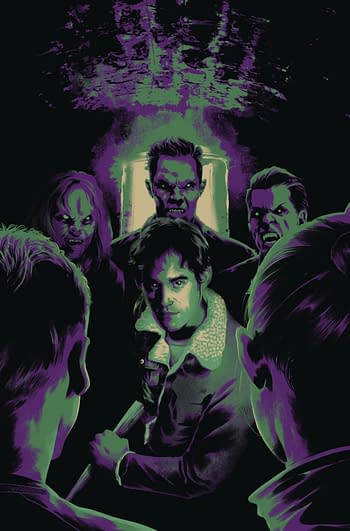 And here's the original solicit for the issue:
BUFFY THE VAMPIRE SLAYER #4
(W) Jordie Bellaire (A) Dan Mora (CA) Taylor, Matt
This is the issue no BUFFY fan can miss! In the shocking conclusion of the first story arc of the
most-anticipated reVAMP of 2019, someone from the Scooby gang must make the ultimate sacrifice. And don't miss the massive first appearance that will have everyone talking!In Shops: Apr 03, 2019
SRP: $3.99
We can figure out that the "massive" first appearance has limited options given we've got Anya, Dru, Spike and Robin Wood already in the series.
The big missing character is Angel – you've basically got all the original Scooby Gang but him. However, that almost seems too obvious, doesn't it? We haven't seen Tara, who was part of a super couple with Willow; there's Riley, Buffy's short-term boyfriend; Wesley Wyndham-Pryce, the fan-favorite watcher who came into his own in the Angel TV series; and Faith, the most popular Slayer not named Buffy.
And "ultimate sacrifice" leaves some room for interpretation – is someone dying? Selling their soul? Both? Last time we heard language like this from Boom Studios, it was about Mighty Morphin Power Rangers #25…which sold over 500 issues in 15 minutes at one store. It's no coincidence that they're using that language again here.
But what is the secret item? If it's not a poster or a variant, what could be bigger than secret variant covers signed by Joss Whedon?
And given this book is hot on the aftermarket, from their ALA Variant to the secret variants for issue #1 whatever this secret item is, retailers probably stand to make a lot of money out of it. And they're being given a chance to have a say in how much they get in their stores.
So retailers should probably check those orders on Buffy #3…
Enjoyed this article? Share it!