Soothing Psylocke's Inner Child in Next Week's Age of X-Man: X-Tremists #2
In the Age of X-Man, Psylocke is on a team with Iceman, Moneta, Jubilee, Northstar, and the Blob, called Department X, and tasked with hunting down mutants who have broken the moral codes of the "utopian" mutant society and dealing with them, either by wiping their minds, or, if there have been enough violations, tossing them in prison. But if you think that means she doesn't still have feelings, then you're wrong.
In this preview of Age of X-Man: X-Tremists #2, Psylocke and Iceman save a young boy from getting hit by a car, and when she sees his government-appointed caretakers — remember, mutants are born in hatcheries and there are no familial relationships — comfort him, she's hit with a wave of nostalgia…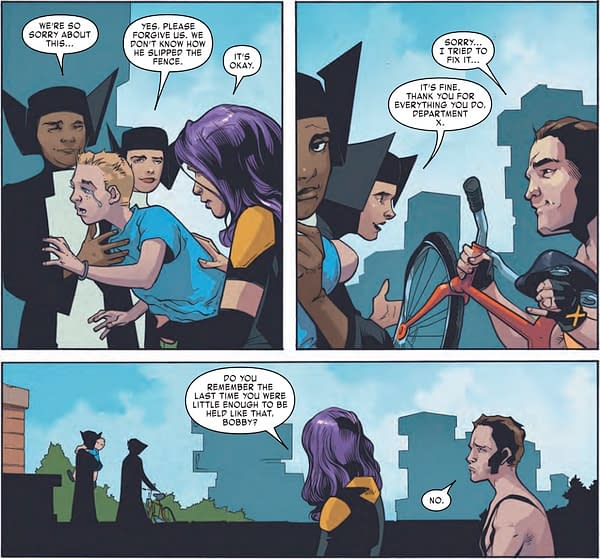 Thankfully, Iceman knows how to make things better…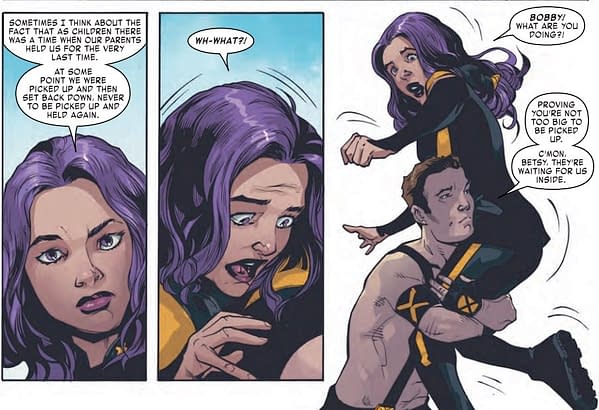 What a heartwarming gesture! Now let's go mind-wipe some mutants for feeling emotion for each other!
Age of X-Man X-Tremists #2 hits stores next Wednesday.
Age of X-Man: X-Tremists #2 (of 5)
(W) Leah Williams (A) Georges Jeanty (CA) Rahzzah
THE AGE OF X-MAN CONTINUES!
As Department X continues its work of purging and revising the ill-fitting elements of society, an encounter with a pregnant rebel begins eating away at the team from within. Cleaning up the minds of the world can be a dirty job…
Rated T+
In Shops: Mar 27, 2019
SRP: $3.99