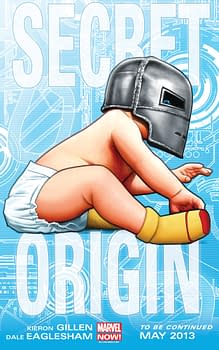 "Anatomy Lesson"
That reference to the classic issue of Swamp Thing when Alan Moore totally rewrote the basis of the character and comic, by revealing that he wasn't Alec Holland transformed into a swamp monster, but merley the memories of the dead Alec Holland residing inside animated muck is considered a classic in the "everything you knew was wrong" field of storytelling.
And we're about to get something like that with Iron Man in May.
Okay, so this is my guess. And purely that.
The transformation of Tony Stark, being kidnapped by an enemy, being tortured, being used to manufacture weapons, and from that event creating a prototype of the Iron Man suit, escaping from capture and then using that suit as a new type of superhero.
If everything you know is wrong (and note the old grey helmet on the teaser image)…
What if it was a setup? Something artifically arranged to get Tony Stark to invent.. something. And that something ended up as the Iron Man Suit.
I asked and was told "You're on the right track…"
Any more guesses? Speculation engine thrusters on!
Enjoyed this article? Share it!