Some people accuse Bleeding Cool of running comic book clickbait stories. What they are actually doing is accusing Jude Terror of writing comic book clickbait stories. Which he fully admits he does. Usually within the very clickbait that he is writing. And people like Donny Cates get rather annoyed especially when that clickbait is about him. I don't blame him.
But this, this right here is not clickbait. Clickbait fails to deliver on what it promises. It tricks you. But when I write that Donny Cates is writing the Justice League in Thor, I totally mean it. Even though he's an exclusive Marvel Comics writer, and DC Comics and Marvel are not doing crossovers.
It's all about the opening of Thor #2. We have already seen a massive cosmic threat in Thor #1, the Black Winter, that which killed sentient life in the Sixth Iteration Of Reality, that which Galactus survived, and which now threatens to destroy the Eighth Iteration. And worlds, dimensions, realities already under threat. Including one that features the following words:
A sun god. A god of emerald light. A god of dark, perhaps. A god of the ocean, of speed, of strength.

Many of them as powerful as those you have marveled at.

Powered beyond imagination by the belief of the faithful.
Now, of course, this is not the first time versions of DC characters have unofficially turned up in Marvel comics or vice versa. Doomsday Clock #12 suggested a Hulk crossover to come. Grant Morrison filled Multiversity with versions of the Marvel Universe and this version from Time Runs Out in Avengers from Jonathan Hickman also feels familiar too… And no, I don't think this week's joint signing between Cates and Justice League artist Jim Lee has anything to do with this. But I guess you could always ask one what the other thinks… if you get through the VIP lines. Here's a brief look ahead with Galactus dealing with his new, unruly herald…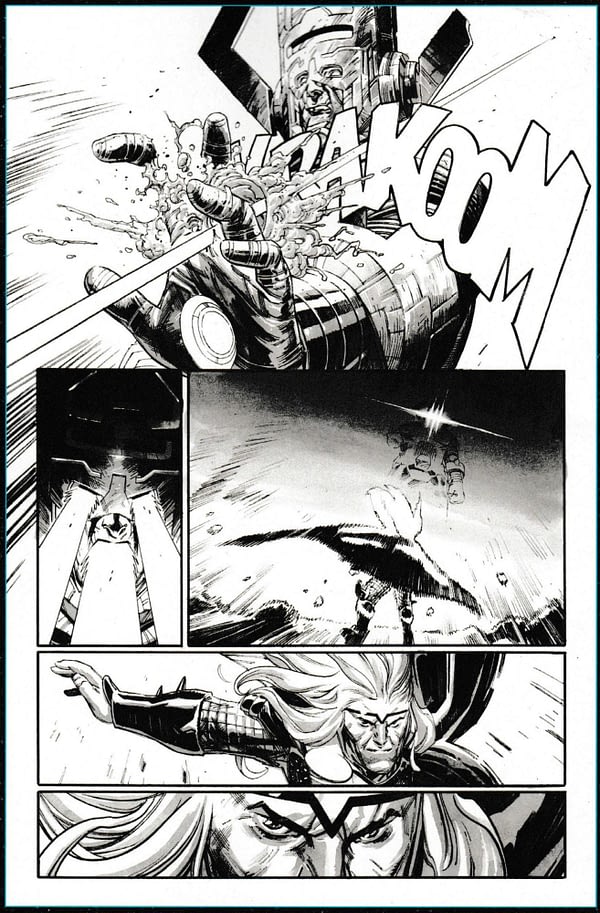 THOR #2
(W) Donny Cates (A) Nic Klein (CA) Olivier Coipel
THE BLACK WINTER AND THE DEVOURER KING!
Before him lies the Black Winter; behind, a trail of death wrought by his own hand. The God of Thunder hurtles through the cosmos, searching for the power to save Asgard and all existence. But no power in the heavens can save a god – a king – from his bloody duty.
Rated T+ In Shops: Jan 29, 2020 SRP: $3.99
Enjoyed this article? Share it!