Stan Lee's Restraining Orders Allege Keya Morgan Swatted the Police, Committed Elder Abuse
Bleeding Cool has received a copy of both restraining orders placed against Stan Lee's business associate and manager, Keya Morgan. They were both was placed in the last week by different parties.
They both allege elder abuse by Keya Morgan. One mentions that Stan Lee was moved temporarily from his home last week. Bleeding Cool has been told elsewhere that Keya Morgan intended to attend a premiere in New York. With friends and family not knowing where Lee was, the courts allowed temporary restraining orders to be placed, which allowed others to get in touch with Lee and help him understand what had been going on of late. I am also told that Lee's nurses and house staff were also instrumental in the order being placed.
We're planning a timeline for StanLeeGate later today to try and put all this in context, but here's the temporary restraining order originally placed against Morgan, with phone numbers, addresses and case numbers redacted. A more permanent restraining order has now also been filed.
The first emergency restraining order alleges elder abuse, and that Keya Morgan "swatted" the police, calling them claiming that Stan Lee was being held up by gunmen, rather than fired security guards coming for their salary. The investigation revealed no crime, and Keya Morgan was arrested for filing a false police report. The second, longer temporary restraining order, details this incident, including the 911 call made by Morgan.
The emergency order also claims that Morgan kept Lee a prisoner in his own home and fabricated narratives to keep family, friends, and representatives away from Lee.
That order is signed by Detective Gabriel Munoz of the LAPD and Commissioner Timothy Mareth. Munoz was also involved in his previous lawyer Timothy Lallas, who helped Stan Lee make a deposition against Morgan earlier in the year, being named as a legal guardian of Stan Lee.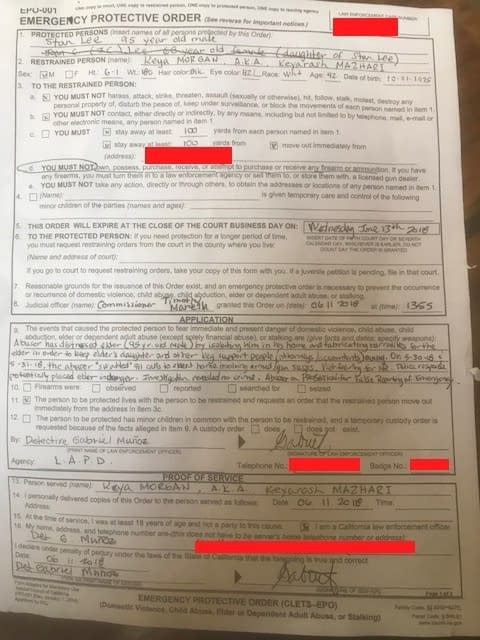 While Lallas is responsible for the temporary order, select clippings from which we reproduce below. Firstly Lee's current status and history of Tom Lallas in regard to the estate.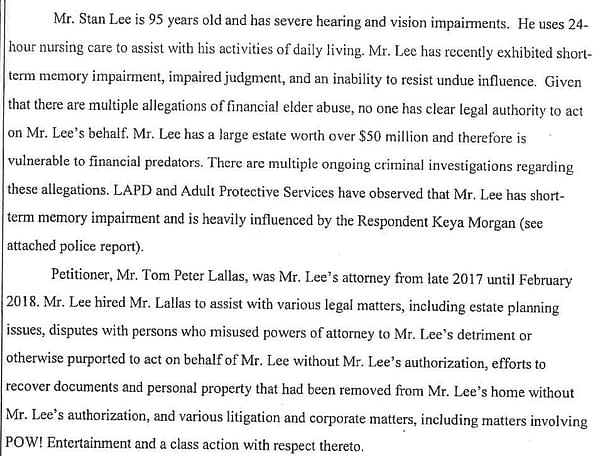 How Lallas stopped being Stan's lawyer and the emergence of Keya Morgan. Lallas had previously drafted a deposition by Lee that warned against Keya Morgan in his life.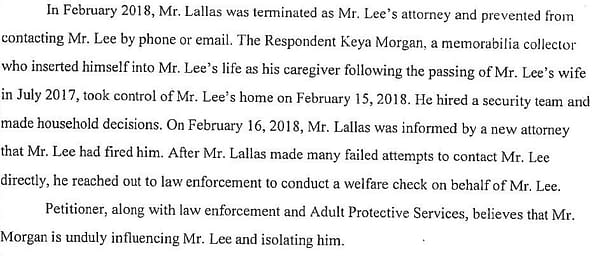 He gives more details later.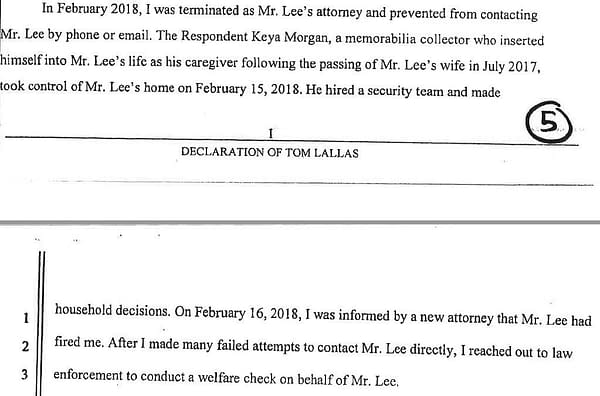 And we learned how the Los Angeles police were originally invited into Stan Lee's life by Keya Morgan, with a report made against previous business associate Jerry Olivares of Hands of Respect. And yes, therein hangs another tale. But back to this issue. From this point, the report alleges that Morgan took control of Lee's life. And how the false police report came about.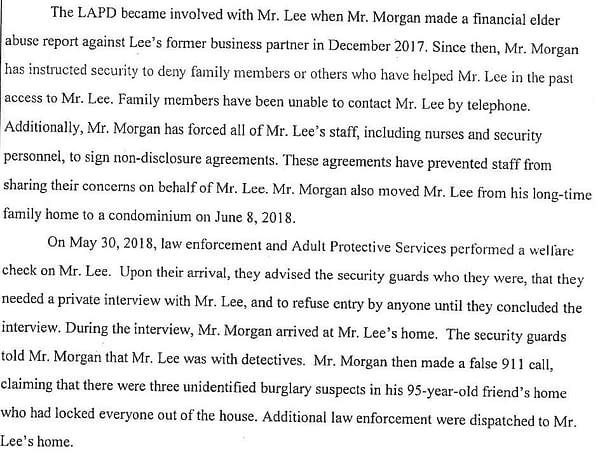 And we have a police report of that meeting. At this point, still understanding the seriousness of the charges and Stan Lee's circumstances which this report illustrates, we do have to acknowledge that one of Stan Lee's security guards is called Youngblood. Okay, moving on…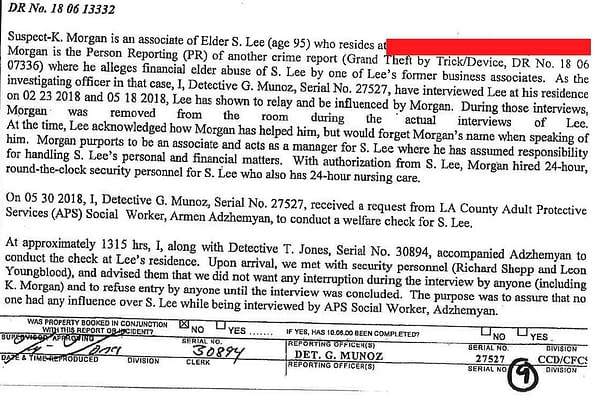 And then Keya Morgan arrives: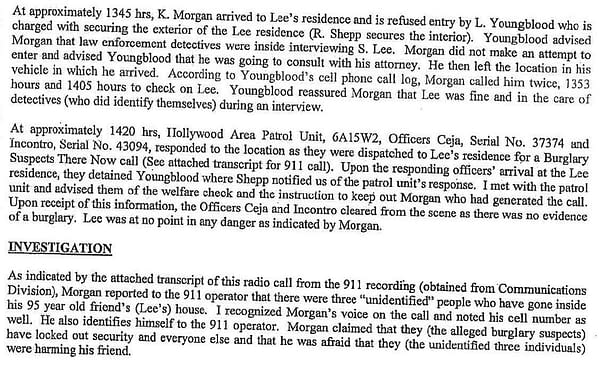 The 911 call Keya then made is also part of the filing.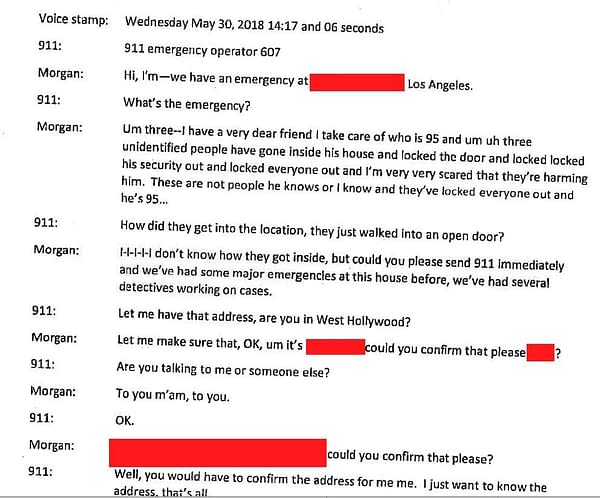 So, yes, basically, Keya Morgan called the cops on the cops.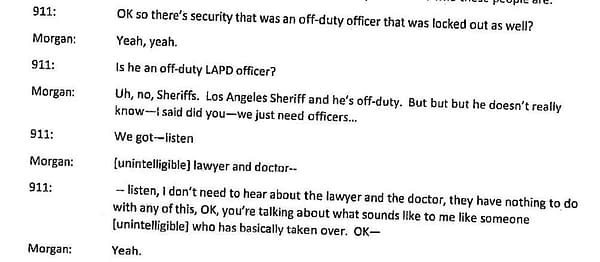 The calls then became part of the police report.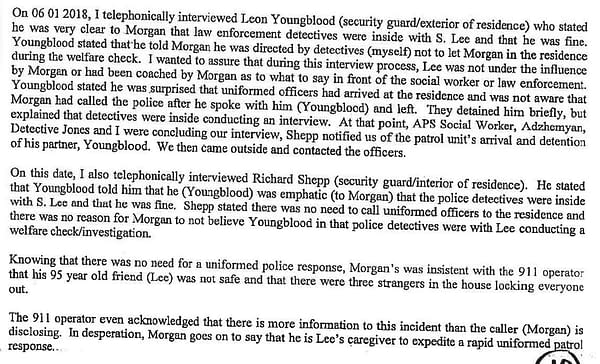 And the police turn up to investigate… the police.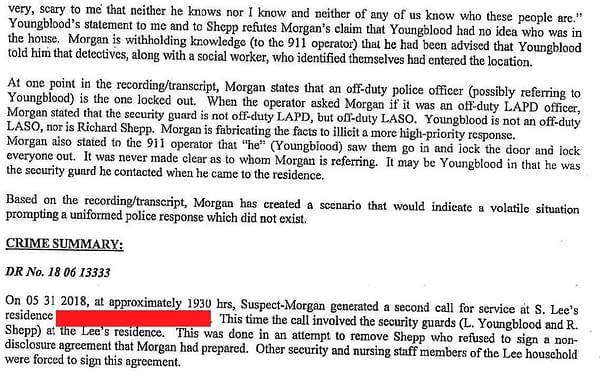 But there was more to come than just the first call. The "swatting" referred to in the shorter form above. That Stan Lee was being threatened by an armed man.
This was Youngblood, Stan's own security guard, who wouldn't sign an NDA. Who was fired. And who wanted his pay cheque.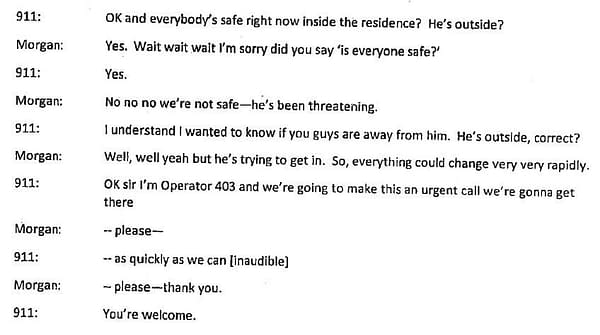 And now against Stan Lee's security guards who Keya Morgan himself had hired, with eight patrol units and a helicopter called to the scene, after he said they were armed.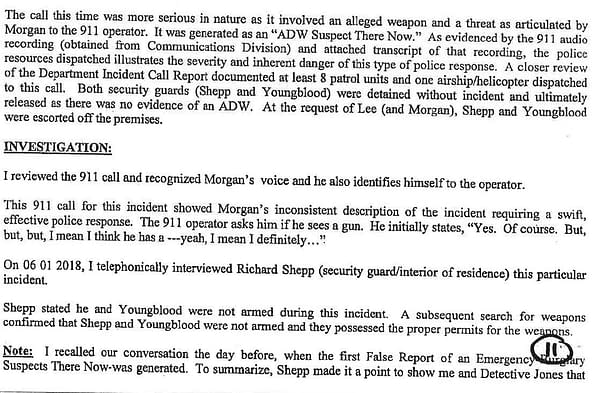 Keya knew who they were. And they were not armed. Indeed Youngblood says that was deliberate, fearing Morgan's possible accusations.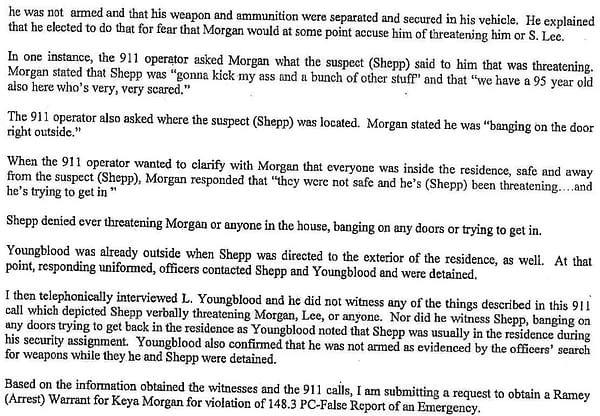 And regarding the arrest of his security guards, there is the suggestion that Morgan might move Stan Lee without notice. Which, it appears, is what happened last weekend.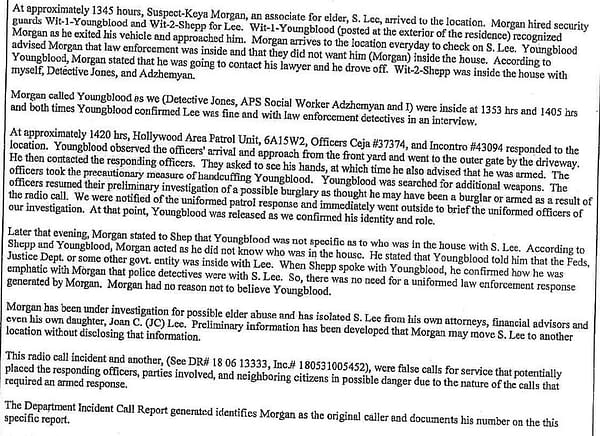 And Tom Lallas's take on the calls and arrests, for a temporary order to follow on from the emergency order: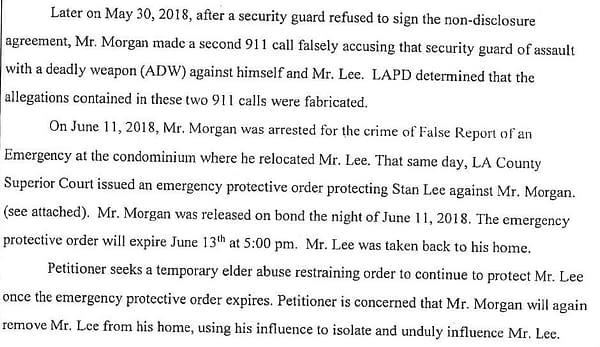 We have paperwork for that arrest as well, including the warrant.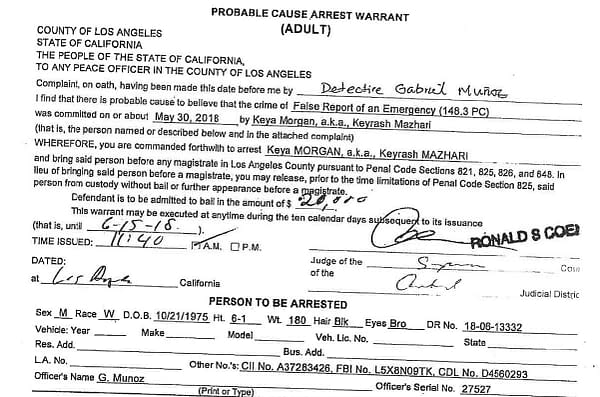 The charges being issued:

And Tom Lallas's analysis of what was happening, including Stan Lee isolated, then relocated away from his family, friends and colleagues: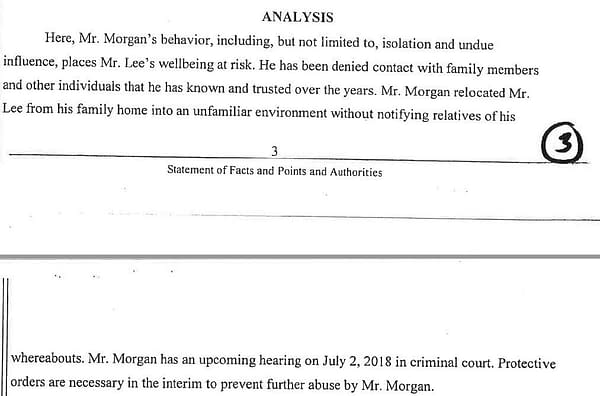 And Tom Lallas steps in.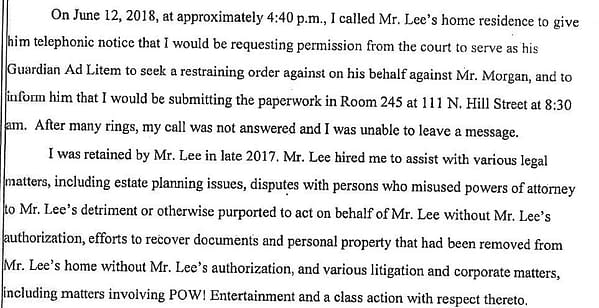 This is just the beginning. We will be running a timeline to try and clear up some of the narrative. But for many who have been very worried about Stan Lee's welfare, a court-appointed Guardian is probably the first step.
Details of Stan Lee recently being moved from his home to keep him away from friends, family and colleagues.