These are the Diamond Comic Distributors state for direct market sales to comic shops (and Loot Crate) in 2015.
Not only did Marvel dominate, with DC knocked back in marketshare, but they took the top two spots with Star Wars #1 beating out Secret Wars #1. And both beating out the Loot Crate exclusives for Orphan Black #1 and Bravest Warriors: Holo Warriors #1 which took IDW and Boom into the annual top ten for the first time on the back of the monthly mystery subscription box Loot Crate half-a-million guaranteed sales – which also boosted Star Wars #1. DC's Dark Knight III followed suit, beating Vader Down #1 and Darth Vader #1.
Oh and Spider-Gwen #1 outsold Invincible Iron Man #1. And Princess Leia #1 made it in too.Which means that Star Wars took four slots, Loot Crate took three.
But for the collections and trades? All about Saga. Which beat out the Walking Dead big time with only two, with the top three for Saga alone and two more in the top ten, taking half of that chart. While the existence of a film boosted Star Wars and Civil War – the only real surprise is the Killing Joke being reprinted and selling again… can Killing Joke 2 be that far behind for 2016?
TOP COMIC BOOK PUBLISHERS
RETAIL MARKET SHARE
PUBLISHER
SHARE
MARVEL COMICS
38.74%
DC ENTERTAINMENT
25.75%
IMAGE COMICS
9.93%
IDW PUBLISHING
5.59%
DARK HORSE COMICS
3.79%
BOOM! STUDIOS
2.28%
DYNAMITE ENTERTAINMENT
1.99%
TITAN COMICS
1.03%
EAGLEMOSS PUBLICATIONS LTD
0.94%
VIZ MEDIA
0.93%
OTHER NON-TOP 10
9.00%

UNIT MARKET SHARE
PUBLISHER
SHARE
MARVEL COMICS
41.82%
DC ENTERTAINMENT
27.35%
IMAGE COMICS
10.70%
IDW PUBLISHING
4.87%
DARK HORSE COMICS
3.10%
BOOM! STUDIOS
2.46%
DYNAMITE ENTERTAINMENT
1.79%
VALIANT ENTERTAINMENT LLC
1.06%
TITAN COMICS
0.95%
ARCHIE COMIC PUBLICATIONS
0.92%
OTHER NON-TOP 10
4.98%
TOP 10 COMIC BOOKS
| | | | | |
| --- | --- | --- | --- | --- |
| RANK | DESCRIPTION | PRICE | | VENDOR |
| 1 | STAR WARS #1 | $4.99 | | MARVEL COMICS |
| 2 | SECRET WARS #1 | $4.99 | | MARVEL COMICS |
| 3 | BRAVEST WARRIORS: TALES FROM HOLO JOHN #1 | $4.99 | | BOOM! STUDIOS |
| 4 | ORPHAN BLACK #1 | $3.99 | | IDW PUBLISHING |
| 5 | DARK KNIGHT III: THE MASTER RACE #1 | $5.99 | | DC COMICS |
| 6 | STAR WARS VADER DOWN #1 | $4.99 | | MARVEL COMICS |
| 7 | DARTH VADER #1 | $4.99 | | MARVEL COMICS |
| 8 | SPIDER-GWEN #1 | $3.99 | | MARVEL COMICS |
| 9 | INVINCIBLE IRON MAN #1 | $3.99 | | MARVEL COMICS |
| 10 | PRINCESS LEIA #1 | $3.99 | | MARVEL COMICS |
TOP 10 GRAPHIC NOVELS & TRADE PAPERBACKS
| | | | | |
| --- | --- | --- | --- | --- |
| RANK | DESCRIPTION | PRICE | | VENDOR |
| 1 | SAGA VOLUME 4 TP (MR) | $14.99 | | IMAGE COMICS |
| 2 | SAGA VOLUME 1 TP (MR) | $9.99 | | IMAGE COMICS |
| 3 | SAGA VOLUME 5 TP (MR) | $14.99 | | IMAGE COMICS |
| 4 | CIVIL WAR TP | $24.99 | | MARVEL COMICS |
| 5 | THE WALKING DEAD VOL. 23: WHISPERS INTO SCREAMS TP | $14.99 | | IMAGE COMICS |
| 6 | BATMAN: THE KILLING JOKE SPECIAL EDITION HC | $17.99 | | DC COMICS |
| 7 | SAGA VOLUME 2 TP (MR) | $14.99 | | IMAGE COMICS |
| 8 | THE WALKING DEAD VOL. 1: DAYS GONE BYE TP | $14.99 | | IMAGE COMICS |
| 9 | SAGA VOLUME 3 TP (MR) | $14.99 | | IMAGE COMICS |
| 10 | STAR WARS VOLUME 1: SKYWALKER STRIKES TP | $19.99 | | MARVEL COMICS |
NEW TITLES SHIPPED
| | | | | |
| --- | --- | --- | --- | --- |
| PUBLISHER | COMICS SHIPPED | GRAPHIC NOVELS SHIPPED | MAGAZINES SHIPPED | TOTAL SHIPPED |
| MARVEL COMICS | 917 | 390 | 2 | 1309 |
| DC ENTERTAINMENT | 963 | 331 | 6 | 1300 |
| IMAGE COMICS | 773 | 187 | 0 | 960 |
| IDW PUBLISHING | 527 | 265 | 0 | 792 |
| DARK HORSE COMICS | 378 | 234 | 0 | 612 |
| BOOM ENTERTAINMENT | 385 | 94 | 0 | 479 |
| DYNAMITE ENTERTAINMENT | 301 | 68 | 0 | 369 |
| VIZ MEDIA | 0 | 270 | 0 | 270 |
| TITAN COMICS | 120 | 67 | 35 | 222 |
| EAGLEMOSS | 0 | 0 | 152 | 152 |
| OTHER | 1157 | 1518 | 315 | 2990 |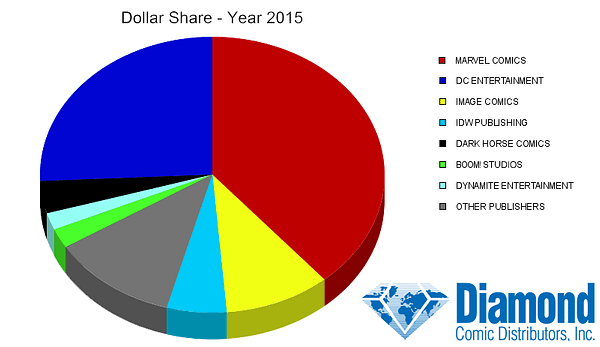 Dollar Market Share – 2015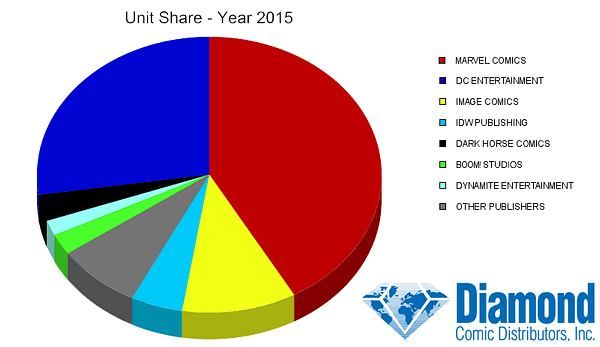 Unit Market Share – 2015