The Stock Exchange – Golden Age Bargains
Still shopping for Christmas presents? If you are, and are looking for some great Golden Age bargains, you missed out on a great week for collectors.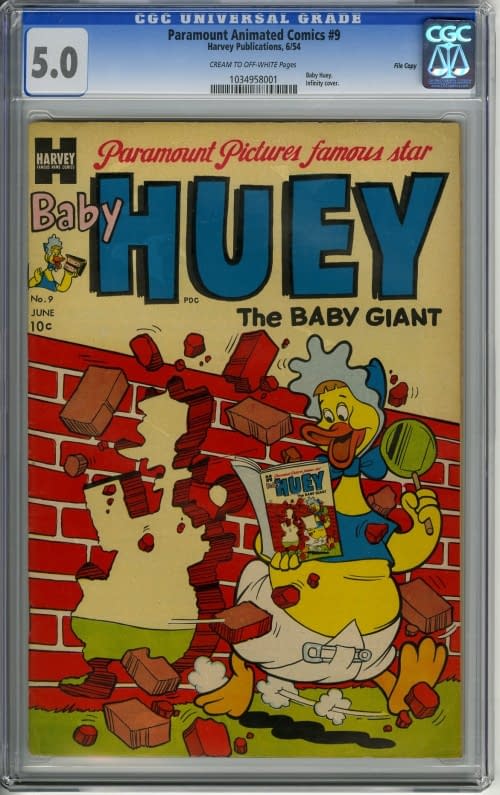 Leading off, we have some humor titles, starting with Paramount Animated Comics. While multiple characters graced the earliest covers, the book formed a clear focus around just one by the seventh issue, Baby Huey. Debuting in Casper, the Friendly Ghost #1 from St. John's in 1949, Huey would make his first animated appearance courtesy of the Paramount animation studio in 1950, and he would make his Harvey Comics debut in Harvey Comic Hits #60, which featured the "Paramount Animated Comics" logo squarely on the cover. #62 would also feature Paramount Animated Comics before Harvey would release Paramount Animated Comics as its own title, starting with #3 (counting Harvey Comic Hits #60 and #62 as the first two issues). The series would run for 22 issues before being canceled and replaced with a solo Baby Huey series.
This past week saw multiple file copies of Paramount Animated up for auction, many being either the highest-graded copies ever sold or the only graded copies period. Despite that, all went for bargain prices. Issue #9 in CGC 5.0 sold for just $10.50, and it is the only CGC-graded copy sold. Issue #12, graded 8.0 by CGC, sold for only $21.50 and, again, is the only CGC-graded copy with a recorded sale.
This pattern repeated itself with multiple issues:
How much of a bargain were these? There have been four recorded sales in CGC 9.0 for #19. The previous three went for $96 (2008), $66 (2008), and $51 (2009).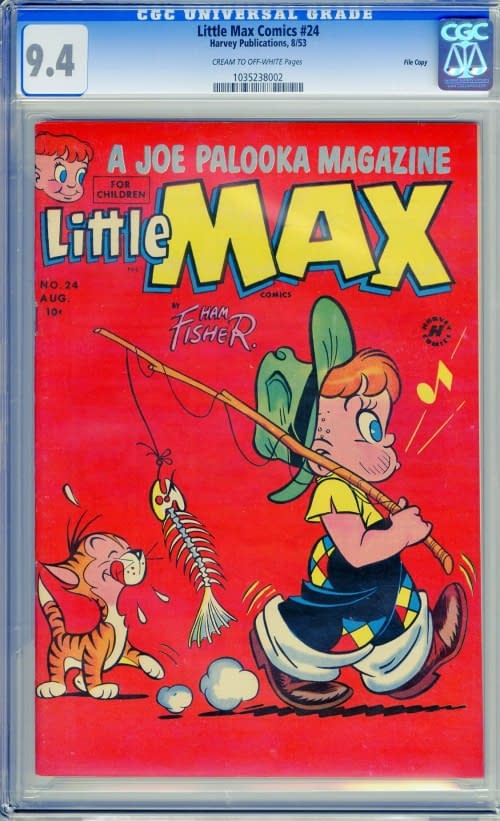 Little Max, another Harvey humor title, also went for bargain-basement prices in sales this past week. Little Max came to Harvey as part of their licensing of Joe Palooka. Max served as a sidekick for Joe, with one quirk – he did not have the ability to speak. Of course, there were thought balloons to use too, so readers were privy to his thoughts despite his inability to articulate them. Here's the breakdown on those issues: Sticking with Harvey, but switching genres, we have First Romance Magazine. Before you scoff at the romance genre, keep in mind that Joe Simon and Jack Kirby pioneered romance comics, and Kirby in fact worked on some issues for First Romance. Once again, we have another title that went for amazing bargains in online bidding, starting with #21. Graded at 8.0 by CGC, this copy brilliantly shows off an awesome Lee Elias cover, and yet it only sold for $15.50, well below where it "should" have, especially considering that it is not only the highest-graded copy sold but is the only recorded sale of a CGC-graded copy.
This pattern continued in subsequent issues: On a completely different note, there was an auction for an Adventure Comics #48, the first appearance of Hourman, this past week that was a must-have for Hourman fans, and just Hourman fans, as it was graded 0.5 by CGC. Despite having the lowest-possible grade imaginable and still be a book, this copy sold for $554.
Similarly, a Batman #15 from Jerry Robinson's personal collection sold for $350 despite being graded just 1.0 by CGC. I have to assume the historical nature of where the comic came from was a large part of the bidding here.
Hopefully, you are able to have as good luck with your Christmas bargain shopping, and next week we will have another big collection from ComicConnect.com to preview.