Strangelands by Mags Visaggio, Darcie Little Badger and Vanesa R Del Ray Launches From Humanoids in July 2019 Solicits
Strangelands by Mags Visaggio, Darcie Little Badger and Vanesa R Del Ray launches from Humanoids in July as part of their H1 shared unievrse line. Here's the Mike McKone cover.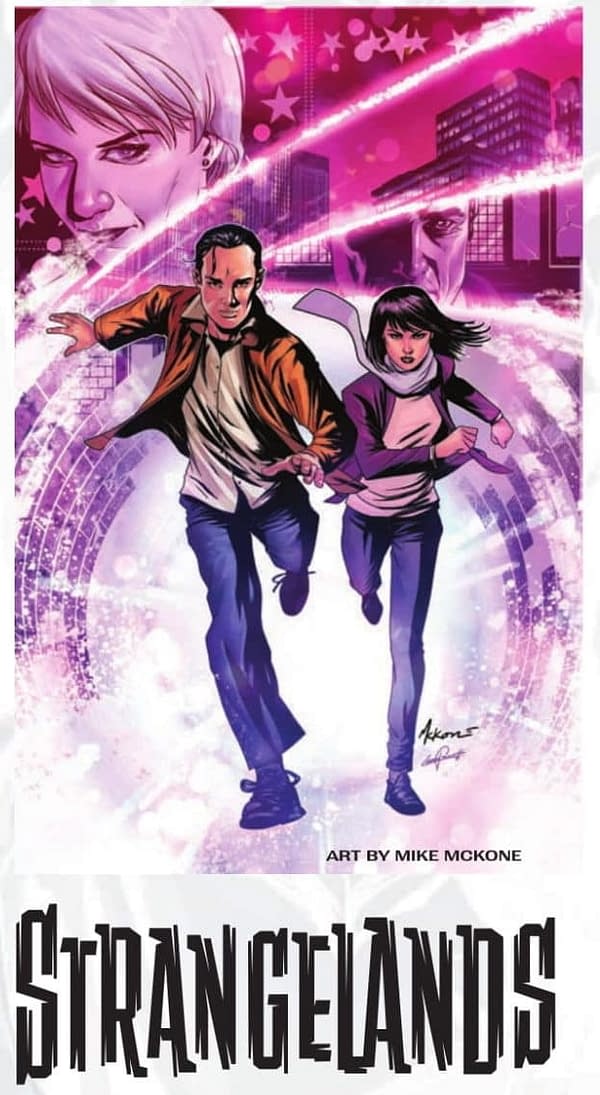 Two unrelated people gain powers that cause mass destruction whenever they are separated. Now, their greatest challenge is to stay together — even if it tears the world apart.
Adam Land is an indigenous American. Elakshi Land [no relation] is British-Asian. They're on vacation in a tour group in Thailand and are barely acquainted at first. But they quickly realize they share not only a name, but a hobby (ballroom dancing] and great chemistry. Once ignited, they find that if they're too close to one another, they create chaos, but if they're too far apart, it's even worse. They have to stick together while being hunted down.
Co-writer Darcie Little Badger explains: "Strangelands is a balance of humor, horror, and action. Plus, Mags and I are both the kind of writers who enjoy crafting snappy dialogue between characters; that's sure to be entertaining." Mags Visaggio adds: "Strangelands is Moonlighting with globetrotting superpowered misfits, each running from something, each stuck with someone they'd rather not be, with powers that are constantly threatening to destroy them and everything around them. It's a blast to work on."
Here are the listings for July for Strangelands #1 and Ignited #2 from Humanoids.
STRANGELANDS #1
(W) Magdalene Visaggio, Darcie Little Badger (CA/A) Vanesa R. Del Rey (CA) Mike McKone
The Humanoids H1 Universe brings you another smash series! Adam Land, an indigenous American, and Elakshi Land, a British-Asian, have what some might call "a love-hate relationship." They'd probably be better off without one another, except for the fact that they have superpowers that cause mass destruction whenever they are separated. Now, their greatest challenge is to stay together-even if it tears the world apart. (STL122569)
7×10, 32pgs, FC SRP: $3.99
IGNITED #2
(W) Mark Waid, Kwanza Osajyefo (A) Philippe Briones (CA) Yanick Paquette (CA) John Cassaday
As the students try to overcome their fear of another attack, more chaos erupts at Phoenix Academy High when two mysterious vigilantes @Viral and @Wave take a stand against the principal's new radical policy to protect the school. Caught between the authorities and the super-powered vigilantes, Anouk must decide where she will stand to uncover the truth behind the Ignited! (STL122566) (C: 1-0-0) NOTE: Not Available in India.
MATURE THEMES 32pgs, FC SRP: $3.99
SHANGHAI DREAM TP (MR) (C: 1-0-0)
(W) Philippe Thirault (A) Jorge Miguel
In 1938 Berlin, aspiring filmmaker Bernard Hersch works at the UFA studios and dreams of one day directing the screenplay he and his wife Illo are writing. But as a Jew in Hitler's Germany, Bernard faces increasing danger and discrimination, and is soon forced to accept deportation to Japan as his only hope. Illo, disconcerted at having to abandon her elderly father, leaves Bernard behind at the last minute and returns to Berlin, where she and her father are shot by the Nazis. Rerouted to China, a heartbroken Bernard struggles through grief and vows to bring his and Illo's screenplay to life as a tribute to her legacy. Along the way, he finds love in a city under siege. A distinctive and humanistic take on World War Two from the largely undocumented Chinese perspective. (STL122568) (C: 1-0-0) NOTE: Not Available in India.
MATURE THEMES SC, 7×10, 112pgs, FC SRP: $17.95