Are you a fan of Street Fighter and also an artist who would like to see your work featured (with no compensation) in UDON's Street Fighter Summer Sports Special? Well, you're in luck, because it just so happens UDON is looking for fan artists to submit pin-ups to that very magazine!
A press release asks:
How would you like to have your Street Fighter fan art printed in UDON's latest pin-up special next to the artists of UDON? The publisher is taking fan art submissions for the 2018 STREET FIGHTER: SUMMER SPORTS SPECIAL, in stores this August!

We're looking for your summer-themed Street Fighter artwork – swimsuits, the beach, sports – anything with a summer theme is welcome! So sharpen your pencils, warm up your drawing tablets, and show some summer love for STREET FIGHTER!
Of course, such an opportunity doesn't come without rules:
artwork must feature at least one character from the STREET FIGHTER video game series
you may not include characters from other Capcom or non-Capcom games/properties
characters not allowed include those exclusive to the Street Fighter EX series, and the character of Ingrid
you may not include your own original characters
artwork may be sexy but no nudity please
artwork should not feature alcohol, smoking, or drug use.
by submitting your artwork, you are giving UDON permission to publish it in the Street Fighter: Summer Sports Special in 2018. along with
your name or pseudonym
your country and state
please feel free to show off your submission online any time! We'd love if you add the hashtag #SFcomicfanart
all art styles are welcome
ideal artwork shape is 7 x 11". While low resolution previews are used for submissions, we suggest you create your artwork at 300 dpi+ (if selected, we may request the higher resolution file from you for printing)
artwork submission deadline is June 5th, 2018
artwork must be submitted by using the provided form found at the following link:
HAVE FUN!
Geeze, we could produce a drawing without any of nudity, alcohol, smoking, drug use, or characters from the 1986 NES game cartridge Volley Ball, but not a drawing without all of them! What is this, Nazi Germany?! Actually, don't answer that.
Get your submissions in by June 5th. The Street Fighter Summer Sports Special hits stores in August.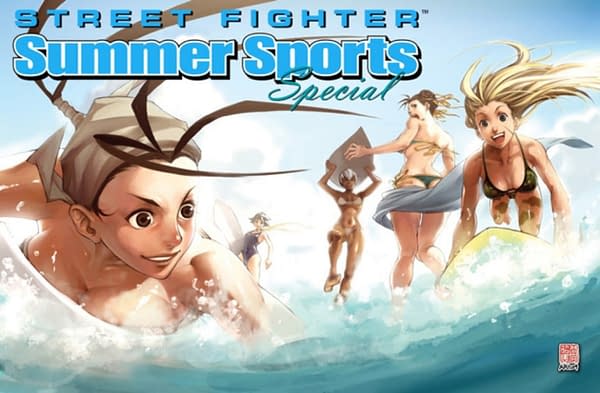 Enjoyed this article? Share it!