Posted in: Comics, Comics Publishers, Current News, DC Comics, Superman | Tagged: Chained, lex luthor
---
Superman, The Chained And The Chain Trademark (Spoilers)
Superman #6 is published tomorrow from DC Comics (though its on Amazon Kindle in Australia right now. Spoilers ahead. Because kids love chains.
---
Superman #6 is published tomorrow from DC Comics (though its on Amazon Kindle in Australia right now. Spoilers ahead. One of my favourite moments in Superman comic books in recent years was in Phillip Kennedy Johnson's Action Comics stories set on Warworld, where Superman tried to change a society in chains. One of the original central images of Superman from the thirties and forties was that of him snapping chains held across his chest. It also spoke to the roots of the character, that of a circus strong man, which included trunks worn over tights. Ripping phone books in half, lifting large dumbbells, breaking bricks and snapping chains were all familiar images of such performers.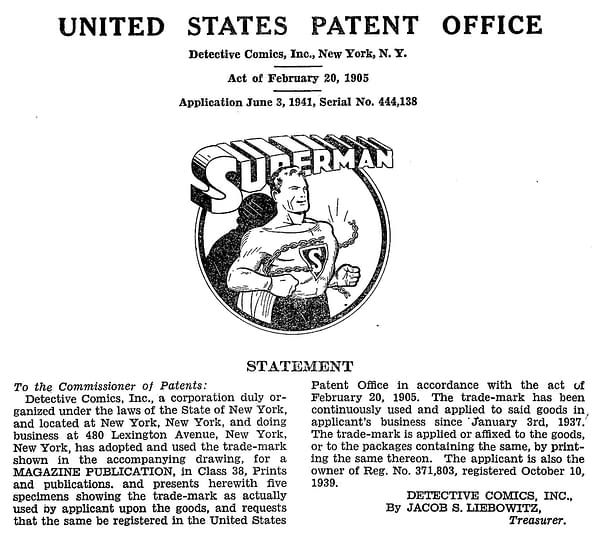 The chain image was so notable it was trademarked by DC Comics and has been reprised repeatedly since. Superman breaks chains; it's an intrinsic part of the character. It symbolises freedom, breaking the chains of tyranny and oppression. Truth, Justice and the American Way. Again and again and again.
In Phillip Kennedy Johnson's Warworld stories we met a race related to Kryptonians who had been enslaved in chains, but the chains had also become part of their identity.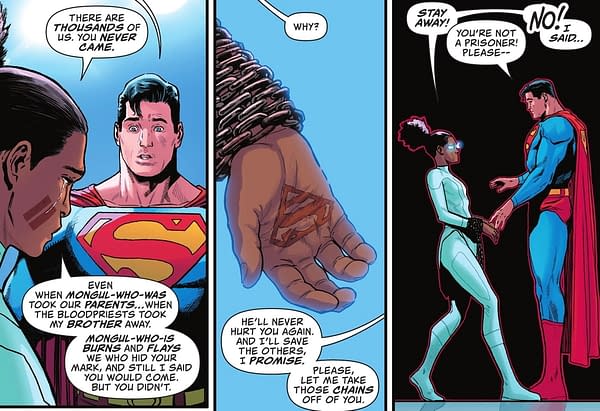 And the repeated instincts of Superman and his friends to remove those chains, to break those chains…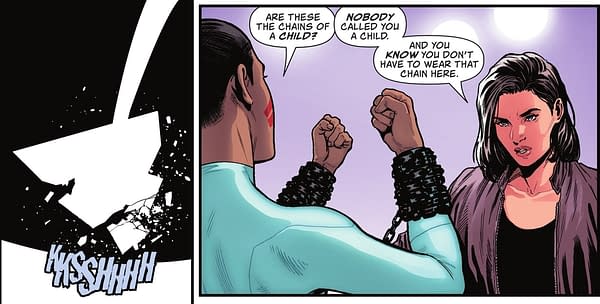 … was repeatedly rejected. Some explanations came but none that the Superman Family were happy to hear.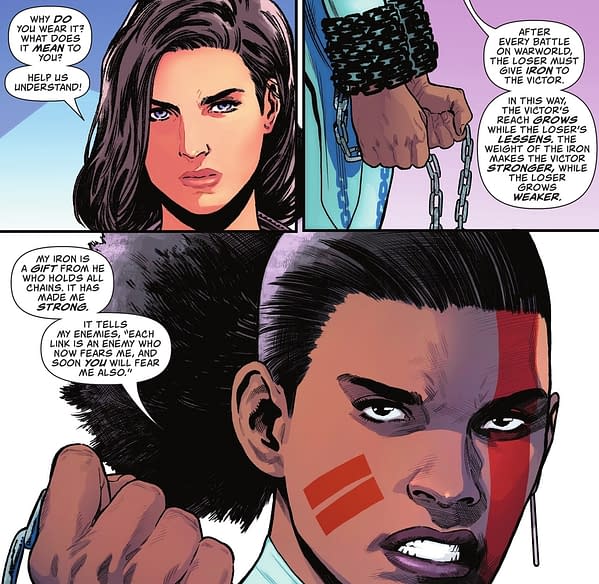 And while they want their freedom, the chains remain part of their identity. And so now Superman went to Warworld to free the slaves of that planet with a rag-tag band of superheroes he has gathered together. They failed. And his compatriots, those who survived the initial assault on Warworld, get the respect meted out to all warriors of the planet. They get their own chains. And new links to reward their prowess on the field of battle.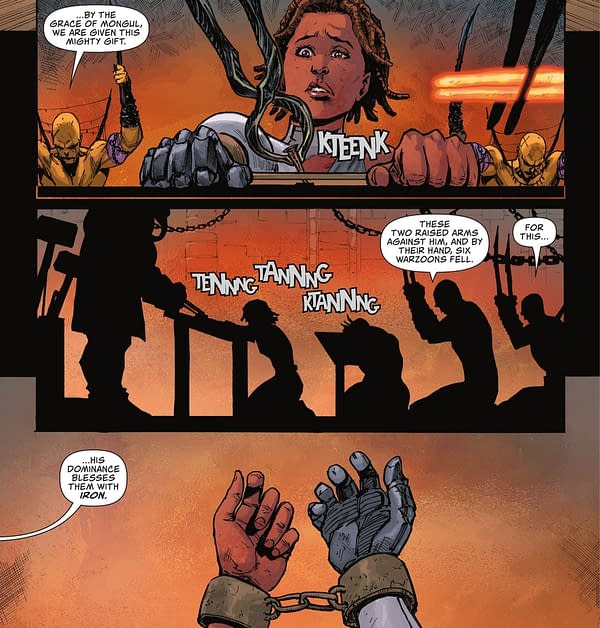 Superman has a colonial "white saviour" complex, barging in to save the day without realising that his input may not be initially appreciated by a population that has learned to value and appreciate aspects of their slavery in terms of identity. Despite being given all the clues by meeting the escaped slaves, his might-makes-right American exceptionalism approach has failed to understand the intricacies of how people take aspects of their oppression and use them to oppress others or give themselves value in the eyes of their oppressors. It is as much psychological slavery as it is physical. It's I Know Why the Caged Bird Sings meets Uncle Tom's Cabin meets the practice of some emancipated slaves in the USA keeping pieces of cut rope to symbolise their experiences. It's complex, it's nuanced, and it was disturbing. And based on Phillip Kennedy Johnson's work in the field of anti-human trafficking volunteer work in Baltimore, telling me "One aspect of anti-human trafficking work that haunts me is how profoundly trapped human trafficking victims often are, usually more psychologically than physically. Most trafficking victims I've known don't see themselves as such… they don't think they have a pimp or a trafficker; they have a "boyfriend." Sure, he hurts them and sells them and keeps every penny, but he's all they have now. Whatever their life used to look like, whatever loved ones were once in their life, whatever tools or talents they might once have had, their trafficker took that all away, and the dehumanising abuse and lies and suffering are all they have left. If some would-be savior comes along and tries to take that away, by threatening their trafficker or their relationship with that trafficker, they'll fight tooth and nail to protect it. That can make it incredibly difficult to help them. To me, the truest antithesis to Superman—Champion of the Oppressed, defender of Truth and Justice, a man of utter compassion and humility–would be a slaver. A despot who controls an empire of slaves not just with physical chains and violence, but by brainwashing them with constant lies. This newest Mongul has given Superman the greatest challenge of his life, and it's not kryptonite or red suns or monsters from another dimension. It's the millions of slaves he's brainwashed into worshipping him, who desperately need Superman but hate him and won't accept his help. I know what that helplessness and frustration feels like. And selfishly, I needed Superman to show me how a hero faces an enemy like that."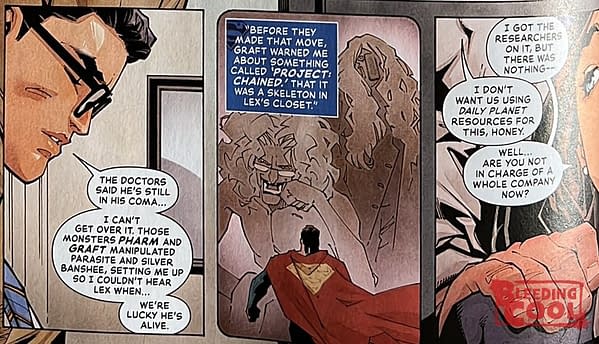 Now it seems that Superman is revisiting the chain motif with writer Joshua Williamson and Gleb Melnikov, with Lex Luthor in a coma – though not yet as dead as Penguin #1 suggests he will be… with Superman looking at some of Lex Luthor's projects that he has now ingerited as part of Supercorp. And something called Project: Chained.
.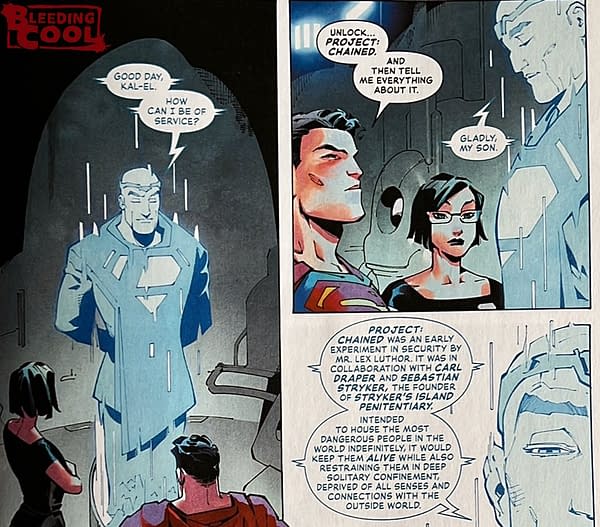 And when Superman sees chains, he breaks them. And doesn't seem to have learned much from Warworld that merely breaking chains may not quite have the effect you think it might on the individual being chained. There are nuances, understanding, consideration and respect…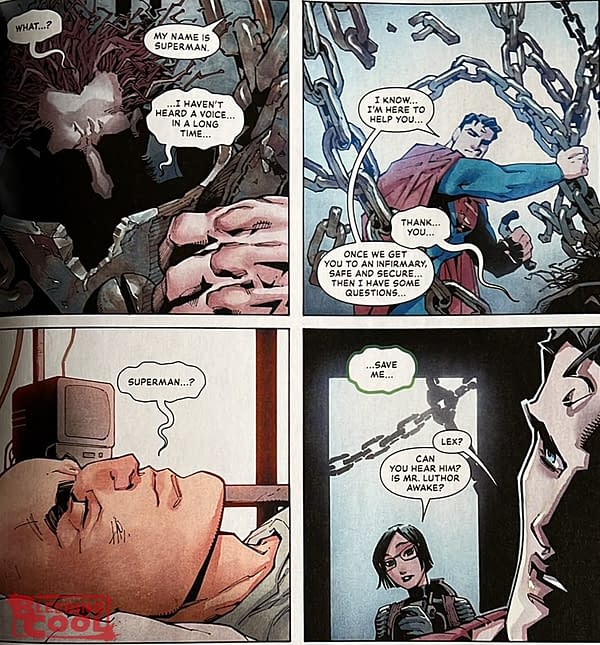 Sometimes Superman might think twice before breaking chains…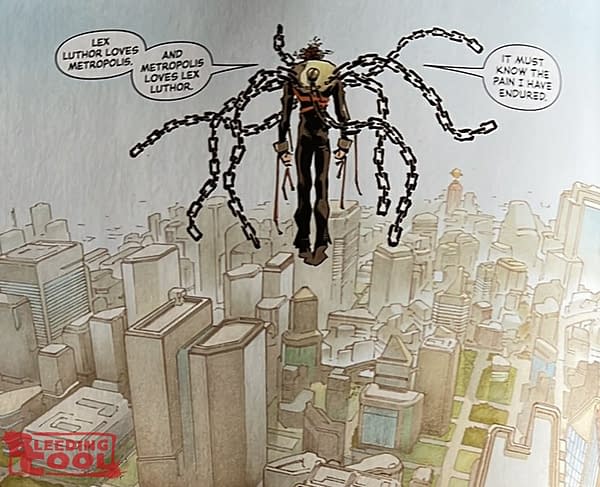 … but then he does have a trademark to protect, does he not?
SUPERMAN #6 CVR A JAMAL CAMPBELL
(W) Joshua Williamson (A) Gleb Melnikov (CA) Jamal Campbell
NEW STORY ARC STARTS HERE! FIRST APPEARANCE OF A NEW SUPERMAN VILLAIN! THE CHAINED PART ONE! Following the shocking cliffhanger of Superman #5 and the events of Knight Terrors, Superman has learned that Lex Luthor kept a prisoner beneath Stryker's Island for decades. Who are they and why did Lex lock them up? Can Superman unlock the secrets of the Chained? Featuring guest artist Gleb Melnikov!
Retail: $4.99 In-Store Date: 09/19/2023
SUPERMAN #7 CVR A JAMAL CAMPBELL (#850)
(W) Joshua Williamson (A) Gleb Melnikov, Dan Jurgens, Various (CA) Jamal Campbell
AN OVERSIZE ANNIVERSARY ISSUE CELEBRATING THE MAN OF STEEL AND HIS LEGACY! Superman #850! A special oversize issue celebrating Superman and his super-legacy! Since the start of Superman #1 and Dawn of DC, a mystery has been brewing in Metropolis. Now that mystery's secrets are unleashed, with startling revelations that set up a massive story in 2024! The Chained continues as Superman battles against an overpowered new menace who wants to destroy Metropolis! Superman must decide if he is willing to follow Lex's tragic orders to take the Chained down! And Lex Luthor is visited by a blast from his past. One that will impact his future forever.
SUPERMAN #8 CVR A JAMAL CAMPBELL
(W) Joshua Williamson (A) Gleb Melnikov (CA) Jamal Campbell
POWERLESS! Superman versus the Chained concludes! One of the biggest battles Metropolis has ever witnessed comes down to Superman doing the unthinkable and sacrificing his powers to stop the Chained. How does that impact Lex Luthor's plans…or is Lex too busy dealing with the shocking return of his mother in Superman #850?!
Retail: $4.99 In-Store Date: 11/21/2023
SUPERMAN #9 CVR A JAMAL CAMPBELL
(W) Joshua Williamson (A) Bruno Redondo (CA) Jamal Campbell
SUPER-ARMOR! Superman's battle with the Chained has left him wounded in unexpected ways, but the Lex Luthor Revenge Squad is still forming! To save Metropolis, Superman has no choice but to put on a special armor built by Lex! Featuring artwork from Eisner Award-winning Nightwing artist Bruno Redondo! Retail: $4.99 In-Store Date: 12/19/2023
---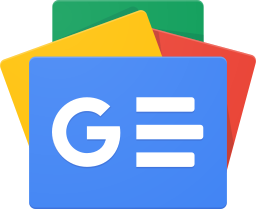 Stay up-to-date and support the site by following Bleeding Cool on Google News today!